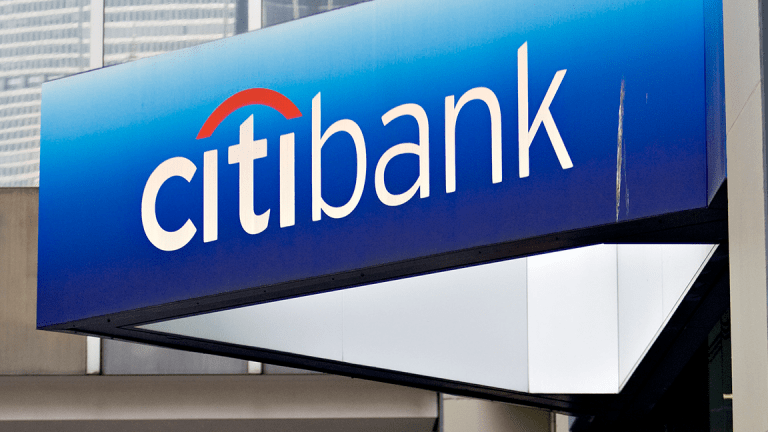 This Under the Radar Stock Picker Tells Jim Cramer He Is Bullish on Citigroup
Citigroup didn't have the best second quarter from the investment banking space, but the stock may be too cheap to ignore.
Citigroup (C) - Get Citigroup Inc. Report didn't have the most mind-blowing second quarter from the i-banking space, but one under-the-radar big name in finance is long-term bullish the name.
"Citigroup...projected $9 a share of earnings for 2020," said Greenhaven Associates Wachenheim to TheStreet's Jim Cramer at the Delivering Alpha conference Wednesday. "But, if you increment it to the new tax rate, it's $10.20."
At its current stock price, Citigroup shares trade at a ridiculously cheap 6.8 times Wachenheim's 2020 profit estimate on a price-to-earnings multiple basis.  Wachenheim thinks Citigroup's stock is worth $130 relative to $70 currently.
Cramer is also bullish on Citigroup and the banks. 
"It's really hard to sell the banks [stocks] because they really are cheap," Cramer told TheStreet. Cramer added that Citigroup had an "excellent" second quarter earnings call. 
Citigroup Inc. (C) - Get Citigroup Inc. Report shares fell on Jul. 13 due to concerns about slowing revenue growth in its North American credit-card business, even as the U.S. bank reported a jump in second-quarter profit thanks to the expected windfall from President Donald Trump's tax cuts.
Investors and analysts focused on troubling trends in the credit-card business, where revenue of $4.76 billion was flat compared with a year earlier, and down 4% from the first quarter. At the same time, interest income from Citi-branded credit cards in North America slipped to 8.28% of average loans, from 8.4% in the first quarter and 8.61% a year earlier. And losses on the credit-card loans jumped by 8%.
TheStreet's Bradley Keoun contributed to this story.
Citigroup is a holding in Jim Cramer's Action Alerts PLUS. Here's the research behind the call.