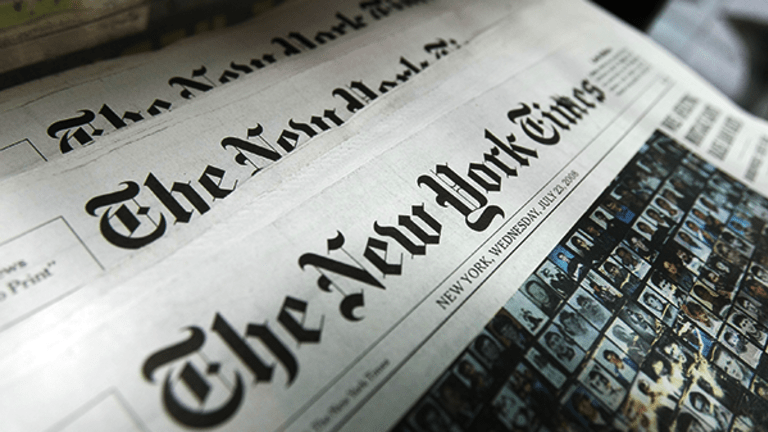 This Timeline of Layoffs and Buyouts at the New York Times Shows Why the Staff Is Staging a Walkout
The New York Times editorial staff is planning a 15-minute walkout for 3 p.m. ET on Thursday.
The New York Times (NYT) - Get Report  editorial staff is staging a 15-minute walkout on Thursday afternoon to let the top editors know they're unhappy with planned job cuts. 
In a letter to Executive Editor Dean Baquet and Managing Editor Joseph Kahn, the reporters and copy editors said that cutting the copy editing staff down to 50 to 55 people from 100 while demanding the same quality of work is "dumbfoundingly unrealistic." 
Baquet and Kahn responded to the letter by pointing out that they were getting rid of a free-standing copy desk rather than eliminating copy editing. "A majority of people currently employed by the copy desk will find new editing jobs," they wrote to the disgruntled staff members. 
The company's stock traded down 1.3% to $17.75 in trading, compared to a 0.8% dip in the S&P 500.
According to TheStreet's media columnist Ken Doctor, the Times faces a difficult balancing act. 
"Even with the Times' great subscription bump, it is still struggles with an ever-tough ad environment," Doctor said. "It's dependent on print for 2/3 of its revenue, and print ads continue to fall. Digital advertising, while recently good for the Times, is uncertain quarter by quarter. So the barely profitable Times must continue to prune, and to move on a long-term strategy to create more high-quality content. The Washington Post is nipping at the Times heels, on audience and in subscription, and story volume is a key part of its strategy."
The Times newsroom staff peaked in early 2008 at about 1,332 employees, but layoffs happened soon after as media companies dealt with plummeting print ad revenue, as well as fallout from the recession. While a number of layoffs and buyouts have occurred since then, the Times has also continued to hire in some areas, which means it still employs about 1,300 in its newsroom. 
The company is under pressure to keep costs down in order to hit its goal of doubling digital revenue to $800 million by 2020, as print advertising revenue continues to fall. "To secure our future, we need to expand substantially our number of subscribers by 2020," an internal committee at the Times wrote in their 2020 report released in January 2017. 
Here's a quick rundown of the layoffs at the New York Times since the 2008 recession: 
February 2008: The Times cuts 100 jobs, including 15 to 20 journalists, in the midst of the December 2007 to June 2009 recession. 
March 2009: Newsroom salaries are cut by 5% and 100 jobs are slashed from the business side of the company. The company sent a memo to employees that said, "The company, regrettably, must take even more aggressive steps to control our costs. Clearly, our course is not getting any easier."
October 2009: The Times announces another 100 jobs will be cut through buyouts or layoffs by the year's end. 
October 2011: The Times plans for another 20 buyouts for the first big job cut round since 2009. In a note to employees, executive editor Bill Keller wrote, "I won't pretend that these staff cuts will not add to the burdens of journalists whose responsibilities have grown faster than their compensation. Like you, I yearn for the day when we can do our jobs without looking over our shoulders for economic thunderstorms."
October 2014: The Times announces plans to eliminate another 100 jobs through voluntary buyouts or layoffs. 
May 2016: The Times offers employees voluntary buyout packages but refrained from saying how many they were offering. "I also know there is anxiety about cuts," Baquet said in the memo to employees. "While no layoffs are planned in the newsroom for this calendar year, the company is planning other measures to cut costs, including in the newsroom."
May 2017: The Times announced that it wants to shrink its editor pool and increase its reporter pool. The company said it will resort to layoffs if not enough buyouts are accepted. "Our goal is to significantly shift the balance of editors to reporters at The Times, giving us more on-the-ground journalists developing original work than ever before," Baquet and Kahn wrote in a memo. 
Visit here for the latest business headlines.