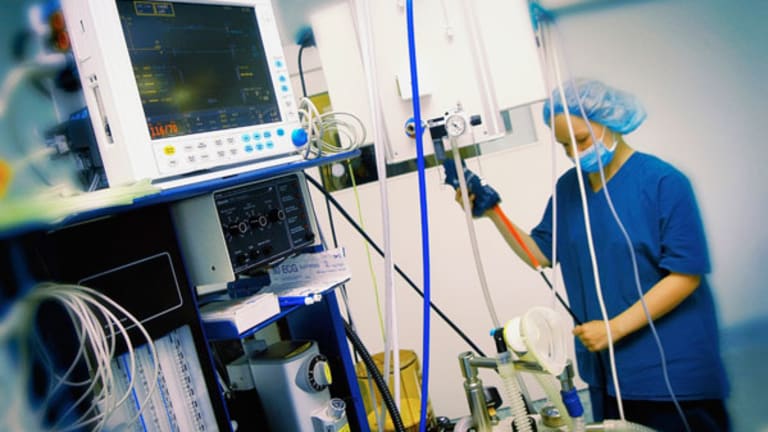 This Surgeon Isn't Falling Out of Love With Intuitive Surgical Or Its Robots
A doctor rants against the naysyers and nitpickers slamming robotic surgery. It's here for good, so get used to it.
PITTSBURGH (
) -- Let me offer you -- the good readers of
TheStreet
-- some notice. I make money the old fashion way. I cut people open. I work full time as a busy academic urologic oncologist. So why am I here? To rant about why the recent panic over
Intuitive Surgical
(ISRG) - Get Free Report
and the safety of its da Vinci surgical robot is likely smoke and mirrors. I will also tell you why I'm bullish on the future of surgical robotics.
In the past few weeks, various media reports and disclosures have hammered Intuitive Surgical. An FDA investigation into the da Vinci robots was disclosed. A negative article regarding outcomes of robotic surgeries for hysterectomies was published in the
Journal of the American Medical Association
. Last, a
statement raising concerns about the cost, marketing and outcomes of robot surgery
was issued by the American College of Gynecologists.
In my view, none of this doom and gloom has changed the optimistic view of robotic surgery or Intuitive Surgical's role in the growing field. Intuitive Surgical bulls should be buying. Bears can short the stock. Do whatever it is you do, my financial peeps, because you never beat the indices any way.
From my perch as a surgeon who actually uses the da Vinci robot, let me cut through the bulls--t. According to
Bloomberg
, FDA is investigating Intuitive Surgical for "malfunctioning" equipment and/or excessive deaths. So far, the investigation consists of FDA sending surveys to surgeons to determine if they've noticed any problems with the company's robots. Meantime, Intuitive Surgical
explains
the reported uptick in safety reports is simply the result of a change in the way adverse events -- known as medical device reports (MDRs) -- are reported.
I'm not surprised at all by an increase in the number of MDRs because there are more da Vinci robots in the healthcare system. The ratio of MDRs to surgical cases is the more applicable data to determine if an uptick in adverse events is truly occurring. Those data have not been reported.
I have never seen a serious problem related to the da Vinci surgical robot in over 1,000 surgeries. I have hundreds of professional colleagues who use the machine daily, and none have ever told me of a malfunctioning robot that hurt a patient independent of their action. Annually, more than 500,000 robotic surgical procedures, including 250,000 robotic prostatectomies, are performed. With that tremendous volume, a significant safety issue, if one existed, would have been apparent by now.
The
attention-seeking Johns Hopkins surgeon Dr. Martin Makary
says hospitals and other surgeons are keeping safety problems with robotic surgeries quiet. I can assure Dr. Makary there is no secret cabal of surgeons underreporting problems --we are not that interested or organized to do so.
Surgical robots like da Vinci are designed with redundant systems to curtail problems, including emergency stop buttons, web-based connections to a central server monitored by Intuitive Surgical, technicians on call 24 hours per day and manual ways to disengage the machine. Remember these robots are actually master-slave machines, meaning they're not free thinking or autonomous. Rather, the robots only do what surgeons like myself tell them to do with our fingers.
Crappy surgeons get crappy outcomes from surgery, whether they're performing procedures with a robot or with their own hands. Post-operative problems (including horrible deaths) happen all the time. That's the fault of the surgeon, not the robots. To err is human, to blame the robot is ridiculous.
An Intuitive Surgical bear told me via Twitter that he heard of a case where the robotic arm "could not be disengaged." Perhaps, but that's because the surgeon operating the robot is an idiot. It would take me two seconds to manually disengage a robotic arm. Another tweeter told me, "The patient's OR table was moved and the robotic arm punctured a piece of intestine." Again, the surgeon is to blame. How is the unfortunate incident, if it actually happened, the fault of the surgical robot? Look, I don't deny there are terrible stories of surgical mishaps out there, but the blame is on wayward physicians, not a machine.
What of the
JAMA
article crushing the gynecologists? Has anyone read it? I did, and let me say, if I was a woman with an ailing uterus, I would be running to get a robotically assisted hysterectomy. Why? Patients who got the robot left the hospital earlier. I would do anything to leave the hospital earlier. The complications rates between robot-assisted and "traditional" surgery were the same (see above nonsense about the FDA reports.) The only problem was the robot appeared to cost more. Guess what? Patients don't care about cost and surgeons don't either. As a practicing surgeon, do you want me to worry about cost when I'm standing over your loved one in the operating room? Or, would you rather I care more about producing a more favorable outcome? Outcome is going to trump cost every time. I will let others decide whether cost issues will eventually hurt the long-term health of Intuitive Surgical's stock price, but the use of the robot is unlikely to change with this
JAMA
paper.
In 2009, a very similar, negative report was published in
JAMA
claiming the long-term effect of minimally invasive prostatectomy was inferior to open surgery. Three years later, my good friend Dr. Quoc-Dien Trinh to
. A similar fate looms for the doubters of robot-assisted gynecologic surgery.
Here's some history: In 1996,
Lancet
a randomized, controlled trial on open versus laparoscopic cholecystectomy (gallbladder removal.) The study's conclusion: Open procedure was superior because there was no difference in hospital stay or recovery compared to "lap chole." Ten years later, surgeons are performing lap chole procedures as outpatient procedures and open cholecystectomy is thought of as medieval torture. Comparing surgical techniques is not like comparing two different pills. There is massive intra-surgeon heterogeneity even within the same procedures, which makes most surgical studies (including this
JAMA
paper) examinations of statistical noise.
I'm sure you've noticed lawyers love litigation. Intuitive Surgical has deep pockets, so I'm not surprised in the least that the company is now wearing a target on its back. You can whine about the company's over-the-top marketing, its bullying salespeople and its heavily financed surgeon spokespeople. Despite all that, the doctors I admire most in my field -- and who get no Intuitive Surgical money -- have all adopted robotics in their surgical practices. Why? Because it's a transformative surgical approach that benefits our patients -- decreased blood loss, less pain, shorter hospital stays and fewer complications. When other fields begin to understand and learn the technology, I have no doubt they will find similar success.
Disclosure: Davies doesn't own Intuitive Surgical stock and has never been compensated by the company in any way.
Benjamin J. Davies, MD, is an Assistant Professor of Urology at the University of Pittsburgh School of Medicine. He is the Director of the Urologic Oncology Fellowship and Chief of the Urology Section at Shadyside Hospital. Dr. Davies graduated from Columbia College and earned his medical degree from Mount Sinai Medical School in New York City. Following surgery and urology residencies at the University of Pittsburgh, he completed a postdoctoral fellowship in Urologic Oncology at the University of California, San Francisco. He has written over 30 peer-reviewed scientific and clinical publications on prostate cancer and bladder cancer.