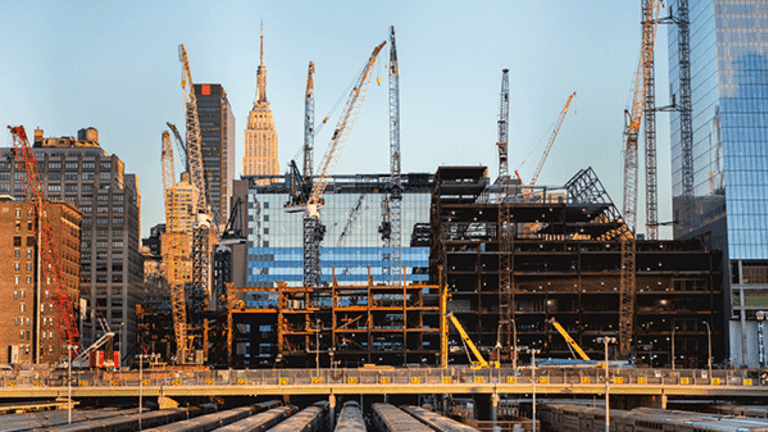 This Stock Could Be a Yuge Winner Under Trump's Building Bonanza
The president plans a construction boom, and this company is in the sweet spot to benefit.
The restructuring of the global economy toward services and technology has left behind millions of American workers who know how to build things with their hands.
The booming prospects of U.S.-based construction firms is therefore a welcome trend.
Shares of AECOM (ACM) - Get AECOM Report , a major construction company that reported first-quarter earnings for the quarter ended Dec. 31 on Tuesday, are a suitable pillar of any growth portfolio.
With a market capitalization of $6.02 billion, AECOM provides construction and engineering expertise for infrastructure projects around the world in five areas: global services; government; industrial and infrastructure; oil and gas; and power.
Fiscal first-quarter adjusted earnings came in at 53 cents a share, surpassing average analyst expectations of 51 cents a share but below the 68 cents a share reported a year earlier.
AECOM's growth is expected to pick up in tandem with enhanced federal and state infrastructure spending. Earnings are projected to grow 8.8% for the fiscal year ending Sept. 30, and 5.38% over the next five years on an average annualized basis.
To date, the earnings season has generated quarterly reports from nearly 54% of the construction companies in the S&P 500.
Among those construction companies, nearly 72% have exceeded analysts' expectations for earnings as well as revenue. Profits at these construction companies increased on average 10.2% on 10.7% higher revenue.
AECOM should benefit from President Donald Trump's plan to increase infrastructure spending, but make no mistake: His proposal isn't a traditional prime-the-pump spending plan.
At first, the logical assumption among investors and policy wonks was that his promises to repair the nation's airports, bridges, roads and sewage treatment plants would be in the model of liberal, Keynesian stimulus.
Upon closer inspection, however, this isn't the case. Acting on tax incentives provided by Uncle Sam, private companies wouldn't only independently fund and build these projects, but they would also own them.
Under this scenario, well-connected companies -- presumably a few connected to the White House -- would have the inside track. AECOM is based in Sterling, Va., within the Washington/Northern Virginia metro-plex of interconnected companies and lobbying firms.
With about 95,000 employees, AECOM also is number 156 on the 2016 Fortune 500 list. The company's operations are spread through Africa, the Americas, Asia, Australia/New Zealand, Europe and the Middle East.
AECOM is a top holding of the PowerShares Dynamic Building & Construction PortfolioExchange-Traded Fund, along with conventional home builder plays such as Home Depot.
Investors are rightfully expecting a construction boom under Trump, providing a tailwind for stocks such as AECOM. Over the years, the company has tended to use its extra capital to repurchase shares outstanding and for strategic acquisitions.
Consider AECOM a solid Trump play.
---
Trump claims he can keep his business interests out of the White House. But let's be honest...The Donald is a businessman. Making deals is who he is. I don't expect that to change just because he's president now. In fact, he dropped a big hint about the first big payday he's arranging when he tweeted: "The only way to fix the infrastructure of our country is me: roads, airports, bridges. I know how to build, pols only know how to talk!" But airports, roads, and bridges are only part of his trillion-dollar masterplan. Click here for the full story.
John Persinos is an analyst at Investing Daily. At the time of publication, he owned none of the stocks mentioned.