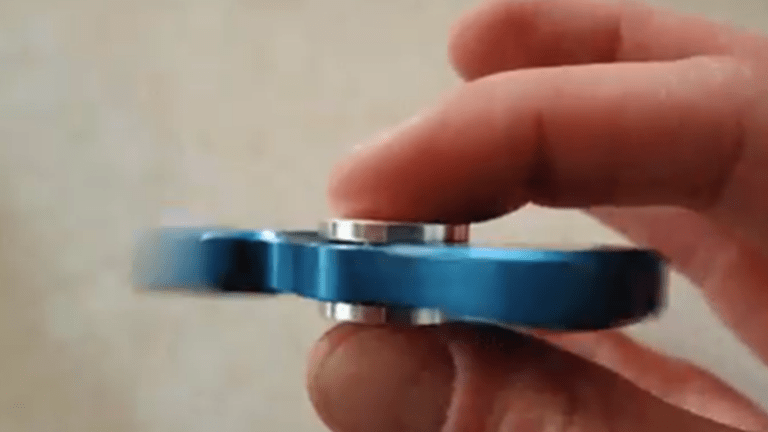 This Retailer Could Be Making Serious Money from the Fidget Spinner Mania That Has Swept the U.S.
Fidget Spinners are good for business.
The fidget spinner fad could be lighting up the cash registers at discounter Five Below (FIVE) . 
"Since the fourth quarter, a "fidget spinner" trend has emerged as a near-term tailwind [for Five Below], and we see a potential 2-4% sales benefit to 1Q17, which could further accelerate in the second quarter," wrote KeyBank Capital Markets analyst Brad Thomas on Friday. "Based on our store checks across 50 Five Below stores (about 10% of the chain), as well as other online analysis, the fidget spinner trend appears to have picked up momentum in mid-March and significantly accelerated throughout April and into May."
Originally designed as a stress-relieving toy for people who can't focus, fidget spinners have emerged as a popular collectable toy. Over the last several months, fidget spinners have increased dramatically in popularity as a mainstream fad toy for children, points out Thomas. A quick visit to Five Below's website shows the retailer offering them for a mere $5. 
Shares of Five Below have surged 14% over the past month in anticipation of a strong first quarter, led by consumer interest in fidget spinners. 
Make no mistake though, Five Below is more than just a destination for fidget spinners. 
Selling $1.50 cans of slime and $5 virtual reality headsets across a growing store base continues to work wonders for the company.
Five Below was one of the rare retailers to not spout doom and gloom on how its holiday season shoot out. Meanwhile, same-store sales have increased for a remarkable 11 straight years.
"There are some retailers out there that are winning, and in many cases they have a differentiated concept and they offer value," said Five Below CEO Joel Anderson in an interview with TheStreet in March when asked how the company has managed to overcome retail's general malaise. "We don't think about it as being Amazon (AMZN)  proof, you have to deliver an experience and value today so people come to the store, and we do both."
Or, just sell a ton of fidget spinners.