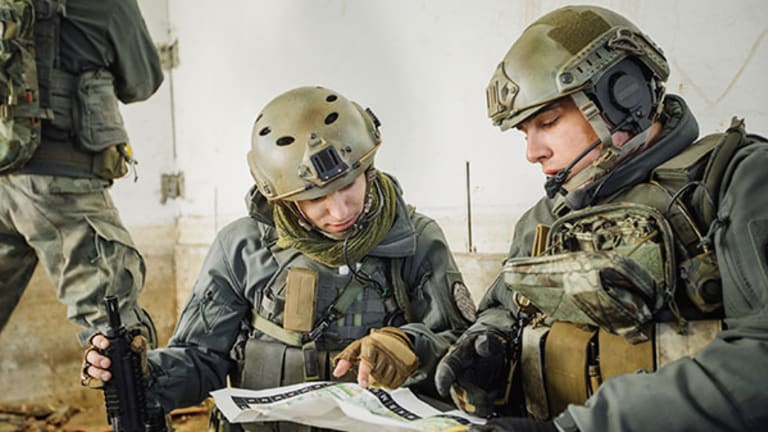 This Obscure Small-Cap Looks Ready to Beat the Defense Blue Chips
Look beyond the usual mega-capitalization suspects and consider this largely ignored military electronics firm. It is a small-cap rocket ready to break out.
Hyperventilating politicians who holler that the Pentagon is starved for funds are scaremongering to get votes.
No matter who wins this interminable U.S. presidential election, the Pentagon will continue to enjoy massive largess from Uncle Sam, which is a long-term investment opportunity for those who buy the best-positioned stocks.
While Congress fights bitter ideological battles over programs with puny funding (e.g., Planned Parenthood), the Pentagon continues to feed at the trough.
The U.S. military's fiscal 2016 budget reached $534.3 billion, an increase of $38.2 billion over the fiscal 2015 enacted budget of $496.1 billion. For fiscal 2017, the military budget should come in at about $582.70, a roughly 9% year-over-year increase.
Investors can leverage this permanent and growing pool of money for multi-year profits. However, those looking to make money in the aerospace/defense sector tend to fixate on the usual blue-chip suspects: BAE Systems,Boeing,General Dynamics,Lockheed Martin, Northrop Grumman, Raytheon, Textron and United Technologies.
These are all solid investments, especially Boeing because of its significant commercial work, but their market capitalization levels are gigantic, and defense spending increases are already reflected in their valuations. On average, their anticipated capital appreciation is modest.
Which brings us to the beauty of small-caps in general and Astronics (ATRO) - Get Free Report in particular.
With a market cap of $1.04 billion, Astronics is large enough to withstand market turmoil but small enough to provide outsize room for appreciation. The company designs and manufactures electronics for the aerospace and defense industries around the world.
Astronics operates through two divisions, aerospace and test systems.
The aerospace division offers aircraft structures, avionics products, electric-power generation, lighting and safety systems, and other products. The test systems division provides automatic test systems, such as communications and weapons test systems, and training and simulation devices to aircraft original equipment manufacturers.
Small-caps historically outperform the broader market during economic recoveries. U.S. economic growth continues apace, albeit at a modest rate, a context that has been manna for small-caps.
The Russell 2000 index year to date has gained 7.03%, compared with 4.48% for the S&P 500. The out-performance of small-caps should extend well into next year.
Astronics is a small-cap defense rocket ready to break out with double-digit gains. The company's earnings growth over the next five years is projected to hit 6.75%, compared with 0.09% for its industry,
Shares of Astronics are trading at more than $35 apiece. The average consensus analyst one-year price target for the stock is $44.25, which would represent a gain of nearly 25%.
The stock's trailing 12-month price-earnings ratio is 16.59, compared with the industry's 18.30. Those looking for reasonably valued growth in an overvalued and risky market, should add this small-cap stock to their portfolios.
---
As we've just explained, Astronics is a small cap rocket that's set to take off. If you're looking for other growth opportunities, we've found a genius trader who turned $50,000 into $5 million by using his proprietary trading method. For a limited time, he's guaranteeing you $67,548 per year in profitable trades if you follow his simple step-by-step process. Click here now for details.
John Persinos is an analyst at Investing Daily.
He also covers aerospace/defense and serves as an analyst with the aerospace consultancy Teal Group.
At the time of publication, Persinos owned shares of BA and RTN.