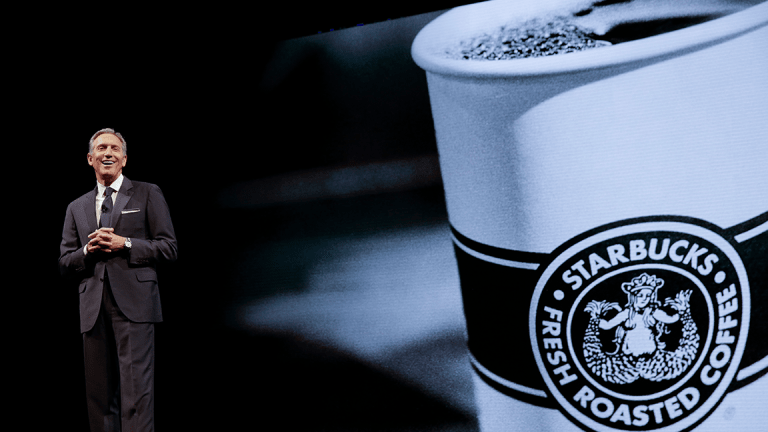 Howard Schultz Ditching Starbucks and Its Weak Stock Price -- Now What?
Schultz leaving Starbucks does not materially hurt the company -- it was already injured.
Schultz leaving Starbucks does not materially hurt the company -- it was already injured.
There goes a legend.
So, Howard Schultz steps down as Executive Chairman at Starbucks Corp. (SBUX) - Get Report and will become Chairman Emeritus. The stock sold off overnight in response to this news, as speculation ran amok that Schultz might be mulling a run for political office. The man who grew the business from a mere 11 stores to the behemoth that it became over a nearly four-decade (broken) run is leaving for other, if not greener pastures. Greener pastures?
Let's be honest, the shares are down roughly 11% over the past 12 months, this after spiking in response to Schultz stepping down as CEO in April of 2017. While recognizing Schultz for all that this firm has accomplished, one must also point out that the shares have for the most part run sideways over two and a half years, while equity markets have absolutely soared over that time frame.
Schultz is the one who mixed social ideas with business that surely did attract some investment for a very long time. Recent events, however, have dented that reputation so much so that the chain felt it necessary to close 8,000 corporate stores for an afternoon in May for 175,000 employees to undergo four hours of anti-bias training. That was a positive to be sure. That's also not why we're here.
Mercenary at Heart
Let's face it. When it comes to investment, we are all (well at least most of us) mercenaries at heart. A seemingly nice guy with (maybe) a political agenda leaves the top post at a high-profile company that has for a long time (badly, in fact very badly) under-performed the broader marketplace. Is this emotional overnight selloff in this name, precisely when those on the sidelines should strike? I'm thinking about it. Let's think some more.
On the other side of my town, there are a 7-Eleven and a Starbucks side by side. If I am over there, and I just need a quality cup of coffee, I am not going to go through the hassle, nor the expense of stopping into Starbucks. That said, if my wife wants to have a cup of coffee with me on a Sunday afternoon, the coffee-house atmosphere does provide value. In fact, many working folks, and students use the chain as de facto office space.
Starbucks has missed consensus expectations for revenue in seven of the last 10 quarters. That said, there has still been consistent growth. The company's three-year sales growth rate now stands at roughly 9%, providing an EPS growth rate of 16% over the same period.
The stock trades at nearly 21 times next year's earnings. That's a little expensive, especially when considering that both gross profit and operating margins have been in a state of erosion. Cash flow is not a problem, in my opinion. But due to the fact that total debt dwarfs cash levels, and the company's quick ratio stands at a somewhat troubling 0.76, I would not pay the last sale for this stock.
With the departing Schultz's profound political views, the immediate movement of the share price will be based more on emotion than anything else. Longer term, you will need to know your levels. Let's do that.
Point of Inflection
Obvious volatility ahead after nearly three years of inertia.
Roadmap
What I see here is both a daily Moving Average Convergence Divergence (MACD) and a Chaikin Money Flow that at first glance appear set for a change in direction. This could be a positive. That said, from a fundamental point of view, we've already discussed some overt problem areas. Like I have already said, there is a business here, just not one that I would pay a premium, or even the last sale for. Schultz leaving Starbucks does not materially hurt the company -- the company was already injured.
If one feels compelled to get long here, I would go in small. What interests me are the $52.50 July 20 puts. These went out last night at paltry $0.18 due to the fact that the shares have been anything but volatile over the past three years.
This strike price is below the Starbucks lows of February when the entire market puked. Due to some investor nervousness, there could be an artificially high premium attached to all Starbucks options this morning.
Keeping in mind that Starbucks is scheduled to report earnings on July 26, if I see a bid above $0.50 for these puts in the early going, know what?... Sold to you !! Take badge 986. Otherwise, I wait.
At the time of publication Guilfoyle was long SLB, HAL, XOM, RDS.A equity; short put options in APA, and VNOM. 
Action Alerts PLUS, which Cramer manages as a charitable trust, is long SLB.