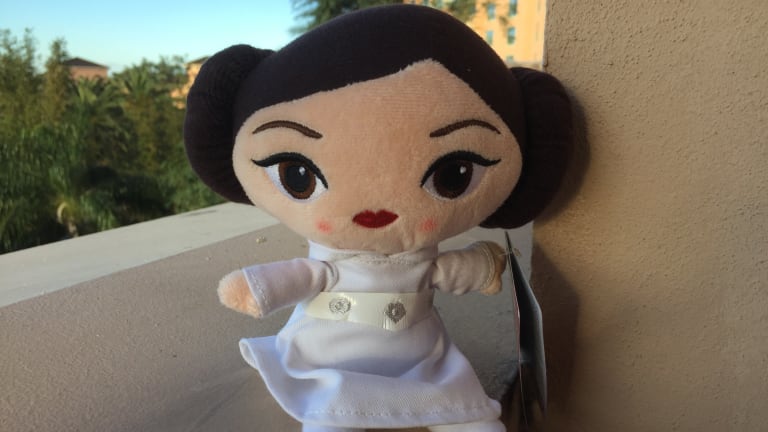 This Maker of Mini 'Star Wars' Figures Sees $1 Billion in Sales, Possible IPO
Who would have thought.
Editors' pick: Originally published Jan. 9.
Who knew that hawking ridiculously adorable figures etched from pop culture's biggest trends at the likes of Walmart (WMT) - Get Walmart Inc. Report and GameStop (GME) - Get GameStop Corp. Class A Report could be so lucrative?
Funko, mostly known for making whimsical mini vinyl and plush figures based on popular characters ranging from Star Wars to '80s cult TV show "Golden Girls", expects sales to reach $1 billion a year within the next five years, CEO Brian Mariotti said at the ICR Conference on Monday. In 2016, Funko's sales clocked in at $400 million in large part powered by a vast portfolio of 10,000 licensed characters, and delivered an impressive profit margin of 20%. E-commerce sales for Funko -- which has been in business since 1998 -- rose about 17% from a year ago to $35 million. 
"We just have an insanely passionate fan base -- our products will find you eventually," Mariotti told TheStreet when asked to complain the odd fascination with Funko's products, which typically cost less than $10. The force is especially strong with the millennials that secretly watched a show like the "Golden Girls" on TV and now want a mini Funko doll of Betty White on their work desks.
The average age of the buyer for Funko products is 30 years old, said Mariotti, who has been at the helm since buying Funko in 2005. Women represent about 55% of Funko's buyers. "It used to be buyers of collectibles were geeks in their parent's basement -- not anymore," Mariotti joked.
Funko is betting that its relatively small, yet highly creative staff can stay in lock step with pop culture trends as it ramps up growth.
The company recently became available in all 3,400 Walmart U.S. stores (up from 1,700 stores around this time last year), and is poised to make a push overseas where only 20% of it sales are currently derived. While Mariotti doesn't expect Funko to open up its own retail stores, he does believe there is tremendous opportunity in working with other major retailers. For instance, Funko's products are not available in grocery or dollar stores, but could be soon as the company develops specific offerings for these non-traditional channels. 
Strong sales momentum coupled with a lucrative business model raises the question of whether Funko will soon be a public toy company alongside  Hasbro (HAS) - Get Hasbro, Inc. Report , Mattel (MAT) - Get Mattel, Inc. Report and JAKKS Pacific (JAKK) - Get JAKKS Pacific, Inc. Report . Funko was purchased by private equity firm ACON Investments, who owns novelty shop Spencer's and Halloween costume company Spirit, for an undisclosed sum in November 2015. 
"We may start the exploratory process [for an initial public offering] within the next year, or we could consider a strategic transaction," Mariotti said.
In the meantime, Funko could sit back and watch the money roll in from celebrities such as Conan O'Brien and Robert Downey Jr. posting pictures of their mini-selves on social media -- Funko doesn't pay them to endorse its products. Sweet business model to be sure.