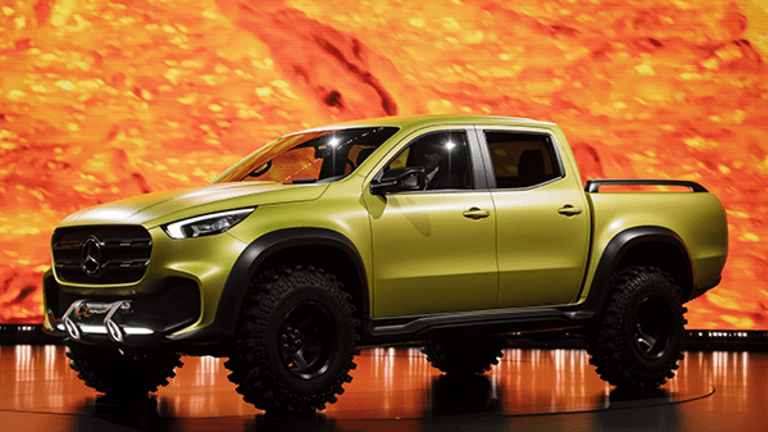 Publish date:
This Isn't an Optical Illusion: You Could Be Looking at the First-Ever Mercedes Luxury Pickup Truck
You have to check this thing out.
You have to check this thing out.
Editors' pick: Originally published March 3.
Somehow, we don't think the new Mercedes-Benz pickup truck will be carrying bags of concrete to a job-site. 
Daimler, parent of Mercedes-Benz, said Friday that it will bring its newest concept version of its first pickup truck to the Geneva Motor Show on March 7. The auto on display will be a luxury midsize model, and would mark the first true luxury pickup truck on the market. The actual production truck will be unveiled sometime this summer. 
Unfortunately, those in the U.S. will unlikely be able to get their hands on a new X-Class right away. 
When it arrives in dealer showrooms later this year, the X-Class will be sold in what Mercedes believes are several "key markets," and the U.S. isn't included at the moment. The markets that could get X-Class shipments are Argentina, Brazil, South Africa, Australia with New Zealand and Europe.
Jim Cramer sat down Wednesday with four market experts to talk about how to play the Trump tax plan. Click here to check out their recommendations.
To be sure, Mercedes may want to rethink its decision to sidestep the U.S. market with the launch of the X-Class. 
Pickup truck sales jumped 4% in the U.S. in January 2017, according to data from automakers. Ford's (F) - Get Report F-Series, long a friend to construction workers, saw sales gain 13% on the back of a continued improvement in the U.S. housing market. Midsize trucks, meanwhile, notched a 2.5% sales increase after surging throughout 2016.
Here are some photos of what Mercedes new pickup truck may look like.