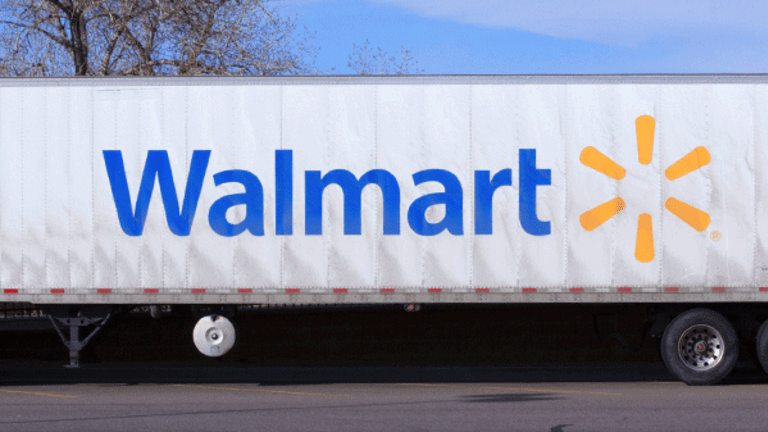 This Is Why Walmart Shares Are Tanking After a Good Quarter
As retail crumbles, Walmart climbs.
Walmart Stores Inc. (WMT) - Get Walmart Inc. Report  topped estimates again.
Before the market open on Thursday, Aug. 17, the big-box retailer reported second-quarter earnings of $1.08 a share, compared to earnings of $1.07 a share analysts surveyed at Factset expected. In the year-ago period, Walmart posted earnings of $1.07 a share.
Walmart's revenue rose 2.1% to $123.4 billion. Wall Street expected revenue of $122.8 billion.
The company's same-store sales popped 1.8% driven by its grocery segment, with a 1.3% growth in traffic, exactly in line with analysts' estimates. Still, shares of Walmart dropped 2.04% in late Thursday-morning trading as Wall Street likely expected a blowout quarter from a retailer that has gotten its act in order of late. By Friday morning, Walmart stock traded up 0.34% to $79.97.
For the full year, Walmart expects earnings in the range of $4.30 and $4.40 a share. Walmart previously estimated earnings of $4.20 to $4.40 a share. 
Amazon's Instant Pickup Service Shows Clearly Who Jeff Bezos Is Targeting Next
Walmart said its e-commerce growth "remained strong," generating a 60% increase in sales, in the quarter, driven by its $3.3 billion acquisition of e-commerce company Jet.com last August. One way Walmart has been boosting its e-commerce business is through a series of acquisitions of online retailers that began with the Jet deal, and includes its most-recent purchase of men's apparel retailer Bonobos.com.
"Our strategy is to make every day easier for busy families," Walmart President and CEO Doug McMillon said in a statement. "To accomplish this, we continue our transformation to become more of a digital enterprise that moves with speed and agility. I'm encouraged by innovation in the business."
The retailer said by the end of the year, 100 Walmart stores will house its Pickup Tower, which TheStreet reported back in August is a 16-foot automated tower that can hold up to 300 small to mid-size packages. All customers have to do is walk up to it (its doors automatically open when it senses a person approach), use the screen to scan their mobile receipt's bar code and the tower disburses their online purchase.
Walmart's better-than-expected quarter comes after Target Corp. (TGT) - Get Target Corporation Report released its second-quarter earnings on Wednesday, which came out better than Wall Street expected as well. The rival retailer posted online sales growth of 32% and a same-store sales increase of 1.3%, helped by a surprise 2.1% boost in traffic as it lowered prices.
Target revealed on its earnings call that, after acquiring transportation tech company Grand Junction, it can now start testing same-day shipping in New York City and next-day shipping in Denver and Dallas.
All in all, score one for the discount retail space. Last week, department-store retailers including Macy's Inc. (M) - Get Macy's Inc Report , J.C. Penney Co. Inc. (JCP) - Get J. C. Penney Company, Inc. Report and Kohl's Corp. (KSS) - Get Kohl's Corporation (KSS) Report released a wave of disappointing earnings reports as the decline of bricks and mortar heightens.
More of What's Trending on TheStreet:
These 10 Office Catch-Phrases Will Drive Your Coworkers Absolutely Insane