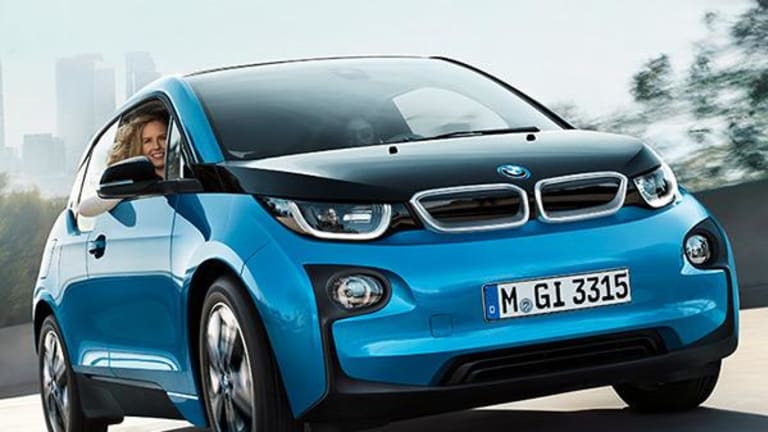 This Is Why the Great Electrification of BMW Should Terrify Tesla
The German automaker is full steam ahead with electric cars.
Tesla (TSLA) - Get Tesla Inc Report , and all makers of electric cars, take note. BMW AG aims to sell worldwide 100,000 of its electric cars, dubbed the BMW i3, this year, up from some 40,000 sold last year.
In 2016, electric vehicles accounted for 2.6% of BMW's sales, but the Munich-basedauto maker expects that number to shoot up over the next decade as the electric and plug-in car markets heat up. 
CEO Harald Krueger said Tuesday at an annual press conference that the company expects electrics and plug-in hybrids at BMW to account for between 15% and 25% of its sales by 2025. "This means the electrification of all BMW Group brands and model series," he said. "Our goal is sustainable mobility." 
Tesla far and away dominated the electric car market in the U.S. last year, according to Clean Technica. It captured nearly a third of it with its Models S and X combined, whereas BMW's i3 ranked at 5%. The other comers were the Chevy Volt (made by General Motors (GM) - Get General Motors Company Report ), the Ford (F) - Get Ford Motor Company Report Fusion Energi and the Nissan Leaf with market shares of 17%, 11% and 10%, respectively. The Ford C-Max Energi accounted for 6% of the U.S. electric car market.
According to Kelley Blue Book, Tesla's sales from 2010 to the end of February this year tallies a 37% market share, while BMW's is 8%. Year to date as of the end of February, Tesla has sold 4,200 vehicles compared to BMW's 700.
BMW has made steady progress in the space by introducing new models. By the end of 2016, according to a company spokesman who contacted TheStreet Tuesday by email, "the company had six plug-in hybrid models on the global market, plus one model for China. The new BMW 5 Series has also been available as a plug-in hybrid version since March."
More electric cars are sold in China than anywhere else, according to Electrek: last year, the country more than doubled its fleet of electrics to over 600,000—more than that in the U.S. and all the European countries combined.
Come this summer, BMW plans to introduce its first Mini plug-in hybrid, called the Countryman. Next year, it will debut the i8 Roadster (seen below). "With our strategy, we have decided that the fully electric drivetrain will be integrated into our core brands, with an all-electric Mini in 2019, and an all-electric BMW X3 in 2020," wrote the spokesman. In addition, the company said that soon, range will no longer be a differentiating factor between electric- and fuel-based cars.
BMW will give customers the choice of which drivetrains they want, which may be guided by regulations of particular markets.
BMW also plans to maintain control of its parts. It produces its own electric drivetrains, power electronics and battery cells. The company has a network of 31 locations in 14 countries, including a plant in Spartanburg, S.C., its largest. Under construction is a new plant in Mexico. Krueger was among the business leaders who accompanied German Chancellor Angela Merkel to the White House last week to meet with President Donald Trump, and he reportedly spoke with the president about plans for the Mexican factory.
While it will take a while for BMW to catch up with the California-based Tesla, it's about to hit the American auto maker in its own backyard. Some 100 extra BMW i3s will be crusing the LA streets this spring as part of the LAPD fleet dedicated to community policing and other police business; they won't be used for patrolling or car chases.
With Tesla's stock up an electric 21% this year amid optimism it will be able to produce 500,000 electric cars a year in 2018, the last thing CEO Elon Musk needs is a hungry luxury car competitor such as BMW breathing down its neck. Wall Street probably doesn't want that, either. 
Tesla did not respond to a request for comment.
Editors' pick: Originally published March 22.
Related stories from TheStreet:
BMW Has Made One of the Smartest Cars You Can Buy -- Here's What It Can Do
Here's Why This Exclusive New $416,000 Rolls-Royce Costs Way More Than Your House Is Worth