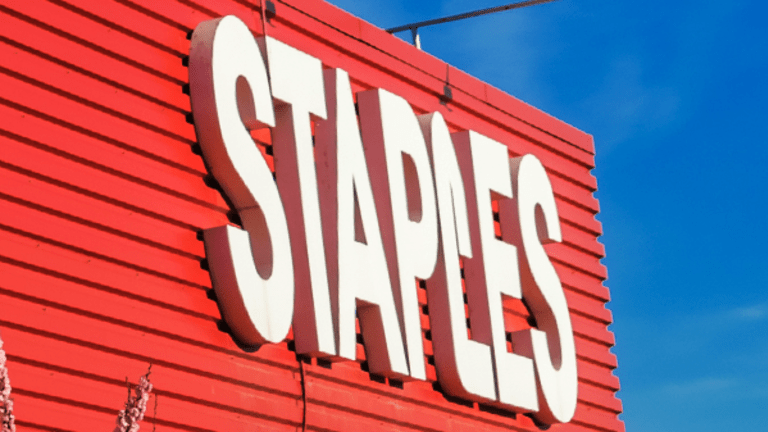 Here's Why Staples Is Trying to Dump Its Business Off to a Big Private-Equity Firm for $6 Billion
Staples is in need of a life line.
Staples is in need of a life line.
A deal for Staples Inc. (SPLS) is reportedly right around the corner.
Private equity firm Sycamore Partners is said to be in advanced talks to acquire the office supplies retailer in a deal that could be worth more than $6 billion. Sycamore, which beat out private equity firm Cerberus Capital Management for the Staples bid, is currently working on a debt-financing package in a deal that could be announced as early as next week, according to CNBC.
Staples and Sycamore Partners declined to comment.
As of May 17, Staples held $526 million in long-term debt and had total liabilities of $3.2 billion, according to a Securities and Exchange Commission filing.
Last month, reports began circulating that Staples was in talks with several private equity firms for a buyout.
"There's no obvious buyer for Staples among retailers and office supply manufacturers given Staples' size, the secular challenges facing the segment and the failed deal history with Office Depot," David Silverman, Fitch Ratings' senior director of U.S. Corporates, told TheStreet. "Given those challenges, it seems more like a potential buyer would be a financial investor with the resources to make a large purchase."
Silverman said that he expects Staples to continue reducing costs and closing stores while its earnings before interest, taxes, depreciation and amortization is likely to "remain flat at best over the next two to three years."
Shares of Staples rose 1% to $9.29 in post-market trading on Friday.
Here's why Staples is likely trying to sell its struggling business.
Staples was hit hard after its failed merger with Office Depot.
Last May, a federal judge blocked Staples' proposed merger with smaller office-supplies retailer Office Depot (ODP) - Get Report , citing antitrust issues, resulting in the plummet of both companies' stocks. In October, shares of Staples fell to $7.75, the lowest they have been at in 20 years.
Staples saw its stock slip 4.44% in 2016 after plunging 46.22% the year before.
Staples is getting crushed by e-commerce competitors.
Retailers across the board are being pummeled by e-commerce giants like Amazon (AMZN) - Get Report , including in apparel, home goods and now likely grocery. The reasoning goes, why go to a store to buy a pack of pens when you can easily order it online?
Staples' struggles were front and center in the first quarter, with same-store sales dropping 3%. 
Staples is just one of many retailers closing waves of stores.
In 2016, Staples closed 48 stores, ending the year with 1,255 locations. This year, Staples is planning to shutter 70 more.
Office Depot, too, was forced to shutter 123 stores in 2016 and plans for the closure of 75 more amid the failed merger with Staples.
Check out the full list of retailers closing massive amounts of stores.
Visit here for the latest business headlines.
Read More Trending Articles from TheStreet:
A Crash in Oil Prices Is Unlikely to Last and This Is a Buying Opportunity, Goldman Sachs Bulls Say
Kroger Thinks Amazon Will Make One Massive Change to Whole Foods
EpiPen Maker Mylan Was Just Dealt Another Major Blow
Here Comes One of the Most Intense Trading Days of the Year: Market Recon