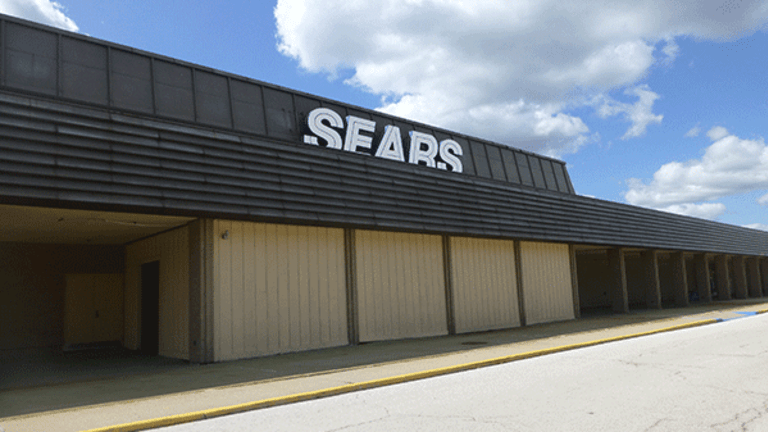 4 Reasons Why Sears Will Die Even If It's Selling $1,000 Kenmore Appliances on Amazon
Sears is still toast.
Sears Holdings Corp. (SHLD) will still go up in flames, despite its latest magic act.
Sears announced Thursday that it will sell its Kenmore appliances on Amazon.com Inc. (AMZN) - Get Amazon.com, Inc. Report , including a new line of Kenmore Smart appliances featuring Amazon's Alexa. Sears shares jumped 10.6% to $9.60 on Thursday.
In other words, Sears is taking its most treasured brand and partnering with the company that's done the most to hasten its demise. Amazon will be Sears' largest distributor outside its own stores and e-commerce channels.
The deal comes more than a year after Sears' announcement in May 2016 that it would explore alternatives for its Kenmore, Craftsman, DieHard and Sears Home Services businesses. Stanley Black & Decker Inc. (SWK) - Get Stanley Black & Decker, Inc. Reportpaid an initial consideration of $525 million for Craftsman in January, with the deal valued at up to $900 million.
"We continuously look for opportunities to enhance the reach of our iconic brands to more customers and create additional value from our assets," Sears CEO Eddie Lampert said in a statement Thursday "The launch of Kenmore products on Amazon.com will significantly expand the distribution and availability of the Kenmore brand in the U.S."
The companies said they plan to expand the deal to include all Kenmore U.S. home appliances and "white-glove service for delivery, installation and extended product protection." With the Alexa partnership, for example, customers can use Alexa voice-activated technology to instruct their Kenmore air conditioner to a certain temperature.
Amazon and Walmart Stores Inc. (WMT) - Get Walmart Inc. Report recently have expanded significantly their appliance offerings, once a leading Sears business. Now the retailer's appliance sales rank third at $3.8 billion in 2016, down 9.5% year over year, below Lowe's Cos. (LOW) - Get Lowe's Companies, Inc. Report , where appliance sales rose 7.9% to $7.1 billion, and Home Depot Inc. (HD) - Get Home Depot, Inc. Report , where appliance sales rose 11.1% to $5.9 billion.
The Amazon deal follows another bit of craftiness on the part of Sears lately as it tries to stay alive. 
Shares of the dying department store surged 14% on Tuesday as Lampert loaned his biggest investment another $200 million. Lampert has now loaned Sears about $1.6 billion in a bid to keep the company afloat. The interest rate on Lampert's gift: an alarming 9.75%.
But, the bulls trading this dog of a company long may want to relax a bit. 
Why Sears is in big trouble extends beyond terrible-looking stores that needed massive investments like 10 years ago. Nope, there is an ugly storm brewing that could topple Sears within the next two years.
Several key considerations:
1. Lampert is sucking Sears dry with these high interest rate loans. The loans will have to be paid back a lot quicker than anyone realizes -- just check the filings.
2. Sears continues to send negative signals on its business to suppliers by accepting such high interest rate loans. Desperation moves that are likely to hurt in-stock levels this holiday season
3. The company is internally broken. There is no path to cash generation.
4. The Amazon and Stanley Black & Decker deals -- while providing a short-term business boost -- are likely to erode Sears' market share further over the next few years. In effect, Sears is saying it's top brands are worth more on other websites/in stores than inside the four walls of Sears store.
Get the notepad out folks, because the downfall of this once proud company is going to be quite the spectacle.
More of What's Trending on TheStreet:
Former Apple Exec: 'It's Sad to See Apple Slipping to the Position of Follower'