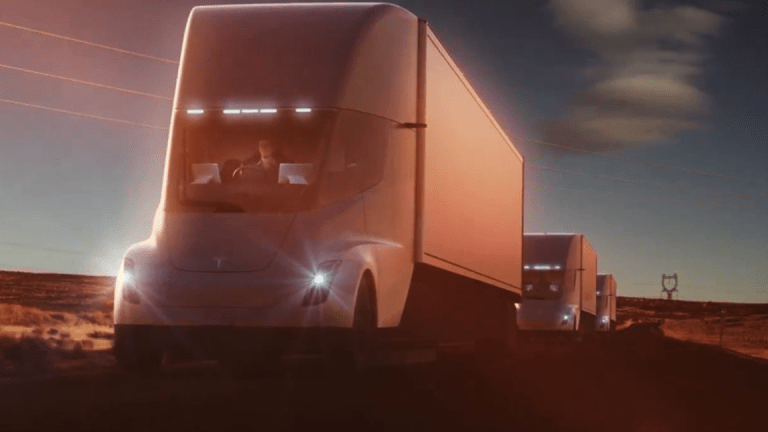 This Is When You'll See Autonomous Trucking
Autonomous trucking may only be a few years away from reality, whether consumers think that's possible or not.
The autonomous driving race is a hotly debated one.
That's as enthusiasts become too bullish on the technology, capability and time needed to safely roll out successful autonomous driving platforms. Just ask General Motors (GM) - Get General Motors Company Report , Alphabet's (GOOG) - Get Alphabet Inc. Class C Report (GOOGL) - Get Alphabet Inc. Class A Report Waymo and countless other companies how difficult a task it is.
Then there's the pessimists, those who think the technology is decades away and potentially not something they'll see in their lifetimes. I have no doubt that autonomous driving systems will still be improving several decades from now, but to think we won't see them on the roads by then is unrealistic and stubborn.
Realistically, we're marching toward having autonomous vehicles on the road within a few years. And no, not just a few hundreds testing cars from a handful of companies. But rather, full-blown autonomous driving and delivery systems in specific cities from multiple companies.
But autonomous driving goes beyond having a self-driving taxi or Uber show up on our curb. It also extends to delivery and perhaps even more disruptively, to trucking. The logistics market is ripe for innovation. Specifically speaking on the trucking market, there are a lot of expenses involved and there's a shortage of qualified drivers.
The upsides for autonomous trucking applications then are obvious: It should be cheaper to ship things as the costs for delivery and transportation companies drops. That's how economics work. If Tom's costs are lower than Frank's, he can offer a better rate. When Frank gets his costs lower, he can undercut Tom. The process plays out until Frank and Tom are on a reasonably level paying field.
The other upsides include the reduced cost for freight operators, along with more efficiency and an improved safety profile. The downside is obvious too, in that it will eventually take away trucking jobs.
In fact, 43% of trucking costs come from the driver, according to Denny Mooney, former VP of Engineering at General Motors and current VP of Global Engineering at Navistar.
While reducing those costs may anger some people, it's a reality we face today. Trucking companies will have no choice but to improve their safety and cut costs if the technology is there.
So that begs the question, how long until we see autonomous trucking?
For a rough estimate, "three years from now," Mooney said at the Autonomous Vehicles 2018 Conference last month in Novi, MI. But let's not overreact to his comments. Three years from now, autonomous semi trucks won't be crawling through city streets or even bustling down every highway in the U.S.
Instead, Mooney spoke to the idea of specific geofenced, high-volume routes. For example, a route between Los Angeles and Phoenix mainly consist of 370 miles on I-10. From LA to Vegas, it's ~270 miles of desert road on I-15.
It's these types of routes that offer opportunity for trucking. By having geofenced routes, operators don't have to have autonomous solutions that allow for driving on all surfaces, roadways and conditions. Obviously the vehicles need to be able to react safety to avoid obstacles, along with common and uncommon interruptions.
But that's where guided platooning comes in, a concept that involves a lead human driver, with one or more autonomously operated vehicles following closely behind.
The use of autonomously operated platoons will not only improve safety and efficiency, but will also help solve the driver shortage issue the industry currently faces, said Jason Roycht, VP and regional business leader for commercial and off-road vehicles at Bosch.
Roycht went on to explain that these geofenced routes would be perfect in the H2H environment, or hub-to-hub. Essentially, a driver could leave a hub (think warehouse) in LA and drive to another hub in Phoenix, with a few platoon vehicles behind them. For his part, Roycht suggests various autonomous trucking solutions could be three to four years away.
The bottom line? Autonomous trucking is inching its way onto our highways. While it will take a few years to see them on the road with a larger role, the discussion from Roycht and Mooney illustrate a world where, at least for the foreseeable future, autonomous trucking platforms will operate alongside human drivers -- not eliminate them -- helping to fill a void where there is a clear shortage. 
This article is commentary by an independent contributor. At the time of publication, the author had no positions in the stocks mentioned.