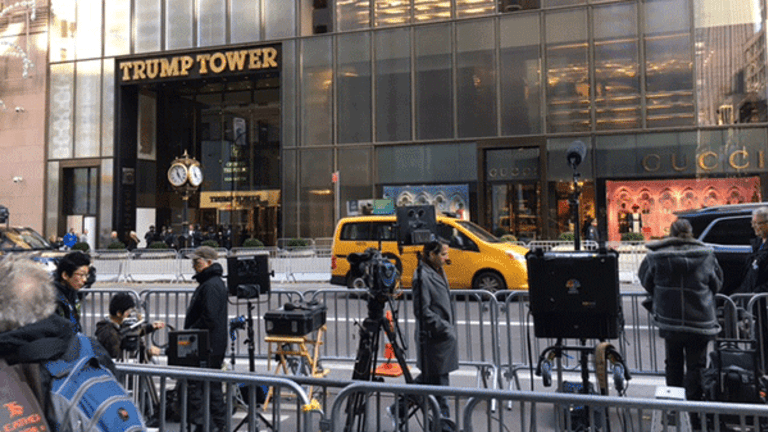 This Is How the Media Is Reporting Their Off-the-Record Meeting With Trump
The New York Post claims the meeting was contentious and rowdy while CNN says "real progress" was made.
The New York Post claims the meeting was contentious and rowdy while CNN says "real progress" was made.
A Monday off-the-record meeting between media bigwigs and President-elect Donald Trump was either a lambasting of the country's press or a cordial meeting that helped mend fences following the contentious campaign and Trump's penchant for biting tweets.
Executives and anchors from all five major networks attended the 1 p.m. EST meeting at Trump Tower including Fox News co-presidents Bill Shine and Jack Abernathy, NBC News president Deborah Turness, ABC News president James Goldston and CNN Worldwide president Jeff Zucker, according to numerous reports.
"The meeting took place in a big board room and there were about 30 or 40 people, including the big news anchors from all the networks," one of two anonymous sources quoted by the New York Post said. "Trump kept saying, 'We're in a room of liars, the deceitful dishonest media who got it all wrong.' He addressed everyone in the room calling the media dishonest, deceitful liars."
The meeting was arranged by Trump adviser and former campaign manager Kellyanne Conway, who praised the scrum in a brief press conference in the lobby of Trump Towers following the event.
"Excellent meetings with the top executives of the major networks," she said. "It was also very candid and very honest. From my own perspective, it's great to hit the reset button. It was a long, hard-fought campaign."
CNN also cited anonymous sources who took part in the meeting but made no mention of explosive comments from the president-elect. Instead, the network's source said the gathering lead to "real progress" while another claimed the meeting helped underline the need for a press pool that shadows the president everywhere -- Trump recently slipped away from the media for a Manhattan dinner with his family.
Presidents traditionally have informed the media about their whereabouts around the clock in case something should happen that requires reporting, such as an assassination attempt or the chief executive's actions during times of crises.
Anchors who attended the meeting include NBC's Lester Holt and Chuck Todd, ABC's George Stephanopoulos and Martha Raddatz, CBS' Norah O'Donnell and Charlie Rose, and CNN's Erin Burnett.
The Trump team apparently isn't yet done with the media. The New York Times publisher Arthur Sulzberger Jr. and other Times mucky-mucks will meet with Trump Tuesday.
"There will be a small, off-the-record meeting first, followed by an on-the-record session with Times reporters and editorial columnists," the paper said in a release.
Trump as recently Nov. 16 referred to the Times as "failing" in a Tweet and accused the paper of embarrassment over its prediction of Hillary Clinton winning the election.