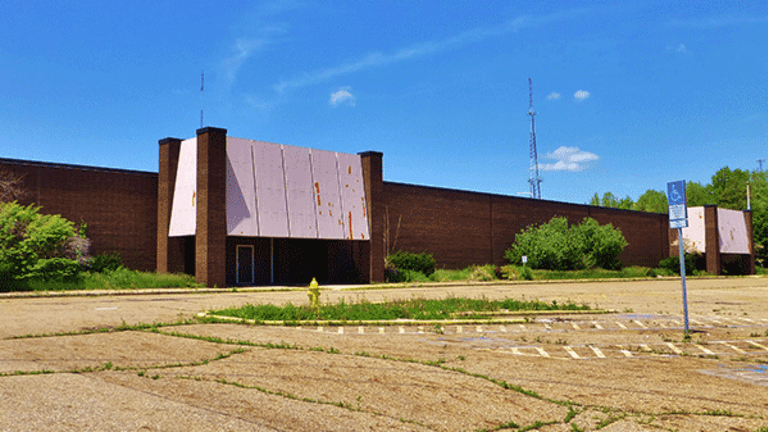 Sears Is Letting This Foreign Retailer That Sells $2 Underwear Put It Out of Business Even Quicker
Watch out.
Dublin-based fast-fashion, discount retailer Primark is gaining momentum in the U.S. and appears to be sucking the life from the dying Sears Holdings Corp. (SHLD) .
In 2014, Sears announced a deal with the U.K. equivalent to Hennes & Maurtiz (HNNMY) and Forever 21 to lease a total of 520,000 square feet of space to Primark. The discount retailer originally got seven standalone stores out of the deal, which are all mostly located on what used to be the top level of a Sears mall-based store.
Primark first opened its doors in September 2015 in Pennsylvania, but Primark's presence in the U.S. is slowly growing. In June, Associated British Foods (ASBFY) , the retailer's parent company, opened its eighth U.S. Primark store, in Massachusetts, again after leasing space from Sears.
Barclays said in a note on Thursday, July 6, that Primark is planning for more store openings in the U.S. in the second half of this year. Primark has more than 290 stores globally in countries including Germany, Belgium and Italy.
It seems that Sears thought that if it placed a new millennial-focused, popular retailer from the U.K. on top of its decaying stores that it would draw in customers. That and Eddie Lampert, Sears Chairman and CEO, is desperately trying to sell off real estate to raise cash, as it burned through $1.6 billion last year alone and is on track to shed another $1.8 billion in cash this year.
But, Cowen & Co. analyst Oliver Chen predicted that Primark can lead to the demise of not only fast-fashion discounters like H&M and Forever 21, but teen retailers like Gap's (GPS) - Get Gap, Inc. (GPS) Report Old Navy, other discount giants like Walmart Stores (WMT) - Get Walmart Inc. Report and Target Corp. (TGT) - Get Target Corporation Report and full-line department stores.
"Partnering with globally recognized brands such as Primark to help establish its store base in the Northeastern U.S. is testimony to both our attractive store locations and our focus on transforming Sears," Lampert said in a statement at the time of the 2014 deal.
Sears has not transformed since. The retailer has failed to turn a profit in 29 out of its last 37 quarters and its same-store sales have declined in 11 of the past 12 quarters. And it's no wonder why. TheStreet recently visited certain Sears, and Kmart, stores and found them all to be understocked, unorganized, dingy and dirty.
Meanwhile, reviews of Primark's U.S. locations have been largely positive.
"Oh the heaven that is Primark," Yelp user Jennifer V. recently wrote. "The store is massive! They have a women's section, men's, babies, lingerie, shoes, bags, jewelry and housewares. The selection is huge and the range of clothing sizes is appealing. The store was neat and organized."
On Thursday, U.K.'s Associated British Foods, with business units in grocery, sugar and agriculture as well as retail, reported a total 10% revenue growth in the 40 weeks ended June 24, touting a 13% rise in Primark sales.
"The underlying operating performance of the group during the third quarter was ahead of our forecast as a result of a stronger profit delivery from Primark which has marginally improved our group outlook for the full year," Associated British Foods said.
The company said early trading from new Primark stores, particularly in Florence and the U.S., "has been good," without going into further detail. Barclays, in its note, estimated that Boston is one area in the U.S. that is outperforming others for Primark.
Here's where you can find a Primark store in the U.S. (some photos do not match up with the store). Sears spokesman Howard Riefs declined to comment. 
Sears' shares fell 1.9% to $7.78 by Friday's close.
More of What's Trending on TheStreet:
You Should be Worried: Cramer's 'Mad Money' Recap (Thursday 7/6/17)
Inside the Vicious Stock Market Beat Down: Market Recon
Meet The Women Redefining Business in TheStreet's New Series, Alpha Rising