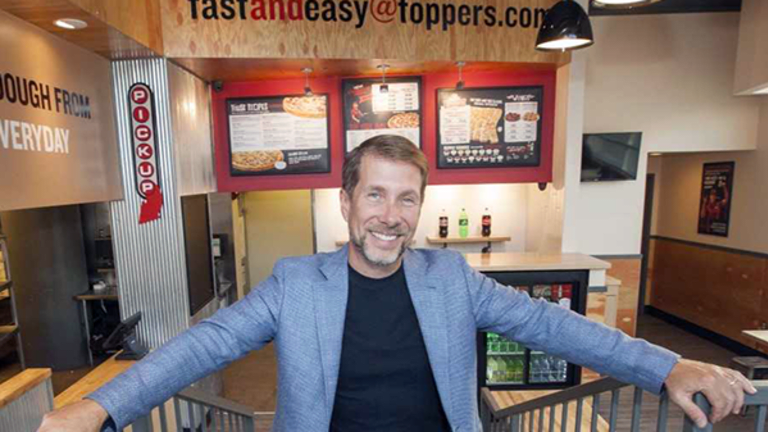 This Ex-Domino's Employee Reveals Why He Left to Start a 'Better' Pizza Chain
Start with a good recipe for success.
It often takes an insider to know how to build a better mousetrap, or, in this case, a pizza chain.
Enter Scott Gittrich, who worked at Domino's Pizza Inc. (DPZ) for more than seven years, then went on to found his own pizza chain, called Toppers Pizza, with locations mostly in the Midwest.
Gittrich started out in the pizza business at age 20 as a delivery driver for Domino's in Illinois. The year was 1984, at a time when pizza delivery, like mobile ordering is today, was an emerging concept that not every pizzeria, or customer, fully understood. He took a leap of faith, dropped out of college and decided to get in on this newfangled idea of delivery.
Domino's CEO Reveals How Pizza King Will Keep Pummeling McDonalds's in One Key Area
"Domino's was growing fast when I started," Gittrich, now 54, told TheStreet on Friday, Aug. 11. "I worked ridiculous hours, 70-, 80-, 90-hour work weeks, but it was a lot of fun. I was excited about delivery. It's hard to believe now, but customers would come into the [delivery] stores [then], and they couldn't understand why there wasn't a lot of space."
In his time at Domino's, Gittrich said he swiftly moved up the ladder and eventually landed a position as director of operations, overseeing 22 franchised restaurants in North Carolina. But, in 1991, fed up with serving people frozen, "cheap pizza," that he said Domino's served then, Gittrich left the pizza chain and founded his own.
Today, Toppers Pizza, now in its 26th year, has expanded to 79 restaurants, both owned and franchised, in 16 U.S. states. The privately held pizza chain reached $61.9 million in revenue last year, from $34.5 million in 2012, and is on track to open its 100th restaurant in 2018. Gittrich, Toppers' CEO, said his company is focused on serving pizza each day, made with fresh, never-frozen, ingredients.
"I saw Toppers Pizza as an opportunity to do things better," Gittrich said. "I fancied Toppers to be the maker of pizza from scratch, to use fresh tomato sauce and non-frozen cheese and to be known for its unusual toppings."
Although he criticized Domino's choice of ingredients, Gittrich has praise for the chain, too.
He credits Domino's with teaching him how to run a business, manage people and focus on profitability, without losing sight of his own moral compass. Plus, he still takes notes from Domino's, viewing it, like most on Wall Street do, as the fast-food leader in online and mobile ordering. For Toppers, some 47% of its total sales are online.
"I resigned from my position [from Domino's] because I'd saved $30,000, and it was time for me to follow my dream, to own my own restaurant," Gittrich said. "Not only was it amicable, the franchisee I worked for, Mack Patterson, is a friend and a business hero."
Gittrich said Toppers Pizza, named for the wide variety of toppings offered, was one of the first to put chicken on a pizza. Today, two popular, "wacky" toppings on the menu are the mac-and-cheese and the tater-tot pizzas. The "loaded tot-zza," comes with ranch sauce, mozzarella cheese, tater tots, bacon, onions and a drizzle of nacho cheese.
Gittrich said that even if fast-food chains claim their products are made with fresh ingredients, they may not be true.
"How much they're really shifting to fresh ingredients and how much they're marketing that they are, are two different things," Gittrich said. "If you look at the ingredients in their cheese, it reads more like [those on] a shampoo bottle."
Domino's "pizza cheese" ingredients, for example, are listed as part-skim mozzarella cheese, pasteurized milk, cultures, salt, enzymes, modified food starch, cellulose, nonfat milk, whey protein concentrate, natural flavors and sodium propionate (a food preservative), according to its website. Papa John's Int.'l Inc. (PZZA) lists the ingredients in its cheese as part-skim mozzarella cheese, modified food starch, sugarcane fiber, whey protein concentrate, sodium citrate and sodium propionate.
Gittrich added that some giant pizza chains use frozen cheese, which saves money, but it is not what he would consider fresh. Recently, he said Toppers hired a new supply-chain manager who advised Gittrich to use frozen cheese, instead of the fresh Wisconsin cheese it uses to save "hundreds of millions of dollars," but he shot the idea down. "Every move we make like that takes us closer to [serving] cheap pizza," he added, "and we're not going to do that." 
Domino's told TheStreet, on Wednesday, Aug. 16, in an email: "'Cheap' is a matter of opinion," and confirmed that its cheese is frozen, but denied that freezing the cheese compromises its freshness. Papa John's did not return a request for comment.
So where exactly does Toppers stand today? Will it go public? At least for now, "No," said Gittrich, "this is just starting to get fun."
More of What's Trending on TheStreet:
The 30 Nastiest Storms in Recent U.S. History Have Caused Mind-Blowing Damage
Editors' Pick: Originally published Aug. 16.