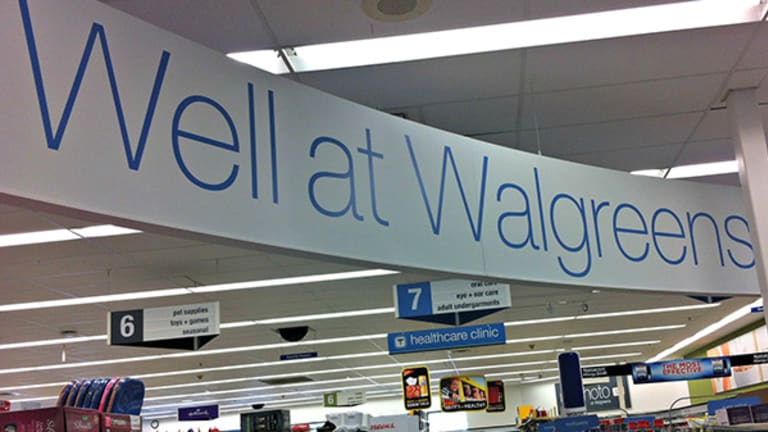 This Drug Retailer Isn't Worried About Possible Obamacare Repeal
President-elect Donald Trump has made the elimination of the Affordable Care Act a top priority, but Walgreens Boots Alliance will thrive, regardless. In fact, it stands to benefit.
It has been a GOP mantra for years: Repeal the Affordable Care Act.
With the surprising election of Donald Trump as president, the Republicans may get their chance.
The problem is, they are sort of like the dog that finally caught the car. What do they do now?
The GOP's dilemma was complicated on Wednesday when the Obama administration said that 6.4 million people have signed up for health insurance next year under the ACA, as Americans hurried to buy plans ahead of Trump's inauguration.
But one drug retailer is on course for growth next year, no matter what the wise solons in the nation's capital decide: Walgreens Boots Alliance (WBA) - Get Report , the largest drugstore chain in the world.
Walgreens Boots Alliance is a holding in Jim Cramer's Action Alerts PLUS Charitable Trust Portfolio. See how Cramer rates the stock here. Want to be alerted before Cramer buys or sells WBA? Learn more now.
The new health care sign-ups represent an increase of 400,000 from a year earlier.
Trump and the GOP-run Congress must figure out how to replace a law that more than 30 million Americans rely on for health coverage. By some estimates, repealing the ACA could cost 13 million children their coverage.
The president-elect called the ACA a "total disaster" on the campaign trail, but as his been the case on many issues, Trump is starting to back-pedal, suggesting that he is willing to keep some popular provisions of the law.
Health-related stocks have gyrated this year on ACA and other political news, but Walgreens Boots Alliance is on track for multi-year market-beating gains, regardless of the posturing and kabuki theater in Washington.
Deerfield, Ill.-based Walgreens Boots Alliance operates through three segments: Retail Pharmacy USA, Retail Pharmacy International, and Pharmaceutical Wholesale.
Retail Pharmacy USA operates 8,175 retail stores under the Duane Reade and Walgreens brands in the U.S., seven specialty pharmacies, and about 400 in-store clinics.
Retail Pharmacy International operates 4,673 retail stores and 636 optical practices around the world.
The Pharmaceutical Wholesale segment handles the distribution of generic and specialty drugs, beauty and health products, and home health care equipment and supplies.
Walgreens Boots Alliance also offers pharmacy benefit management services for complicated health treatments. PBM is one of the hottest trends in health care cost containment and should prove a boon for Walgreens Boots Alliance as health care companies and politicians look for ways to fill the void left by the ACA's complete or partial repeal.
Retail drug stores are a booming business, fueled by the graying of the population and greater health awareness. As people around the world get older and sicker, Walgreens Boots Alliance will be there to sell them drugs and other health services.
These tailwinds make Walgreens Boots Alliance a long-term growth stock suitable for retirement portfolios.
Walgreen Boots Alliance is scheduled to release fiscal first-quarter operating results on Jan. 5, and the report card is expected to be stellar. 
The consensus forecast is for earnings of $1.10 a share, compared with $1.03 a share a year earlier.
For the full fiscal year, earnings are pegged at $5.01 a share, compared with $4.59 a share a year earlier. Fiscal 2018 earnings are estimated at $5.53 a share.
Walgreens Boots Alliance's trailing 12-month price-earnings ratio is 22.16, a modest premium compared with the trailing P/E of 17.3 for smaller rival CVS Health.
However, Walgreens Boots Alliance boasts better earnings growth momentum, with growth projected at 10.40% next year and an average 12.60% over the next five years. For CVS Health, the figures are 1.0% and 10.69%, respectively.
Walgreens Boots Alliance shares are trading at about $84.50 apiece. The average analyst one-year price target is $93.10, which would represent a gain of more than 10%.
In an overvalued and volatile market that is probably due for a correction, projected double-digit gains from a drug and health stalwart look pretty good.
Cautious investors who want to tap into these moneymaking trends, should consider the Consumer Staples Select Sector SPDR Exchange-Traded Fund  (XLP) - Get Report , which provides exposure to drug retailers. Walgreens Boots Alliance is a major holding of the ETF.
---
As an investor facing what promises to be a volatile 2017, you want to be in control of your own destiny. That means being able to predict in advance how much money your investment portfolio will generate. Think it can't be done? Our top analyst has a system that can ensure you will make a profit on more than 80% of your trades. To find out the secret, just click here!
John Persinos is an analyst with
Investing Daily.
At the time of publication, he owned none of the stocks mentioned.