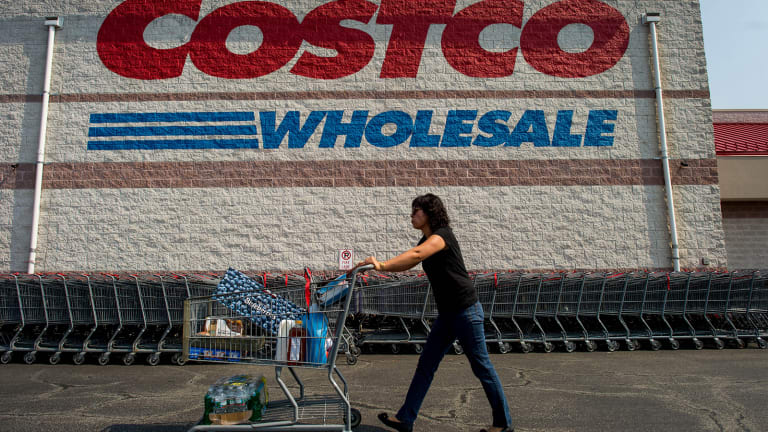 Costco Could Have Been Dealt a Fatal Blow by Amazon and Whole Foods
Costco has one big reason to be worried.
That the majority of people holding a Costco Wholesale Corp. (COST) - Get Report membership card also enjoy Amazon.com Inc.'s (AMZN) - Get Report Prime service could prove to be the warehouse retailer's Achilles' heel.
In a Monday, June 19, research note, Cowen & Co. wrote that the overlap of Costco and Prime members has grown to 64% so far in the second half of 2017, compared to 28% in 2013, while the percentage of people carrying Costco memberships only has dwindled to 8% from 14% in 2013.
"Additionally, data suggests dual member (Costco and Prime) are visiting Costco stores less often over the past several quarters, which is likely caused by greater overlap," Cowen analyst Oliver Chen wrote.
This could prove to be a fatal blow to Costco if Amazon's proposed $13.7 billion acquisition of Whole Foods Market Inc. (WFM) gains approval, because loyal Prime members might shift their food shopping to the grocer for online sales and delivery. To be sure, as it stands today, Whole Foods caters to a much different consumer than Costco, targeting an affluent person who doesn't mind spending extra for organic food, which aren't sold in bulk like Costco's products.
Still, much remains to be seen as to how Amazon will transform Whole Foods. On Monday, it was revealed that Amazon is reportedly considering cutting jobs and prices at Whole Foods to compete with discount giants like Walmart Stores Inc. (WMT) - Get Report .
Cowen also found that for the first time in three quarters, the number of households holding a Costco membership dropped from the previous year. In the first quarter, respondents who said at least one member of their household is a Costco member declined 31% and Cowen's analysts expect that pressure to persist.
The firm did reiterate its outperform rating on Costco stock and added that what may save the retailer is its unique private-label products, like those under Kirkland Signature, and its "treasure hunt atmosphere."
Costco's executive membership costs $120 a year; its business membership, $60 a year and its Gold Star membership, $60 a year. A Prime membership costs $99 annually.
Costco's shares fell 1.1% to $162.58 early Tuesday afternoon.
Read More Trending Articles:
Intel Just Got Smoked By AMD In the Race to Unleash a Super Chip
This Is Why Alibaba Is About to Take Over Downtown Detroit