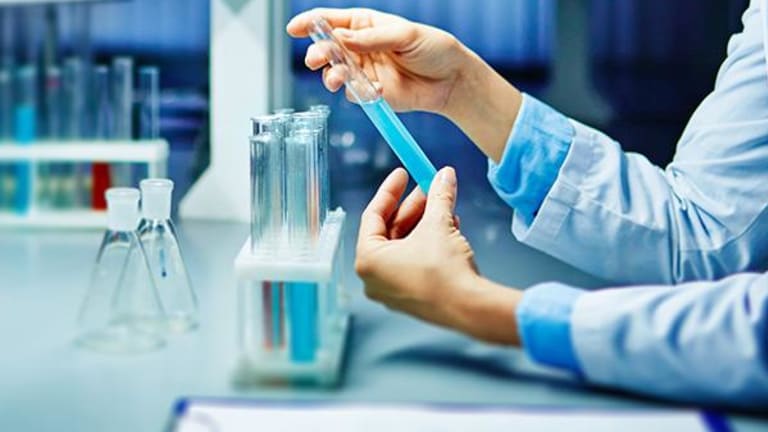 This Biotech Small-Cap Has Big Ambitions
Female Health Co./Veru Healthcare's stock is down, but the company says it's not out.
Female-condom maker Female Health Co./Veru Healthcare (FHCO) has floundered recently, but management hopes that a 2016 merger with a late-stage-drug developer could be just what the doctor ordered for the firm. FHCO combined in October with Aspen Park Pharmaceuticals in an all-stock deal to become "Female Health Co./Veru Healthcare," with plans to diversify its portfolio to include drugs for men.
"Female Health wanted to be able to show its investors growth, so we stepped in and said: 'What kind of growth can we get now?'" CEO Mitchell Steiner told TheStreet in an interview. 
He said the path to that growth will be incremental, beginning with increasing profitability of the company's flagship FC2 female condom. Female Health/Veru garnered $22 million selling 42 million units of FC2 in 2016 and has sold more than 500 million of the condoms to date.
The company currently markets the product to public-health departments in some 144 countries, and has historically sold it over the counter in the United States. But Steiner said that part of the way FHCO plans to increase profitability is by offering FC2 as prescription-only, which should significantly increase its margins.
"We plan to treat the FC2 like a pharmaceutical product, putting into place market access to prescription plans that are covered by both private insurance and Medicaid, and generating increased revenue from an established product," Steiner said. 
And while FC2 is Female Health Co./Veru's biggest product currently on the market, the new post-merger company is working on multiple additional candidates. The closest drug in the company's pipeline is Tamsulosin DRS, a powdered treatment for benign prostatic hyperplasia (BPH). The product is in late trial stages and could compete with privately held Boehringer-Ingelheim's Flomax drug, which dominates the $3.5 billion market with an 85% market share. 
FHCO announced a successful stage 1 clinical study for Tamsulosin two weeks ago that highlighted two aspects of the drug that the firm believes make it more than just a biosimilar alternative to Flomax. For example, the company says that unlike Flomax, patients can take the drug on an empty stomach. Doctors can also administer it in powdered form, making it beneficial for the 60% of elderly patients in long-term care who can't swallow pills. 
Female Health/Veru says that if Tamsulosin garners just 1% of the BPH-treatment market, that would generate $35 million in annual revenues -- well ahead of FHCO's total 2016 sales. But given what FHCO sees as the product's unique nature, Steiner believes that a 5% market share is within reach.
Tamsulosin DRS is expected to complete its second stage of trials this year, with the goal of having the drug reach market by summer 2018. "It's boring, but we need that for our first win," Steiner said. "We can use the revenue we generate from Tamsulosin DRS to increase our market cap and either self-fund wholly, or partially fund our other drug candidates."
And while Tamsulosin is a drug to watch in the near term, the company also has a male-infertility-drug candidate that could tap into a $700 million market by 2019. Additionally, a prostate-cancer drug that FHCO is working on could enter a $5 billion market by 2022.
However, questions abound for the company:
While FHCO rose 4 cents on Wednesday to 96 cents a share, the stock sold above $10 intraday as recently as 2013 and has fallen 46.5% since management announced the merger in April 2016. However, Wednesday's rally took the price 1 cent above where FHCO traded at just before the deal closed in October. 
FHCO's results tanked in 2016's fourth quarter. Revenues fell to $3.2 million from $8.2 million a year earlier, while the company swung from a five-cent-per-share profit to a four-cent-per share loss. Steiner attributed the pullback to tough comparisons with 2015, when the company enjoyed a big one-time FC2 purchase by the Brazilian government.
The company's success is now contingent on the drugs in Veru's pipeline not only being approved by regulators, but also being successful once they do come to market.
While no analysts currently cover the stock, the last one to do so gave it a "Dangerous" rating as of April 2016. New Constructs LLC suspended coverage following announcement of the merger and wrote in its final research note: "We recommend investors sell FHCO."
Out of five criteria that New Constructs used to assess the stock, it gave FHCO a "Very Dangerous" grade on two and a "Dangerous" rating on one. However, the firm did give the stock a "Very Attractive" rating for its growth-appreciation period, writing that "we believe FHCO embeds a very attractive level of market expectations, because there is a conservative level of expected financial performance implied by its market price compared to the company's historical performance."
Senior Vice President Kevin Gilbert told TheStreet that the recent merger should give FHCO the means to address free-cash-flow yield and return on invested capital, the two areas where New Constructs gave the company "Very Dangerous" grades.
"Diversifying into drug products with substantially higher margins will take care of [those] issues," he said. "We want to attract institutional ownership, and proving out our drug concepts is the way we will achieve that."
(This story has been updated to take FHCO's Wednesday closing price into account.)
Please note that due to factors including low market capitalization and/or insufficient public float, we consider FHCO to be a small-cap stock. You should be aware that such stocks are subject to more risk than stocks of larger companies, including greater volatility, lower liquidity and less publicly available information, and that postings such as this one can have an effect on their stock prices.