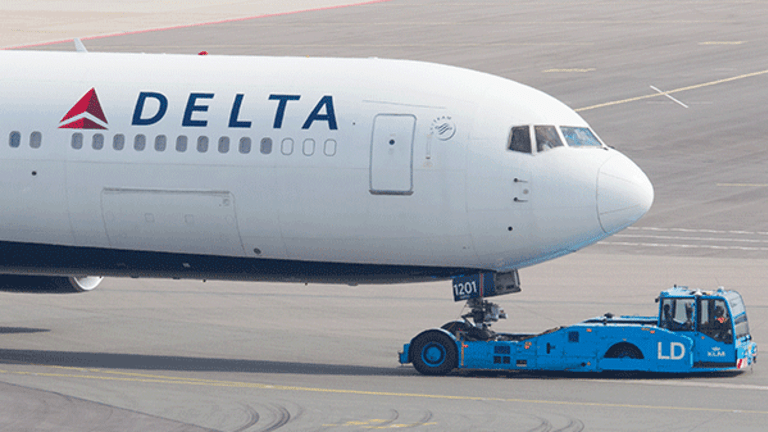 This Bargain Stock Could Be a Big Post-Election Winner
More business travelers are flying Delta Air Lines in the wake of the presidential election, and the wave of airline mergers means smoother flying ahead.
If you need more proof that the chaotic presidential election was weighing on the U.S. economy, it's in.
It comes from Delta Air Lines (DAL) - Get Report . On Thursday, the country's second-largest airline said it has seen a pickup in ticket sales since Nov. 8.
"Business travel volumes have picked up significantly post-election," said Delta president Glen Hauenstein in a webcast. "It's almost like the country breathed a sigh of relief. There seemed to be a significant amount of pent-up demand."
That prompted the carrier to give a sunnier view on two key metrics, the first being passenger revenue per available seat mile (PRASM), a crucial efficiency measure, which it now sees dipping 3% in the fourth quarter. Although it's a decline, it's at the rosier end of the airline's earlier forecast for a drop of 3% to 5%.
Better yet, Delta sees PRASM coming in flat from a year ago in the first quarter of 2017. If that holds true, it would end a negative trend that's hung over the airline for eight straight quarters.
The company also increased its fourth-quarter operating margin guidance to a range of 10.5% to 11% from a previously forecast 9.5% to 10.5%.
Delta shares have risen 1.8% since the upbeat report broke, capping a 52% gain from their 2016 trough back in July. But if you missed out on the run, don't worry. The stock is flat year to date, compared to a nearly 11% rise for the S&P 500.
It's also cheap on a price-to-earnings basis. It P/E ratio is only 8.2, based on trailing 12-month earnings, the second-lowest ratio of the four major U.S. airlines (only American Airlines Group (AAL) - Get Report is cheaper, with a P/E of 5.0).
But as the stock's wild ride this year shows, investing in airlines isn't for the faint of heart, as any number of calamities, from terrorist attacks to health scares (such as the Zika outbreak) and political upheaval (such as the Brexit vote) can keep travelers at home.
There are more prosaic pitfalls, too, such as a rise in jet-fuel costs after OPEC's surprise agreement to cut oil production. Higher labor costs will also weigh on airline profits next year, with all the major carriers recently signing deals with their pilots, who've been seeking fatter pay packets after U.S. airlines posted record profits in 2015. Delta, for example, signed a contract on Dec. 1 that will see pilot pay rise 30% by 2019.
Those are valid concerns, to be sure. But there are also plenty of reasons to believe airlines could turn out to be terrific investments in 2017, starting with the wave of consolidation that's swept through the industry.
As recently as 2005, there were nine major carriers battling over the domestic market, which led to price wars and unabated capacity increases as airlines desperately tried to outflank each other.
But after US Airways made its last flight in October 2015, we've been left with four major players: Delta, American, Southwest Airlines (LUV) - Get Report and United Continental Holdings (UAL) - Get Report that together control 80% of the U.S. market.
That makes it easier for the industry to respond to changing demand and helps stabilize ticket prices. We can see that reflected in Delta's pledge last week to increase capacity by just 1% worldwide next year.
The changing industry dynamic has caught the attention of Warren Buffett, a long-time critic of airline stocks; in the third quarter, Berkshire Hathaway took positions in all four of the major carriers.
Meantime, Delta continues to reward shareholders with share buybacks and higher dividends: since it started its payout in August 2013, the company has hiked it by 238%. It currently yields 1.6%, which is below the S&P 500 average of 2.1%, but that yield is tops among all the major domestic carriers (and Southwest pays no dividend).
The analyst community also sees more gains ahead, with the average 12-month price target sitting at $55, up about 8.5% from current levels. The most bullish call, $66, would be 30% above today's price.
---
As we've just explained, Delta looks like it's setting up for a strong 2017, but if you'd rather avoid stocks-particularly volatile airlines-right now, try the proven system we've developed. One trader used it to turn $50,000 into a $5-million fortune, and now he's guaranteeing you at least $67,548 per year in profitable trades if you follow his step-by-step process. Go right here to follow his lead and see how easy it is to start collecting thousands of dollars in "Free Money" every month.
The author is an independent contributor who at the time of publication owned none of the stocks mentioned.