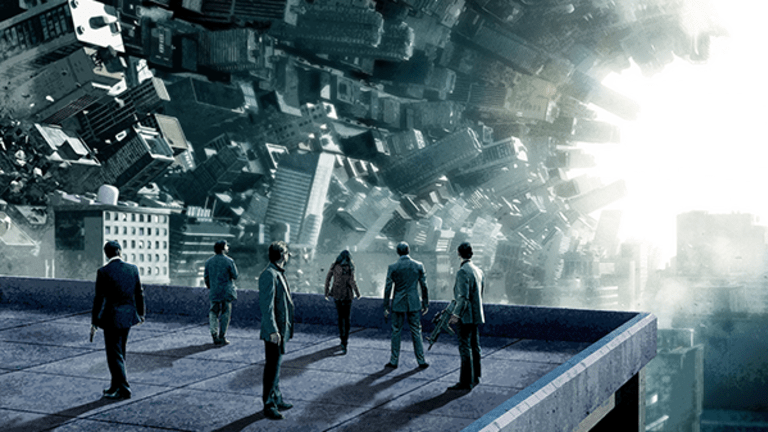 Walmart Is at War, Amazon Dominates World -- 8 Big Business Stories You Have Already Missed
Apple's iPhone could be hacked, Trump always in focus and Amazon is a buy.
Lots happening in business on Monday. Where have YOU been?
All Eyes on Apple
It's time to have a moment of self-reflection, Apple (AAPL) - Get Apple Inc. Report iPhone users.
Apple has issued a critical security patch for all iOS devices to protect against a potential hack that attacks devices remotely via WiFi, Fox Business reported Monday.
The tech company has urged users to install the operating system update to avoid a "potentially serious" cyber attack that could wipe out iPhones. Alphabet's (GOOGL) - Get Alphabet Inc. Class A Report Android devices are also threatened by the hack, but Google issued its own update earlier this month.
At the moment, this story feels like one that could slowly build over the coming days. It's unlikely to wallop either tech giant's stock price, but raises critical questions as smartphones become even more advanced.
We trust these devices to pay our bills, order coffee from Starbucks (SBUX) - Get Starbucks Corporation Report and turn on lights from the comfort of our office. We invest in companies based on their ability to monetize smartphones. And through all of these activities, we place unyielding faith in the security of these $800-plus devices. When was the last time you honestly sat down and worried about your iPhone being hacked? The answer is probably never. Have you ever thought about how much Starbucks shares could lose if its payments system is hacked? Nope.
But it's time to start the discussion as of today -- because yes, all of this electronic junk could get hacked. When that inevitably happens on a global scale... that's when you will get the chance to buy Apple and Google shares 30% cheaper.
Walmart's Next Target?
Walmart (WMT) - Get Walmart Inc. Reportshould consider buying auto parts retailer Advance Auto Parts (AAP) - Get Advance Auto Parts, Inc. Report , the weakest of the big three in the sector, which has 5,000-plus locations in the U.S. The other two players are O'Reilly Automotive, Inc. (ORLY) - Get O'Reilly Automotive, Inc. Report , the fastest-growing of the three, and AutoZone, Inc. (AZO) - Get AutoZone, Inc. Report .
"In this sector, companies can exercise considerable pricing pressure over their vendors, which is what Walmart does well. If you have a competence in distribution like Walmart, it can be very successful," Brian Sponheimer, research analyst at Gabelli & Company told TheStreet in an interview.
WATCH:Alphabet, Amazon and Facebook Have the 'Wind At Their Back' Ahead of Earnings
Amazon Is a Long-Term Buy, Jim Cramer Says
"The automotive after-market [which sells vehicle parts, chemicals, equipment, and accessories after the owner buys the vehicle] is unique, and delivery is much more important than in other areas. People need their cars, so parts delivery has to not only be the same day, but within a matter of hours, and it requires bricks-and-mortar stores and distribution networks like Walmart."
Analyst John Birk of Morningstar told TheStreet on Friday, "I think it [the acquisition of Advance Auto Parts] makes sense first to continue to drive as much volume as they [Walmart] can through their system. They are trying to garner traffic and bring more to Jet.com. The auto parts [buy] would make sense."
Walmart shares rose 1.1% to $77.03, and Advanced Auto Parts' were down 0.7% to $104.56.
Trump Just Did What?
Civil asset forfeiture is the latest dangerous from the Trump administration. The new rule announced by the Justice Department won't just expand the practice. It's designed specifically to defeat protections passed at the state level, TheStreet reports.
It will almost certainly lead to abuse.
Trump Just Resurrected the Ugly Practice Known as Civil Forfeiture for No Reason
As reported by the Washington Post: "The Justice Department announced a new federal policy Wednesday to help state and local police take cash and property from people suspected of a crime, even without a criminal charge, reversing an Obama administration rule prompted by past abuse by police."
The practice is known as civil asset forfeiture. Under this law a police officer can seize any property he believes was involved in a crime without obtaining either a warrant or probable cause.
Originally, the government pushed forfeiture in the 1970s and 80s to fight drugs and organized crime. Law enforcement wanted to prevent criminals from disappearing the large amounts of cash that fuels their business, and so police were empowered to seize any money they believed was involved in a crime. Over the years, however, the practice has grown to the point where the government began seizing assets far beyond cash in a wide variety of situations, including cars, homes and even businesses.
Many local police departments have begun to rely on it as a revenue source, targeting out of town drivers in what are known as "cash-for-freedom" deals.
On average, only about one seizure in ten ever leads to criminal charges, but historically, defendants have struggled to get any of their money or property back. One investigation by the Washington Post found that between 2001 and 2014, state and local police departments had seized nearly $2.5 billion in collective assets without warrants. Often these seizures occur during unrelated traffic stops, during which the Post found that police "pressed [drivers] to agree to searches without warrants and seized large amounts of cash when there was no evidence of wrongdoing."
More Walmart, Please
After entering the increasingly intense price war with a clear advantage over its rivals last month, German grocer Lidl seems to be losing steam.
During a recent visit to Spartanburg, S.C., Jefferies found that Lidl is beginning to lose the price advantage it held over Walmart Stores and ALDI in June, when it opened its first 20 U.S. stores in Virginia, North Carolina and South Carolina.
"The prices in this [South Carolina] location were in line with ALDI and Walmart when it opened, but the latter two retailers have since reduced their prices," Jefferies analyst Daniel Binder said in a Monday, July 24, note. "Lidl has not followed suit."
The major discounts that consumers are seeing at Walmart and ALDI, such as the 29-cent deal for a carton of a dozen eggs, are not being mirrored at Lidl, according to Jefferies.
Sexy Finance Terms
The lexicon used by traders and investment bankers on Wall Street is often portrayed by Hollywood in the following manner: a protagonist in an alluring job spouts off terms with braggadocious gusto.
Indeed, the equity, futures, options and commodities trading floors are still dominated by a heavy dose of testosterone. While traders rely less on open outcries to express their buy and sell orders with a combination of hand signals and shouting, the lingo allows them to voice their positions unequivocally.
While the language sounds downright dirty and similar to raunchy come-ons from the '80s and '90s, the terms actually have underlying technical financial meanings. Here is what TheStreet came up with.
Amazon Is Unbeatable
Amazon is still the ruler.
TheStreet's founder and Action Alerts PLUS portfolio manager Jim Cramer thinks Amazon is a long-term buy. The company releases earnings for its latest quarter on Thursday.
Others on Wall Street agree.
KeyBanc analysts said Monday that a "tentative consumer" and a competitive web services landscape aren't threats to Amazon.
KeyBanc said conversations with partners suggest Amazon Web Services growth could "reaccelerate" in the second quarter following a sluggish first quarter. Revenue could jump over 10% sequentially to $4 billion. Although competition with Microsoft Corp. (MSFT) - Get Microsoft Corporation Report and Alphabet's (GOOGL) - Get Alphabet Inc. Class A Report Google has increased, it does not appear to derail Amazon's cloud growth prospects.
Amazon's recent moves in retail, including its proposed acquisition of Whole Foods Market (WFM) , Prime Wardrobe release and deal with Sears (SHLD) to sell Kenmore appliances, position it well for long-term growth. Even in a "difficult retail environment," Amazon's retail business will grow 15% year over year, KeyBanc wrote.
McDonald's Looking Yummy
TheStreet's founder and Action Alerts PLUS portfolio manager Jim Cramer awaits quarterly results from Domino's Pizza (DPZ) - Get Domino's Pizza, Inc. Report , McDonald's (MCD) - Get McDonald's Corporation Report and Chipotle (CMG) - Get Chipotle Mexican Grill, Inc. Report on Tuesday.
Cramer said Domino's is a technology company that sells pizza and weighs in on a recent report of norovirus at a Chipotle restaurant. Meanwhile, McDonald's could surprise everyone on its earnings call.
Wall Street is particularly bullish on McDonald's.
Based on a proprietary franchisee survey, Nomura analyst Mark Kalinowski raised his second-quarter U.S. same-store sales expectations for the Golden Arches to 3.2%, just above the consensus expectation of 3.1%. In McDonald's foundational markets segment, which make up about 60% of the world's population across 80 markets on four continents, Kalinowski expects same-store sales to increase 10.1%, a 5.1% jump over his prior estimate and well above the consensus estimate of 6.8%.
"We believe that drivers of the U.S. business during Q2 included beverage promotions (such as $1 for any size soft drink) and the national launch of Signature Crafted Recipes (semi-customized burgers and chicken sandwiches)," Kalinowski wrote.
Starbucks Has an Alarming Problem That Even Its Fans Must Admit Has to Be Fixed -- and Soon!
All told, Kalinowski expects second-quarter earnings of $1.63 per share, up 2 cents from his prior estimates and just above the consensus estimate of $1.62. Third-quarter U.S. same-store sales are expected to grow 3.3%, 0.4% above the consensus estimate, driving third-quarter earnings estimate of $1.74 per share. For the 2017 and 2018 fiscal years, Kalinowski expects earnings of $6.43 and $6.88, respectively.
Increasing his target price on McDonald's shares to $172 from $161, Kalinowski predicts McDonald's will continue to be a "relatively 'safe haven' stock during challenging times in the broader consumer landscape."
Those challenges in the restaurant sector are numerous, Barclays analyst Jeffrey Bernstein wrote Wednesday, July 19: "Industry comps are disappointing/volatile, labor cost headwinds are large, commodity cost tailwinds are waning, and menu pricing power is limited." Sales should be "more resilient" in quick-service restaurants, he wrote, with "a franchised business model more insulated from cost headwinds," naming McDonald's his top pick among quick service restaurants.
While the tough retail environment has "led to a reallocation of investment dollars into restaurants," eateries may be collateral damage, he added, with the "accelerating shift from brick & mortar to online shopping across retail" potentially causing "lateral implications for restaurants."
More of What's Trending on TheStreet:
Chipotle Is Doomed Unless It Takes This One Dramatic Measure