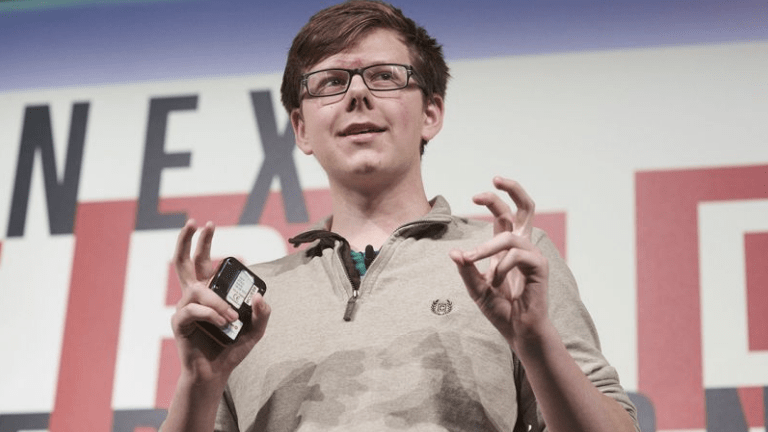 This 18-Year-Old Bitcoin Millionaire Thinks Prices Will Explode to $7,000 Soon
'This is just the beginning,' Erik Finman says.
Erik Finman says he invested in blockchain cryptocurrency bitcoin at about $12 per coin when he was 15 years old. The now-18-year-old alleged millionaire is calling for a 62% surge in Bitcoin price's before the end of the year.
"I think it'll get up to $6,000 or $7,000 before the end of the year," Finman told TheStreet. "Maybe even higher."
Bitcoin had a rough start to this week, dropping as much as 20% from a record high of nearly $5,000 per coin hit over the weekend. The dip followed China's decision to ban initial coin offerings, or ICOs, in the country.
ICOs are a means for companies to raise funds by selling new forms of digital currencies on the market. Some estimates have placed global ICO funds raised at as much as $1.3 billion in 2017 alone.
Because ICOs can sidestep typical rules and regulations for raising capital, China banned the offerings in a move to stay "in control of Chinese securities," Finman said. "ICOs make them lose power."
Cracking down on ICOs shouldn't directly affect bitcoin, Finman said, but any news about one cryptocurrency - be it Bitcoin, Litecoin, Ethereum or Ripple - can send the others into a tailspin.
Are you investing in cryptocurrency? Don't miss TheStreet's coverage:
Why Bitcoin Cash Prices Are Likely to Dive Again
Bitcoin to Take Over Civilization
How Cryptocurrency Mining Works Explains Why AMD and Nvidia's Sales to Miners Might Soon Fall
Bitcoin Skyrockets to Record $3,525 as a Buying Binge Is Unleashed
But Finman said he could see China changing its mind on ICOs, just as it did for bitcoin. After denouncing bitcoin, which is not as easily manipulated by sovereign powers as fiat currencies, China invested in it as a means of exercising more control over the budding cryptocurrency market. Owning more bitcoin allowed the government more say in the independent market's moves.
"China's very bullish on bitcoin," Finman explained. Banning ICOs is "like they're banning competitors for bitcoin," because ICOs typically rely on Ethereum technology to create "alt-coins." That technology, for which bitcoin isn't particularly suited, allows firms to establish new cryptocurrencies, effectively "sidelining" regulation, Finman said.
"I think [China] might actually change their mind," Finman said of the country's ICO crackdown. "This is just the beginning ... for all cryptocurrencies."
This week's dramatic price fluctuation doesn't concern Finman, because ups and downs in price are a good thing for the currency. If the price went straight up without dipping, "it would be a bubble," Finman noted.
Bitcoin has a $72.64 billion market value right now, according to data from CoinDesk. But Finman sees the cryptocurrency shooting up as more people move from fiat currency to cryptocurrency.
"Imagine if just 1% of the world gets on bitcoin," Finman said. "That would push it up hugely."
Bitcoin surged nearly $70 from the market open to $4,390.53 per coin late Tuesday afternoon, trading in a wide $374.31 range for the day.
More of What's Trending on TheStreet: