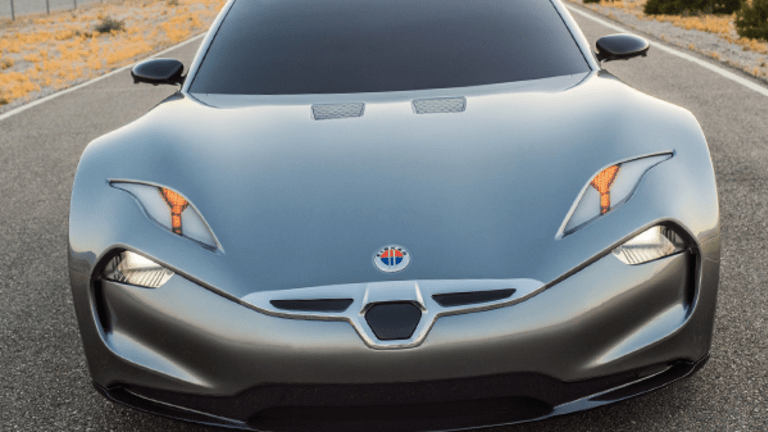 This $129,000 Tesla Killer Is Coming Very Soon
Tesla will have a new $129,000 rival soon.
Tesla will have a new $129,000 rival soon.
Welcome back, Henrik Fisker. 
The EMotion is set to debut at CES 2018 in January, well-known auto maker Fisker told TheStreet in an interview. Fans can get a firsthand look at the $129,000 vehicle that's expected to rival Tesla Inc.'s (TSLA) - Get Report Model 3 and the Faraday Future FF 91. Fisker Inc. will also be showing off some of the EMotion's next generation technology, including the energy density battery pack, which he promises will be superior to existing EV technology, charging the car in just 9 minutes, as well as LIDAR technology that, while still in development, will drive the car's level 4 autonomous system. Fisker says the car has a range that exceeds 400 miles.
Tesla's Many Would-Be Rivals Are Chasing a Speeding Target
Tesla and GE Will Help Home Depot Create These Massive Solar Farms
The EMotion won't actually ship until 2019, but Fisker Inc. started taking pre-orders in June with a $2,000 deposit. In a bid to match Tesla's cheaper Model 3 sedan, Fisker said the company is simultaneously working on an affordable version of the EMotion that's due out in 2020. He's aiming for it to be priced around $34,000 -- a $1,000 discount to the Model 3, which starts at $35,000.
More of What's Trending on TheStreet:
Like Rats Off a Sinking Ship, Steve Bannon Out at White House
10 of the Most Worthless And Expensive Olympic Venues of All Time