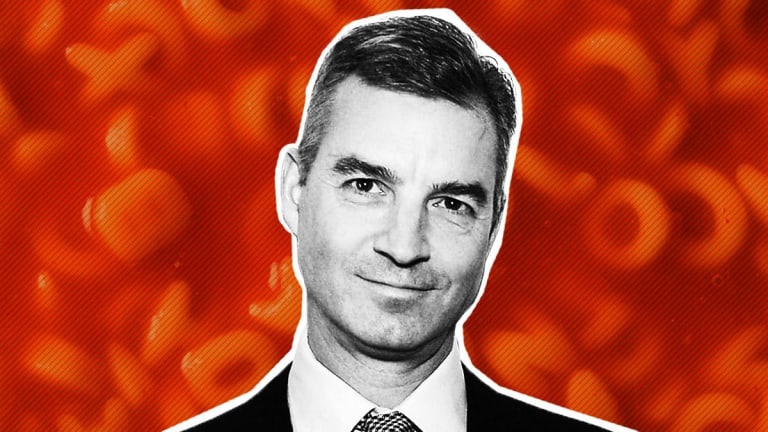 Third Point Urges Campbell Not To Hire CEO Before Fight
The insurgent investor suggested that the chance of the company being able to attract a first-rate CEO in the middle of a proxy fight was low.
Third Point LLC's Dan Loeb on Wednesday escalated his change-of-control proxy fight at Campbell Soup Co. (CPB) - Get Campbell Soup Company Report in a letter urging the soup and snack company to allow shareholders to have a voice in the company's CEO search process, essentially asking the company to wait until after the director battle he had launched concludes on Nov. 29 before picking a new CEO.
"It seems to us that the chance of the company being able to attract a first-rate food executive in the middle of a proxy fight is low," Third Point said in a statement.
It appears that Third Point is worried that Campbell may be moving to bring in a new CEO before the contest, following the resignation in May of chief executive Denise Morrison. Loeb has made the board's oversight of Morrison a key part of his campaign to install a dissident slate of 12 director candidates, which would replace the company's entire board.
Campbell in May ousted Morrison after disappointing earnings and share price woes. Retail investors own between 10% and 12% of Campbell's, but they could be the difference between a win or a loss for Loeb's efforts.
It is also likely that Third Point would like to install their own candidate if they win. In the letter, Loeb argued that a new CEO installed in advance of the contest would likely make sure to come with a significant "golden parachute" payment that they could receive upon their termination, based on the real possibility that Third Point would want to install their own CEO candidate. The fund raised concerns around costs associated with that as well.
"Any termination payments that this board agrees to in conjunction with hiring a new CEO in the middle of this proxy contest may be grounds for an action for recovery of corporate waste and a breach of fiduciary duty against those directors who provide such a golden parachute," the fund said.
Campbell said in a statement that its board intends to select the company's next CEO upon finding the best candidate, which it expects to do by the end of the calendar year. The company added that it has been examining qualified candidates who "possess a track record of proven results and achievement."
The company had previously noted that its board is "currently examining both internal and external qualified candidates who possess a track record of proven results and achievement." Third Point declined to comment beyond its letter.