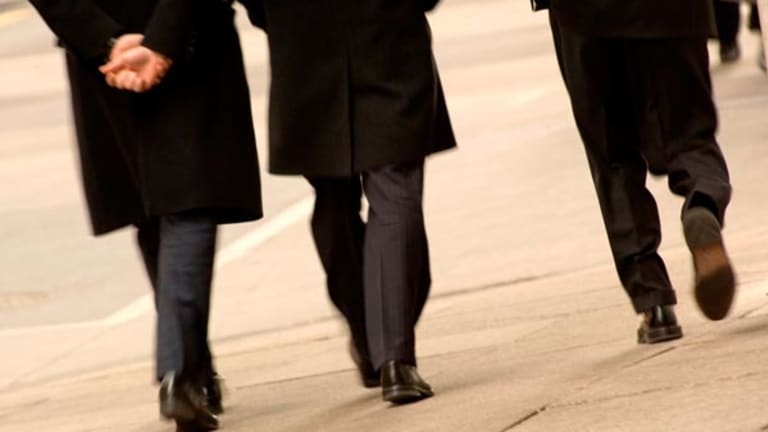 Japan's Nuclear Uncertainty Fuels Radiation Fears
The Fukushima Dai-ichi nuclear-power complex in Japan suffered a third explosion and officials warned that a critical reactor container, which keeps radioactive materials from leaking, had been damaged, according to reports.
Updated from 12:01 p.m. EDT with information regarding the Fukushima Dai-ichi nuclear-power plant.
TOKYO (
) -- The Fukushima Dai-ichi nuclear-power complex in Japan suffered a third explosion and Japanese officials warned that a critical reactor container, which keeps radioactive materials from leaking, may have been damaged, according to reports.
International Atomic Energy Agency director general Yukiya Amano said that right now it is hard to predict how the current nuclear crisis in Japan will develop because there are so many unknown factors,
Reuters
reported.
"The problem is very complicated, we do not have all the details of the information so what we can do is limited," Amano said in a news conference on Tuesday. "I am trying to further improve the communication."
The nuclear emergency in Japan escalated on Tuesday after a build-up of hydrogen caused a third hydrogen explosion at the Fukushima power plant in two days.
The blast at Unit 2 damaged the reactor's main containment shell and "may have affected the integrity of its primary containment vessel," the International Atomic Energy Agency said.
The IAEA also reported that a fire broke out in the reactor's fourth unit late Monday night, releasing radioactivity "directly into the atmosphere" at the rate of up to 400 millisievert per hour.
"The level
of radiation seems very high, and there is still a very high risk of more radiation coming out," Prime Minister Naoto Kan said in a brief address to the nation,
The Wall Street Journal
reported. "We will do our utmost to prevent further spreading of radiation leaks. I sincerely urge everyone in the nation to act calmly."
With the risks of leaks rising, Japan ordered 140,000 people, or those living with 19 miles of the Dai-ichi complex, to seal themselves indoors Tuesday,
The Associated Press
reported.
"Please do not go outside. Please stay indoors. Please close windows and make your homes airtight," Chief Cabinet Secretary Yukio Edano told residents in the danger zone,"
AP
reported. "These are figures that potentially affect health. There is no mistake about that."
The 9.0-magnitude earthquake that slammed Japan on Friday caused both the reactor's cooling system and back-up cooling system to fail, increasing the chance of a nuclear meltdown because of the overheating of the nuclear reactor's core.
Officials just south of Fukushima reported up to 100 times the normal levels of radiation Tuesday morning,
Kyodo News
agency reported. While those figures are worrying if there is prolonged exposure, they are far from fatal,
AP
noted.
Very low levels of radiation were detected in Tokyo, the highest populated prefecture in Japan, located 150 miles south of the plant. Officials have said that at minute levels the radiation is "not a problem,"
Reuters
reported. Tokyo's total population exceeds 13 million, with more than 15,000 residents per square mile.
"Radioactive material will reach Tokyo," Hokkaido University graduate school of environmental science professor Koji Yamazaki told
Reuters
, "but it is not harmful to human bodies because it will be dissipated by the time it gets to Tokyo."
Radiation levels in Maebashi, a city in Chiba prefecture, located 60 miles north of Tokyo, were 10 times the normal levels,
Reuters
reported, citing
Kyodo News
.
Of the Dai-ichi nuclear-power plant's 800 workers, 750 were dismissed by the plant operator, while 50 workers remain at the plant to try to keep the situation under control. A 20-mile no-fly zone has been imposed around the reactors.
The IAEA has reported that all units at the Fukushima, Onagawa, and Tokai nuclear power plants "are in a safe and stable condition," or a cold shutdown.
The 9.0-magnitude earthquake and ensuing tsunami that hit Japan Friday and which has crippled the Dai-ichi plant has killed more than 10,000 people, according to estimates.
The official death toll in the nation has spiked to 3,373,
CNN
reported.
At least 6,746 people remained missing on Tuesday, the National Police Agency said, and 1,987 were injured.
Thousands of homes were destroyed in the disaster and nearly 450,000 people were staying in emergency shelters, public broadcaster
NHK
reported.
--
Written by Joseph Woelfel and Theresa McCabe
.
>Contact
Joseph Woelfel
>Contact
Theresa McCabe
.
>Follow
on Twitter.
>To submit a news tip, send an email to:
.
RELATED STORIES:
>>Japan Rocked by Earthquake: In Pictures
>>Japan Death Toll Estimates Surpass 10,000
Disclosure: TheStreet's editorial policy prohibits staff editors and reporters from holding positions in any individual stocks.