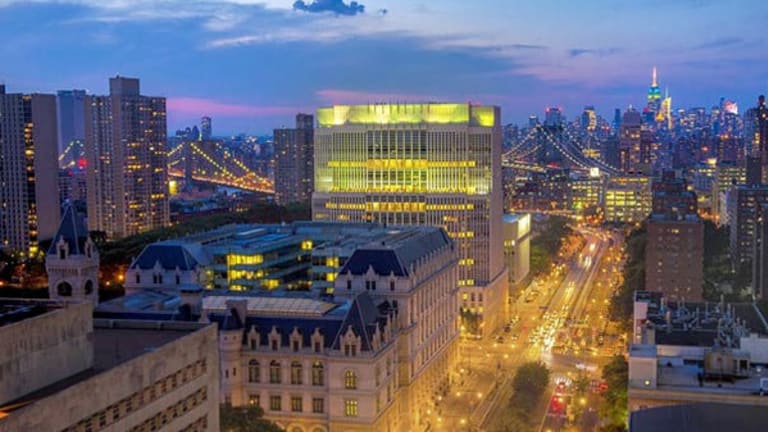 Think the Middle Class Is Dying? Take Another Look, Says New York Fed
The U.S. economy added 2.3 million middle-income jobs from 2013 to 2015, almost double the gains in the first three years after the recession.
This article, which was originally published at 2:04 p.m. on Thursday, Aug. 18, 2016, has been updated with commentary from an economist.
If Leave It to Beaver epitomized the seemingly idyllic American middle class of the 1960s, The Middle, a show in which each of the parents were briefly out of work and their oldest son drove a 35-year-old Ford badly in need of a paint job, captured the pain inflicted on it by the Great Recession.
The recovery from that downturn, starting in 2009, was slow and gains in employment often masked the lack of well-paying middle-income jobs, relying instead on gains at the top and bottom of the pay scale.
"This long-term hollowing out of jobs in the middle of the wage distribution has helped fuel rising wage inequality, and has contributed to a growing sense for some that they are being left behind," New York Federal Reserve Bank President William Dudley said at a news briefing on Thursday. Finally, however, "the tide has begun to turn," he said.
The U.S. economy added 2.3 million jobs paying $30,000 to $50,000 a year, the middle of the national pay scale, from 2013 to 2015, almost double the pace in the first three years after the recession, which ended in 2009. The demand for higher-earning workers is beginning to push up pay scales, too, Morgan Stanley economist Robert Rosener said in a note to clients earlier this month.
While salary pressures are still skewed toward lower-paying jobs, they are much less so than previously, he wrote. Industries with above-trend pay raises in July included retail, manufacturing and construction, the last of which is also among leaders in employment gains. Nationwide, construction positions increased by 400,000 in the two years through 2015, the New York Fed said.
The delayed rebound in that industry was largely because the recession, which began in late 2007, was driven by the collapse of a housing-market bubble, said Jaison Abel, head of regional analysis for the bank. In the preceding years, financial institutions had begun packaging mortgages of widely varying quality into securities, which were then sold to Wall Street and other investors, enabling them to record profits immediately.
Since the lenders weren't holding the loans they made on their own books, they were less concerned with borrowers' ability to repay, and home buyers often purchased residences beyond their means, believing that a continuous surge in the housing market would enable them to refinance before the higher rates on adjustable-rate mortgages kicked in. The mortgage market for one- to four-family homes widened 46% to $11.3 trillion in just four years, according to Federal Reserve data.
When the housing market began to contract, however, buyers dried up and borrowers were stuck with loans they couldn't pay. Defaults surged and mortgage-backed securities became impossible to value, eventually leading to the collapse of Lehman Brothers, then the fourth-largest U.S. bank, and a global credit crisis that forced the U.S. government to spend billions on bailouts.
"Typically, the housing sector recovers very powerfully at early stages" of the economic cycle," Dudley explained. "We're seven years into an economic expansion, and the housing sector is still recovering. That's very unusual."
Indeed, the government reported Tuesday that housing starts rose 2.1% in July, to an annual clip of 1.21 million homes, higher than the 1.18 million units projected in a Wall Street Journal survey, and up 5.6% from a year ago. But in a puzzling signal about builders' confidence, new permits for future construction fell 0.1% during the month.
Outside of construction, other middle-income job categories whose growth stands out in the past two years are production and manufacturing, with gains of about 300,000; transportation, with an upswing of 500,000; and installation and repair, with a spike of 250,000.
Regionally, downstate New York, which includes New York City, has seen middle-income job growth widen nearly 10-fold in the past two years from the gain of 18,000 in 2010 through 2013, the New York Fed found.
While the city has been a growth engine, hiring in the technology industry has outpaced that of Wall Street, with 53,000 new jobs added since 2010. The securities industry grew by only 12,000 workers.
There are a number of competing theories about Wall Street's slower-than-usual rebound, Dudley said. 
"One is that the sector was really overheated in the runup to the financial crisis," he noted. "There was a lot of financial activity that was really not sustainable" related to the securitization of mortgages, he said.
Another explanation is that "there's been an increase in regulation and supervision," making it more difficult for financial firms to make profit. If you look at the major financial institutions, their capitalization is good, their liquidity is good, they're healthy and they're solid, but return on equity is significantly lower now than before the financial crisis."
The six biggest U.S. banks -- JPMorgan Chase (JPM) - Get JPMorgan Chase & Co. (JPM) Report , Bank of America (BAC) - Get Bank of America Corp Report , Wells Fargo (WFC) - Get Wells Fargo & Company Report , Citigroup (C) - Get Citigroup Inc. Report , Goldman Sachs (GS) - Get Goldman Sachs Group, Inc. (GS) Report and Morgan Stanley (MS) - Get Morgan Stanley (MS) Report -- reported an average return on common equity of 8.9% last year, according to data compiled by Bloomberg. The figure, which gauges the profitability of shareholders' investments, was down from 21% in 2006.
Paychecks for the industry have been affected as well, with bonuses expected to drop across the board this year, according to a recent report from New York-based compensation consultant Johnson Associates.  That would be all the more bruising since it would mark at least the third decline in a row.
Last year's average bonus fell 9% to $146,200, based on data from the New York State Comptroller's Office.
Still, growth in the technology industry, which has created jobs in the city in fields from Internet publishing to to online shopping and scientific research, "is picking up much of the slack created by the softness of the securities industry," Dudley said. 
Overall, most of the downstate region's job creation "is happening in New York City," Dudley said, "but you have to realize the suburbs also benefit from that, because so many people in the suburbs commute into New York City."