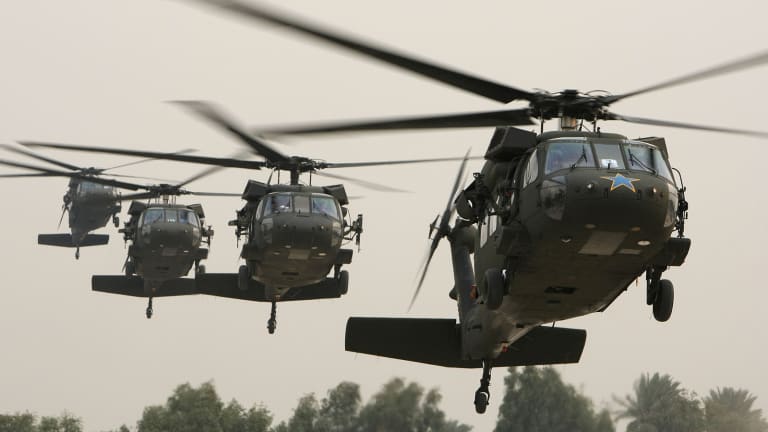 Think Lockheed Martin Was Dumb to Buy Sikorsky? Here's Why You're Wrong
When Lockheed Martin purchased Sikorsky, many analysts scoffed. But judging by the stock's performance since the deal closed, the laugh's on them.
When Lockheed Martin (LMT) - Get Lockheed Martin Corporation (LMT) Report bought Sikorsky Aircraft last year, it saw value that most others couldn't see. But as we'll explain, Lockheed is getting the last laugh because with Sikorsky it has tapped into a growth machine that will propel the parent company's revenue and earnings well in the future.
Lockheed Martin last month announced that layoffs will occur at its Sikorsky Aircraft division by the end of August, prompting many analysts to adopt an "I told you so" stance toward Lockheed Martin's $9 billion purchase of the storied helicopter maker. Here's why the negative sentiment is wrong and why Lockheed Martin remains a smart buy in an overbought broader market, especially with Sikorsky under Lockheed Martin's wing.
Last year, when Lockheed Martin, the world's largest defense contractor, looked at Sikorsky Aircraft, which was owned at the time by the conglomerate United Technologies, it saw hidden value and long-term potential. In its attempt to become a leaner and more focused (and more profitable) industrial powerhouse, United Technologies merely saw an old-line, low-profit manufacturer of niche aircraft that needed to be sold off. In other words, United Technologies lacked vision.
When Lockheed completed its acquisition of Sikorsky in November 2015, some analysts denigrated the move as an unnecessary foray into a depressed and perhaps dying business. The main concern was how low oil and gas prices were hurting demand for Sikorsky helicopters devoted to offshore rig transport.
They were very wrong. The right deal at the right time can not only affect a company's stock price, but also determine its very sustainability. Case in point: The history of Internet pioneer Yahoo! is littered with missed opportunities. When you review them, you want to slap your forehead. Yahoo! passed on the chance to buy Google (now Alphabet) for $1 million. It agreed to buy Facebook for $1 billion, but the deal collapsed when Yahoo! tried to talk down the buying price. Yahoo! also passed on the chance to buy YouTube, which was eventually purchased by Google. Yahoo! finally got acquired at a fire sale price in July for $4.8 billion by telecom giant Verizon.
Alphabet and Facebook are holdings in Jim Cramer's Action Alerts PLUS Charitable Trust Portfolio. See how Cramer rates the stocks here. Want to be alerted before Cramer buys or sells GOOGL or FB? Learn more now.
So what did Maryland-based Lockheed get when it bought Connecticut-based Sikorsky? Value that will last for the next decade and beyond. Since the deal was completed in November 2015, Lockheed Martin shares have risen nearly 12%, compared with 3.95% for the S&P 500.
In addition to building the fixed-wing F-35 Joint Strike Fighter, the most expensive weapons system in history, Lockheed now also manufactures the Pentagon's major workhorse helicopters.
Igor Sikorsky designed, built and flew America's first viable helicopter in 1939. He eventually founded his own helicopter manufacturing company, Sikorsky Aircraft. The company's erstwhile owner United Technologies reported full-year 2015 revenue of $56.1 billion, of which nearly 5% came from Sikorsky. By absorbing Sikorsky, Lockheed gobbled up a prime Pentagon contractor, billions of dollars in U.S. Department of Defense backlog, a huge global international sales potential, and new end users for Lockheed Martin's various electronic and avionics systems.
With nearly 16,000 employees, Sikorsky makes the UH-60 Black Hawk, the aerial "jeep" of the U.S. Army and National Guard. Variants of the Black Hawk are flown by the U.S. Coast Guard (Jayhawk) and the U.S. Navy (Seahawk). Demand for these "military franchises" will more than offset declining demand for commercial helicopters. What's more, offshore work should pick up again, as energy prices rise.
Emerging-market military demand for variants of Sikorsky's Black Hawk remain robust, with orders in the pipeline that should last throughout the decade. Rising nations in the Asia Pacific region are placing huge orders for new or upgraded Black Hawks from Sikorsky, as they use these versatile flying machines to fight terrorism, piracy and drug cartels. Black Hawks also are useful in search and rescue and emergency medical services.
Another popular Sikorsky model is the S-92, an advanced, carbon composite-made helicopter with state-of-the-art cockpit capabilities that's making inroads with the offshore oil and gas sector and the world's militaries. Meanwhile, Sikorsky's S-76 is considered the "gold standard" for VIP/executive transport.
The Black Hawk, S-92 and S-76 are considered among the most technologically advanced helicopters in the world and can be adapted for a variety of uses in the military, police, fire, energy, utility, and search and rescue fields. The widespread customer base of these aircraft also provides Lockheed Martin with a steady stream of long-term and lucrative aftermarket work.
Lockheed Martin is thriving, as reflected by its stellar second-quarter earnings report. The company last month reported revenue of $12.9 billion, vs. $11.6 billion in the same quarter a year earlier. Net earnings came in at $1 billion, or $3.32 share, compared with $929 million, or $2.94 a share, in the same quarter a year earlier. Cash from operations in the second quarter of 2016 was $1.5 billion, compared with $1.3 billion in the year-earlier quarter.
Lockheed's Mission Systems and Training division, which includes Sikorsky, generated revenue in the second quarter of $3.03 billion, up from $2.16 billion in the same quarter a year ago. The MST increase was primarily attributable to net sales of approximately $1.2 billion from Sikorsky.
Lockheed Martin's shares trade at a trailing 12-month price-to-earnings ratio of 20.6, which is less than Boeing's P/E of 24.2 and isn't much higher than Raytheon's 19.7, Northrop Grumman's 19.2 and the aerospace/defense industry's 18.3. On average, analysts expect Lockheed Martin's earnings to grow 7.6% per year over the next five years. The current dividend yield is a healthy 2.7%. As the world continues to prove a dangerous place, Lockheed Martin (market cap: $73.66 billion) is a stable bet on long-term growth.
---
A crisis is coming. When it hits, weak companies and their investors will be washed away. Don't let that happen to you! I've found seven companies you should own no matter what the economy is doing. Each one of these powerful yet overlooked companies barely notices when the market tumbles. And they'll skyrocket when it rebounds. You can pick up all seven for pennies on the dollar right now. To get the names of these "seven survivor stocks," click here.
John Persinos is an editorial manager and investment analyst at Investing Daily. At the time of publication, he owned stock in Boeing, Raytheon and Verizon.
Persinos appears as a regular commentator on the financial television show "Small Cap Nation." Follow him on Twitter.