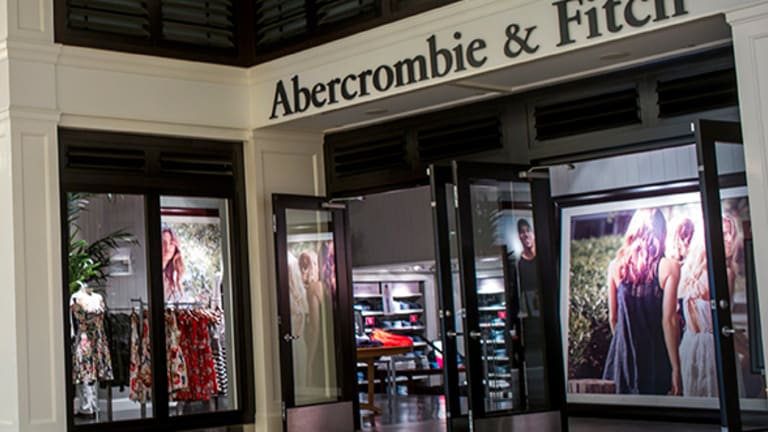 Young consumers are a mercurial bunch and nowhere is this clearer than in the retail apparel industry. A clothing line that's de rigueur one day is mocked as out of fashion the next. The fickle spawn of baby boomers (generations X, Y and Z) typically show little brand loyalty and impatiently flit from fad to fad.
This merciless dynamic has been very bad news for Abercrombie & Fitch (ANF) - Get Abercrombie & Fitch Co. Class A Report , the once-dominant clothing chain store that appears to be in a death spiral. Abercrombie & Fitch is scheduled to report second-quarter earnings on Tuesday, Aug. 30.
Unlike the half-naked models in the company's notoriously risque clothing catalogues, Abercrombie & Fitch's earnings picture won't be pretty.
The average analyst estimate is for Abercrombie & Fitch to lose 20 cents a share on an adjusted basis. In the same quarter a year earlier, the company reported adjusted earnings per share of 12 cents. On average, analysts expect third-quarter adjusted EPS of 43 cents, vs. 48 cents in year-earlier period. Full-year adjusted EPS is expected to come in at 80 cents, compared with $1.12 in 2015.
Based in New Albany, Ohio, Abercrombie & Fitch operates 754 stores in the U.S. and 178 stores in Canada, Europe, Asia and the Middle East. As sales have tanked in recent years, the company abandoned the eponymous logo that once made its preppy clothing one of the hippest and coolest brands in the shopping mall. The company also is redesigning its stores to give them a more open and inviting look. The revamped retail spaces are slated to open in early 2017.
From our perspective, it's all to no avail. Abercrombie & Fitch belongs to a group of stressed equities that are poised for collapse.
In fiscal 2015, the company reported $3.52 billion on the top line and $35.6 million on the bottom line, representing the third consecutive year of weakening profit and the second-worst bottom line of the last 10 years. (The company broke even in fiscal 2009.) Things will only get worse.
Once all the rage, Abercrombie & Fitch has fallen into disfavor with youngsters, who are now flocking to cheaper and trendier fare offered by fashion brands such as Forever 21, Zara, and H&M. Weighing on the entire retail apparel industry are onerous student debts, stubbornly high youth unemployment levels, a tepid economy recovery and competition from e-commerce.
Abercrombie made the logical decision to slash prices, but its clothes are still costlier than those sold by "fast fashion" competitors that have narrowed the runway-to-shelf turnover time and enjoy lower operating costs than Abercrombie & Fitch. Deep discount retailers, led by Ross Stores, also are giving Abercrombie & Fitch a run for its money by offering fashionable brand-name clothing at bargain basement prices.
Abercrombie & Fitch stock has fallen 16% so far this year. That's even as the SPDR S&P Retail ETF, which tracks the retail sector, has risen 6.8% and the S&P 500 has gained 7.2%. After Abercrombie & Fitch reports dismal earnings next week, look for the stock to fall further.
To be sure, it's been a mixed bag for corporate earnings this season. With nearly all of the the S&P 500 reporting earnings to date for the second quarter, the blended earnings decline is 3.2%, according to the research group FactSet.
That said, several bellwether retailers came in unexpectedly strong, beating expectations. Notably, Wal-Mart Stores, which operates the Walmart retail chain, reported second-quarter EPS of $1.07, vs. analyst expectations of $1.02. Ross Stores last week reported second-quarter earnings of $281.9 million, up 9% from the same quarter a year earlier. EPS was 71 cents, topping analysts' expectations for 67 cents. Growth opportunities still exist in retail apparel, but Abercrombie & Fitch isn't among them.
Abercrombie & Fitch shares now trade at a trailing 12-month price-to-earnings ratio of 26, compared with the average trailing P/E of 24 for the retail apparel sector. That valuation is still too high, considering the stock's meager growth prospects. The average one-year price target from analysts who cover the stock is $23.03, which would represent a gain of only 1.6% from current levels. This erstwhile clothing emperor has lost its retail power.
---
A crisis is coming. When it hits, weak companies and their investors will be washed away. Don't let that happen to you! I've found seven companies you should own no matter what the economy is doing. Each one of these powerful yet overlooked companies barely notices when the market tumbles. And they'll skyrocket when it rebounds. You can pick up all seven for pennies on the dollar right now. To get the names of these "seven survivor stocks," click here.
John Persinos is an editorial manager and investment analyst at Investing Daily. At the time of publication, he owned none of the stocks mentioned. Persinos appears as a regular commentator on the financial television show "Small Cap Nation." Follow him on Twitter.