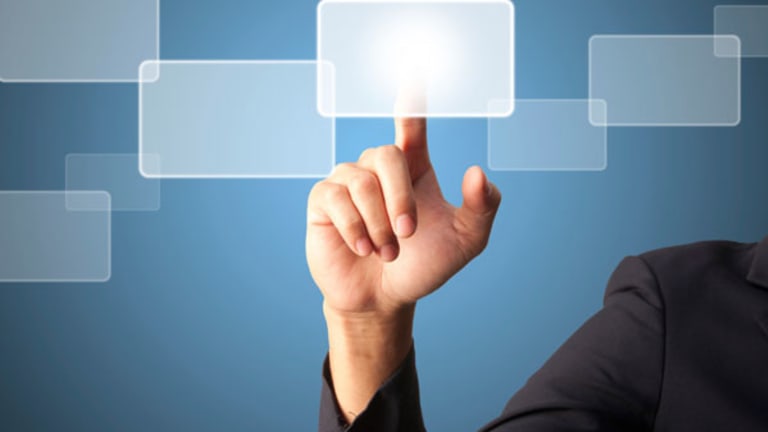 TheStreet.com Posts Loss, Names Jim Cramer Board Chairman
For the third quarter ended Sept. 30, TheStreet.com reported revenue of $16.7 million, compared with $16.1 million for the same period in 2007.
Updated from 4:05 p.m. EDT
TheStreet.com Inc.
undefined
, the publisher of this Web site, said Wednesday that its third-quarter revenue rose 4% from the same period a year earlier, but the financial media company swung to a loss.
The New York-based company also named co-founder James J. Cramer as chairman, saying its board decided to separate the roles of chairman and chief executive. The change will allow Thomas J. Clarke Jr., who previously held both positions, to "focus on navigating the company through this difficult economic environment" as chief executive, TheStreet.com said.
For the quarter ended Sept. 30, TheStreet.com reported revenue of $16.7 million, compared with $16.1 million for the same period in 2007. TheStreet.com reported a third-quarter loss of $1.1 million, or 4 cents a share. Last year, the company posted a profit of $3.8 million, or 13 cents a share, before a gain was factored in.
On average, analysts surveyed by Thomson Reuters were expecting earnings of 6 cents a share and revenue of $19.2 million.
Earnings before interest, taxes, depreciation and amortization, excluding stock compensation expenses, was $1.2 million, a decrease of 74% from adjusted EBITDA of $4.5 million in the third quarter a year earlier.
"Our quarterly results reflect the revenue impact of the weakened online advertising market," Clarke said in a press release. "While we remain committed to investing in our growth initiatives, we are reviewing our cost structure, as is prudent, in this difficult environment. Our strong balance sheet, with $80 million in cash and no bank debt, ensures we are particularly well positioned to navigate these headwinds."
Marketing-services revenue totaled $6.5 million for the third quarter, a 7% year-over-year decrease. Advertising revenue for the quarter rose 18% to $5.4 million. Interactive marketing-services revenue, derived from Promotions.com, which was acquired in August 2007, totaled $1 million.
Revenue from paid services rose 11% to $10.2 million, as growth in syndication, licensing and information services offset declining subscription services.
Syndication, licensing and information-services revenue more than tripled to $2.8 million from $800,000 in the year-earlier quarter, primarily because of the acquisition of Bankers Financial Products Corp. in November 2007. Revenue from subscription services fell 8% to $7.4 million, excluding TheStreet.com Ratings Print Directory business that was outsourced in the second quarter of 2007.
During the quarter, TheStreet.com's cash flow from operations was $1.8 million, with negative free cash flow of $100,000.
For the first nine months of the year, the company had revenue of $55.4 million, an increase of 22% over the same period of 2007. TheStreet.com earned $3.7 million for the nine months, down from $10.3 million a year ago. Adjusted EBITDA for the nine months was $9.6 million, a 20% decline from the comparable period last year.
On a conference call following the release of the results, Clarke said the quarter was "very much a story of a revenue shortfall." He also said the company would continue to look to introduce premium subscription products and that the recent downturn in advertising "hasn't gotten any worse, but it hasn't gotten any better."
Though management has "limited visibility" regarding fourth-quarter revenue, the company will be looking for ways to lower expenses, Clarke said.
In addition to this Web site, TheStreet.com Inc. operates RealMoney.com, Stockpickr.com, BankingMyWay.com, MainStreet.com, Rate-Watch.com and Promotions.com.
This article was written by a staff member of TheStreet.com.