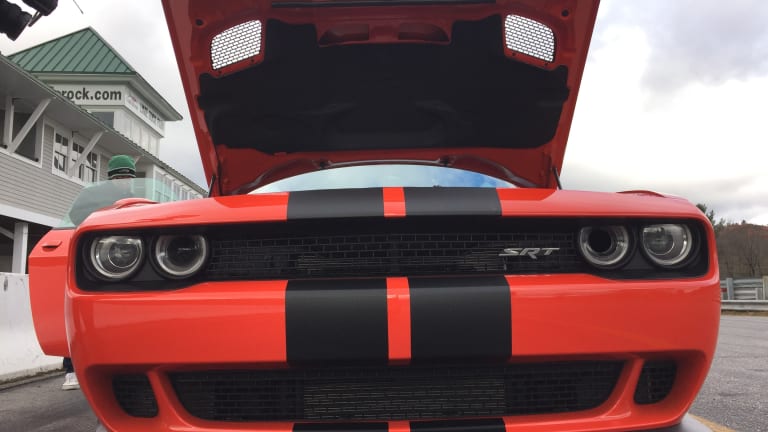 TheStreet's Top Muscle Car of 2016 Is a 707-Horsepower Animal That Will Stop Your Heart
The Dodge Challenger Hellcat is an easy choice.
Editor's pick: Originally published Dec. 22.
The qualifications for TheStreet's "Top Muscle Car of 2016" were absurdly simple -- one, is the car stupid fast and two does it borderline frighten you to death with the gas pedal pressed to the floor?
After all, those emotions are what defines driving a piece of American muscle, no? Suffice it to say TheStreet's hands-down winner this year was the Dodge Challenger Hellcat, which we had the awesome pleasure of driving around for several days. Runner up was the Dodge Charger Scat Pack (it's plenty fast and cool-looking, but it does have four doors).    
Billed by Dodge, a unit of Fiat Chrysler (FCAU) - Get Report , as the world's fastest production muscle car at 707-horsepower, the Dodge Challenger Hellcat could easily torch the Ford (F) - Get Report Mustang GT -- which has a minuscule 435 horsepower. Even the 526-horsepower Ford Mustang Shelby GT 350 is no real match for the awesome Hellcat down the straightaway.
The new Camaro ZL1 from General Motors (GM) - Get Report  would likely give the Hellcat a better overall straight line race as it boasts about 650 horsepower and is lighter than the hefty Hellcat. But still, the Hellcat's 0-60 time of about 3.6 seconds would probably strike fear in the owner of any Camaro ZL1 in a battle for the checkered flag.
In short, the Hellcat is mean-looking, makes an ungodly roar when the gas pedal is stomped on, and boasts a suspension that makes it seem as if the car is riding on rails. This was by far the most terrifying car we tested all year. 
Dodge is already on TheStreet's radar for some kind of award in 2017, too. The car manufacturer will release the Dodge Challenger GT sometime next year, which is being billed as the first two-door muscle car to get four-wheel drive. Cheers to going 100 mph in the snow in a muscle car!