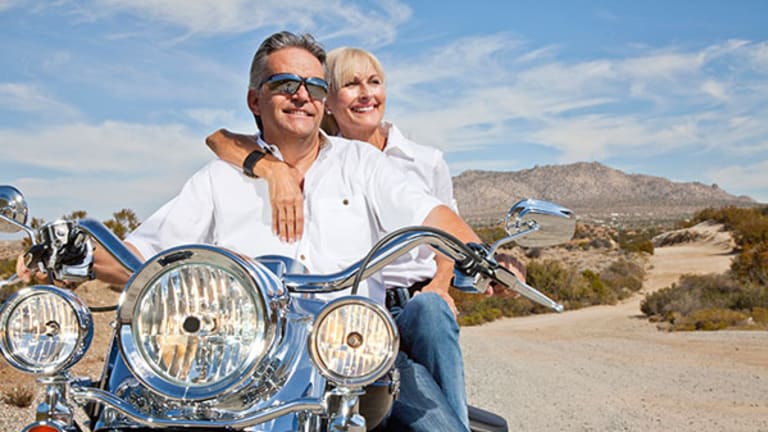 TheStreet Rewind: Motorcycles, Wine, Work Outs, Making Millions & CEO Insights
Time to unwind with TheStreet's video newsletter Rewind! This week we give you a sneak peak at some AimExpo 2017, the place to be if you love motorcycles. Plus, we're talking how to make millions and even wine with Megadeth frontman Dave Mustaine!
HELLO SATURDAY!! (And Hello Friends!)
Ready to unwind and 'Rewind'? I know I am! And boy, what a week we had at TheStreet ANDin Columbus, Ohio. I just got back from the @AIMExpo2017 in Columbus, Ohio. It was motorcycles, motorcycles and more motorcycles. The show is just getting underway, but I was lucky enough to see (and ride) during the trade and media days with some help and guidance from The Motorcycle Industry Council! (Thank you @TyvanHooydonk and Andria Yu @SixSpeedSisfor all of your help and my introduction to riding at Sturgis in 2016!).
Be on the look out over the weekend and next week for a slew of savage videos highlighting everything from the most expensive motorcycle we could find (over $50k), to the baddest custom cycles to the hottest bikes from Harley-Davidson, BMW, Indian, Kawasaki and more. My producer/shooter/editor/extraordinaire Vanessa Fayzulin and I will be posting some great pictures and videos over the weekend so be sure to follow me on Twitter and Instagram.
Did it strike you as unusual that two women covered the motorcycle event for TheStreet? Well, don't be too surprised. There's a whole community of female motorcycle riders out there! I meet some of them over the past few days. These women embody #AlphaRising and you will meet them in the coming weeks! I was lucky enough to be among the motorcycle expo group that got a rare tour of Honda's secretive R&D facility. Along the way I met some of Honda's top female engineers and heard first hand how women can positively impact a company's bottom line. Be sure to catch their stories in next week's TheStreet Rewind newsletter.
Ok, so now back to what you missed last week.
Remember heavy metal's Megadeth? The band's frontman, Dave Mustaine, talks wine with our David Marcus (see full video below). Here's a fun bit of trivia, Mustaine named each bottle after a Megadeth song! If you're an 80's kid you know the set list: 'Holy Wars.. The Punishment Due', 'Peace Sells' and 'In My Darkest Hour' to name a few! He was quite a draw at the NYSE!

What was @DaveMustaine from @Megadeth doing at the NYSE today? pic.twitter.com/hwhA4KpckD
- NYSE (@NYSE)
Weekends are made for workouts. Ok, that might be more in theory than reality. But, if you want to get inspired to hit Equinox or NY Sports Club,
TheStreet's Jason Notte
breaks down Tom Brady's $16,000 diet. Jason's story is fascinating (
). He calculates that while Brady is eating like a king, the average person Brady's age is spending only about $4,424.40 annually on food.
Among the CEO's visiting TheStreet's headquarters at 14 Wall Street: Norwegian Air's CEO reveals how to get a really, really cheap fare to Europe
.
First on TheStreet:Brian Sozzi speaks exclusively with P&G CEO David Taylorabout the company, cool new products and an ugly board battle with activist investor Nelson Peltz.
And PayPal's CEO Dan Schulman was in the house. The company's stock has been on a tear this year for several reasons. Chief among them is that the company is reinventing itself in the age of digital payments. Watch Brian Sozzi's full interview below and read his article here.
Alright, time for me to have a cup of coffee and suit up for the farmer's market at Boscobel House and Gardens near Cold Spring, New York. Last week, I loaded up my motorcycle backpack full of fresh cut zucchini blossoms and herbs from Rogowski Farm! They made for a delicious ricotta stuffed, beer battered appetizer last weekend. I wonder, what my #SaturdayMorningRide will turn up this weekend? Stay tuned.
Don't forget, in addition to TheStreet Rewindvideo newsletter be sure to sign up for our other free newsletters including In Case You Missed It, Booyah! and more.
I'd love to hear from you. Tell me what type of videos you'd like to see from TheStreet and be sure to share your story ideas! Just email me at Julie.Iannuzzi@TheStreet.com or follow me @ JulesVideo on Twitter.

More great videos next week!
Julie Bennett Iannuzzi
Video, Social, Podcasts
See more videos from TheStreet's here.
Talking Wine With Megadeth's Dave Mustaine
What inspired Megadeth's Dave Mustaine to start Mustaine Vineyards?
$1,000 for a Men's Fragrance?
The fragrance market is booming at all price-points. We got an inside look at the luxury end, where bottles can cost up to $1,000.
We Break Down Tom Brady's Outrageous $16,000 Diet
Tom Brady's new book highlighting his diet may be the perfect routine for a star athlete but is it affordable for the average Joe?
You Can Become a Millionaire Even if You Make $35,000 a Year
It's just going to take some time.
Go Inside PayPal's Big Reinvention
PayPal's stock has been on a tear this year for several reasons. Chief among them is that the company is reinventing itself in the age of digital payments. PayPal as just a company that lets you buy stuff in a retail store is no longer the case.