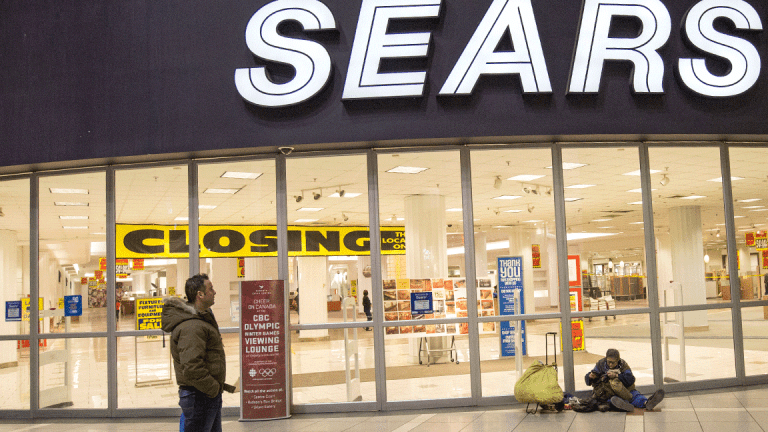 Black Friday Online Sales Blow By $5 Billion as Shoppers Forget Stores Exist
TheStreet is out in the stores seeing how a surging stock market and improving economy are impacting Black Friday shopping. One thing has stood out: more and more people are buying online.
Black Friday Weekend
Confirmed
Abobe confirms that Black Friday online sales boomed 16.9% from last year to $5.03 billion.
Meanwhile, back from one outlet center in Long Island, NY. Decent traffic with the weather being nice and good package sizes. Hopped into the Under Armour (UAA) - Get Free Report to check out inventory levels (which were scarce, a positive sign for a brand that has struggled with inventory management this year). I think Under Armour needs to remind itself of its heritage -- snapped in below picture inside the store -- as it tries to reset the company in 2018. 
The Online Hits Keep Coming
What shopping mall?
As of 8:00 p.m. on Black Friday, online sales were up 15.6% from last year to $3.54 billion according to Adobe. The analytics firm reiterated its forecast for $5 billion in sales alone on Black Friday. 
Shout out to Alphabet  (GOOGL) - Get Free Report and Apple for making phones with larger screens that allow for easier shopping on the go. Mobile set new records, says Adobe, with sales coming in at $1.4 billion. About $980 million was derived from smartphones with the remainder tied to tablets. 
Alphabet is a holding in Jim Cramer's Action Alerts PLUS Charitable Trust Portfolio. Want to be alerted before Cramer buys or sells GOOGL? Learn more now.
Black Friday
An Early Win for J.C. Penney, Sorta
J.C. Penney touted the performance of its online business in a new press release at 3:00 p.m. EST on Black Friday. Despite the comments, the company didn't lift its full year sales or earnings guidance (telling of the shift to lower margin online sales). 
Says J.C. Penney:
Online traffic was up double digits this week, with mobile accounting for the majority of visits to jcp.com. Traffic peaked on Thanksgiving day, with the site receiving more visits than any other day this year. Top selling items online for the week include diamond jewelry, furniture, refrigerators, TVs, pajamas and towels.
While it's still early in the season, the Company is encouraged by store and jcpenney.com traffic, and plans to continue this momentum throughout the holiday.
And Now Our First Problem
Social media erupted around 2:00 p.m. with complaints of Macy's credit card machines being down. TheStreet has an email into Macy's for confirmation. But suffice it to say, this is not good to have happen on Black Friday. 
Wow
More data from Abobe has hit the wires, and all I can say is wow. Online sales have tailed $640 million as of 10:00 a.m. on Black Friday, up an impressive 18.4% from the prior year. Mobile shopping is hitting record highs. Thanksgiving Day saw $2.87 billion in sales, up 18.3% year over year. 
Two other things from Adobe stood out. First, top-selling toys include Funko Pop! dolls. Perhaps Wall Street will now start to respect the Funko (FNKO) - Get Free Report story after the recent IPO day drubbing (watch my interview below with CEO). 
Second, Roku sticks have been hot-sellers. Head here to read my interview with Roku's founder. Talk about a hot IPO. 
Black Friday Has Died (In Stores, That Is)
It's almost noon on Black Friday and discounters and malls are as empty as a Sears executive team meeting. In talking to shoppers, it has become apparent that the in-store deals by retailers are bordering on terrible. Makes sense as retailers space out their promotions to drive traffic throughout December. Further, promotions are being reallocated to real-time price cuts online. 
So far, a really boring day walking around. 
Worthy of a Shout Out
Best holiday assortment I have seen from handbag and accessories maker Coach (sorry, Tapestry (TPR) - Get Free Report ) in some time. Totally nailed, and I would be surprised if the company doesn't have a good season. Michael Kors (KORS) holiday assortment looking much weaker. I will say that Tapestry's new toy, Kate Spade, could use work in 2018 in terms of upping the product quality. 
There is no doubt in my mind Tapestry CEO Victor Luis will get that rectified. Here is my chat with Luis ahead of the holidays. 
So It Officially Begins
Waking up in my car parked inside an outlet around 3:00 a.m. EST, I find Walmart has given a little clues on how it did on Thanksgiving. The company says it sold "tens of millions of TVs, video game consoles, movies, toys and turkeys." If you haven't already bought a few shares in Activision Blizzard
(ATVI) - Get Free Report
, might want to today -- it will be a videogame holiday season thanks to new consoles from Nintendo
(NTDOY) - Get Free Report
and Microsoft. Walmart's comments on strong gaming console sales would have me concerned on how GameStop's
(GME) - Get Free Report
season has kicked off. 
Activision Blizzard is a holding in Jim Cramer's Action Alerts PLUS Charitable Trust Portfolio. Want to be alerted before Cramer buys or sells ATVI? Learn more now.
Thanksgiving Day
The Graveyard Shift
Headed off to take a nap in my car around midnight because the malls were dead! Make no mistake, people stayed home on Thanksgiving Day and shopped online. How Black Friday sales turn out will be very interesting. Some thoughts from various store visits.
Target (TGT) - Get Free Report stores were pretty quiet once the early lines trickled out of the store.
The two Sears stores I visited were a joke. Minimal shoppers. It's going to be a brutal holiday season for the company. 
Shout out to McDonald's (MCD) - Get Free Report CEO Steve Easterbrook. I have given the company a hard time for years, but continue to be impressed by how the food quality has improved this year. A couldn't have been happier with how my two artisan grilled chicken sandwiches turned out -- they were hot and tasty. Happy Thanksgiving to me!
Initial thought after trying the iPhone X for the first time inside of Best Buy (BBY) - Get Free Report -- Apple is done innovating. Not blown away at all. Also wasn't blown away by Best Buy's store traffic (three stores visited). 
Best store traffic, by far, on a Thanksgiving Day opening was Walmart. Stores were well-staffed and I have to think the company is off to a strong start. If you were looking for a sign the U.S. economy is in better shape this year vs. last, visits to Walmart stores on Thursday night offered that up. Baskets seemed fuller and people navigated toward higher price merchandise. 
It's Game Time
It's 4:10 p.m. EST and it's almost game time as most of the major retailers get ready to open. Hit up two J.C. Penney stores after their earlier than last year opening at 2:00 p.m. (sort of absurd...see below Facebook (FB) - Get Free Report Live). The crowds look similar to last year, with most people navigating to door-busters on small appliances, bedding and sweaters. If Newell Rubbermaid (NWL) - Get Free Report didn't release terrible guidance a few weeks ago, yours truly would be giving a nod to the stock (they own small appliance king Jarden). 
Managed to visit another Walmart store. The theme remains the same in that people may be staying home this year to shop online. Doorbuster deals in stores have been far from salivating as retailers attempt to pad profit margins -- they have to considering lower margin online sales are increasing.
Facebook is a holding in Jim Cramer's Action Alerts PLUS Charitable Trust Portfolio. Want to be alerted before Cramer buys or sells FB? Learn more now.
And the First Round of Sales Data Is In
This data from Abobe just hit my email inbox. And as I suspected, online sales are off to a strong start. 
Thanksgiving Day has seen $360 million in online sales as of 10 a.m. EST, up 17.6% from the prior year. The average order value is slightly higher for this year's Pre-Thanksgiving Day at $137.
Computers are showing stronger discounts than last year says Adobe, with prices starting to drop significantly through Wednesday. Top toys include PJ Masks-branded items, Hatchimals, Colleggtibles, L.O.L. Surprise Dolls and Baby Alive. Apple (AAPL) - Get Free Report AirPods and iPads, as well as Sony's undefined Playstation VR, are the most popular electronics. Specific to video games, Super Mario Odyssey comes out on top, along with the Nintendo Switch and Microsoft (MSFT) - Get Free Report Xbox One X for consoles.
Apple is a holding in Jim Cramer's Action Alerts PLUS Charitable Trust Portfolio. Want to be alerted before Cramer buys or sells AAPL? Learn more now.
More Stores, Same Theme
By 10:15 a.m. this much can be confirmed: Black Friday online sales figures will blow people away as they are reported. Crowds at several more Walmart and Kmart stores I visited were light. Most people were shopping for last minute Thanksgiving Day food. Even the traffic at Starbucks (SBUX) - Get Free Report stores I ventured into (eight coffees consumed already...) felt absent the early seasonal pop of yesteryear. 
Starbucks is a holding in Jim Cramer's Action Alerts PLUS Charitable Trust Portfolio. Want to be alerted before Cramer buys or sells SBUX? Learn more now.
Sign times are tough @SearsHoldings -- Kmart #BlackFriday circulars printed in black and white on printer paper pic.twitter.com/JoROuknalS
A Visit to Walmart
With one Walmart (WMT) - Get Free Report store visit in the bag, not too much to report on the world's largest retailer just yet. I will say Walmart's toy section is nicely stocked and poised to gain the business of disappointed Kmart shoppers. And, to a lesser extent, shoppers at Toys 'R' Us who may see thinner shelves than normal following the chain's recent bankruptcy. 
Check out our on-camera interview with Walmart CEO Doug McMillon.
Kmart Stores Look Silly Empty
Kmart is the first national chain to open its doors on Thanksgiving Day, doing so at 6:00 a.m. I got in two Kmart store visits by 7:00 a.m. and came away thinking execs should be terrified. Some of slowest traffic levels I have seen in ten years of visiting Kmart stores on Thanksgiving. The discounter's holiday promotions weren't that compelling, probably as the dying Sears (SHLD) tries to maximize profits. 
Initial thought: J.C. Penney (JCP) - Get Free Report , Macy's (M) - Get Free Report and Walmart will crush Kmart into submission this holiday season. 
TheStreet's "Black Friday and Holiday Shopping Survival Guide" series aims to help you, the consumer and the investor, navigate the holiday season, Black Friday, Cyber Monday and everything in between. Through a number stories, videos, graphics and other multimedia elements TheStreet takes a look at the biggest challenges of the season, the winners and losers from the shifting retail environment and much more. Read More about navigating the holiday season.