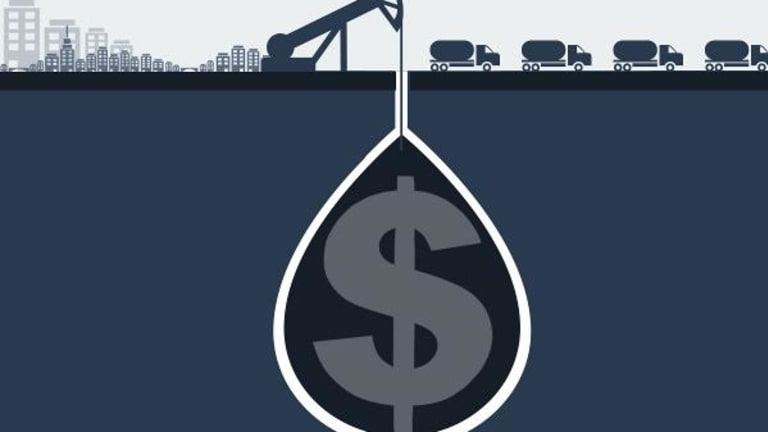 These Two MLPs Are Unlikely to Mount a Turnaround in 2017
Even though energy prices are rebounding, these beaten-down master limited partnerships will continue to struggle.
Master limited partnerships are synonymous with high-yields, consistent distributions and capital gains.
For investors with stakes in the mining-focused Hi-Crush Partners (up 245% in the last 12 months), coal play Sun Coke Energy PartnersLP (up 238%) or Natural Resource Partners LP (up 230% in the past year), gains have been substantial. These stocks are among the most compelling investments available in this overbought market.
At the other end of the spectrum, however, are MLPs such as the $1.61 billion CVR Refining LP (CVRR) (down 44% in the past year) and the $382 million StoneMor Partners LP (STON) - Get StoneMor Partners L.P. Report (down 60% in the past year).
CVR Refining is a downstream energy company. Its petroleum business includes oil refineries, about 340 miles of pipelines, 150 crude oil transports and more than 6 million barrels of crude oil storage capacity.
The company is an MLP formed by CVREnergy, in which billionaire investor Carl Icahn holds a significant stake.
A big third-quarter earnings miss coupled with a dividend suspension damaged investor confidence in CVR Refining LP. Plus, a lower refining-margin situation and huge costs to conform to the U.S. Environmental Protection Agency's Renewable Fuel Standard program have also taken a toll.
Shares of the MLP have jumped 26% in the past three months. Investors are expecting that Donald Trump's victory in the presidential election will lead to changes at the EPA in CVR Refining's favor. They've been encouraged by news that Icahn will serve as a special adviser to Trump on regulation.
But investors appear to have gotten ahead of themselves in their optimism. Analysts' estimates regarding the MLP's earnings don't reflect sizable growth in the medium term or long term. And the median 12-month price target among analysts who cover the company is more than 20% less than the stock's recent levels. 
The other MLP that hasn't performed well in the past year is StoneMor Partners, which owns and operates cemeteries and funeral homes. The partnership controls 317 cemeteries and 105 funeral homes in 28 states and Puerto Rico.
Shares plummeted in late October after the MLP announced it was cutting it's quarterly dividend payment to 33 cents a share. The company's third-quarter earnings miss only worsened sentiment. The company's strategy of cutting sales staff misfired as did its cash cycle management monitoring. Analysts at Raymond James in November advised investors to buy the dip in the MLP's shares.
But it would be prudent to wait for another quarterly earnings report in order to evaluate whether the MLP's promised changes are indeed taking place and having a positive impact on its results. In the meantime, there are better places for your money.
Although the company is taking steps to address its problems, there is little valuation comfort in a negative price/earnings-to-growth ratio when peers like Service Corporation International and Carriage Services offer better performance.
---
Worried about a bear market? We've found a genius trader who makes this bold promise: "If I don't deliver 24 triple-digit winners in the next year...I'll give up $1,950." His top-tier trading service reeled off twenty-four triple-digit winners in less than a year, along with more than thirty double-digit winners thrown in for good measure. And he racks up these profits in up or down markets. Get the details here.
This article is commentary by an independent contributor. At the time of publication, the author held no positions in the stocks mentioned.