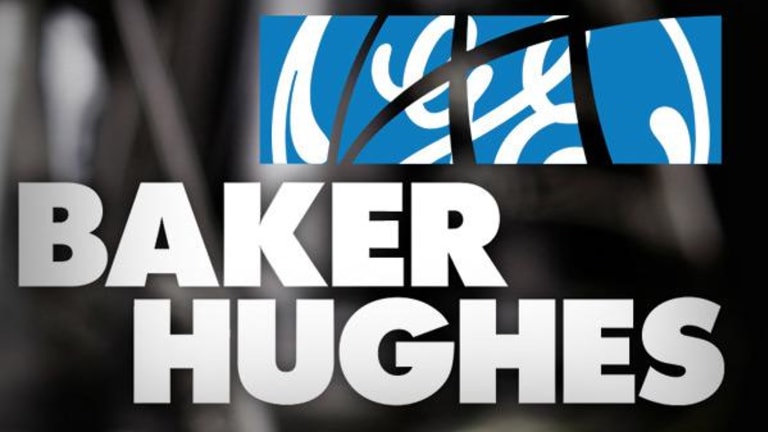 These Three Oilfield Services Plays Have a Technological Advantage
The 'New' Baker Hughes and two small-cap companies are where investors should look for a 'game changer' in the energy industry.
As Baker Hughes' (BHI) pending partnership with General Electric's (GE) - Get General Electric Company Report Oil and Gas business progresses, the benefits the oilfield services company would gain as a result of the combination have some analysts becoming increasingly bullish.
Despite the Houston-based company's earnings miss for the fiscal fourth quarter of 2016, Stephens analyst Matthew Marietta named Baker Hughes to his Best Idea list as he sees technological advantages for the stock.
"I think [the] strategic initiatives that are not commodity price dependent" are the biggest upside factor for the company with a $26.2 billion market capitalization, Marietta says, also noting that "the whole sector has become exciting to invest in."
With the integration, Baker Hughes becomes highly competitive full stream company. The Stephens analyst believes it could rival oilfield services giant Schlumberger (SLB) - Get Schlumberger NV Report in the long term, given Baker Hughes' edge in downstream operations.
Schlumberger is holding in Jim Cramer'sAction Alerts PLUS Charitable Trust Portfolio. Want to be alerted before Cramer buys or sells SLB? Learn more now.
"It's the ability for an integrated exploration and production (E&P) to call one company to get everything they need," says Marietta, "from analyzing reservoirs to gas turbines creating electricity."
When the deal was announced at the end of October, Credit Suisse analyst James Wicklund said that the entire oilfield services industry has been moving to encompass a digital world, "with big data analytics for predictive maintenance, 'smart' rigs, [blowout preventers] BOPs, subsea trees and other equipment," adding that the GE and Baker Hughes combination "heightens the stakes to competitors who need to keep pace."
When the combination closes, which is expected around mid-2017, Baker Hughes will have complementary technology, along with the opportunity to leverage the GE Store, through which each business segment can share and access technologies, product development and services.
"We leverage technology from Aviation and Healthcare, we share service capability with Power," said GE CEO Jeff Immelt during an Oct. 31 conference call with analysts to discuss the deal. "Predix is a common platform and oil and gas is a key part of our Global Growth organization along with Healthcare, Aviation, Power, Transportation and other GE businesses."
Baker Hughes CEO Martin Craighead said in October that he was particularly impressed with the Predix, GE's industrial Internet operating system.
"As we start to migrate it into well construction, well production and ultimately improving the recovery factor and moving that decline curve further right, there is some domain experience that we can bring to play here that I think is going to completely change the conversations that any player in this industry has ever been able to help with the customer," Craighead said.
Action Alerts PLUS portfolio manager Jim Cramer believes Predix is a "driving force" for the future.
"We view the opportunity for Predix as the driving force that will take GE to the next level, not only within the oil and gas sector but also across all industries in which GE operates as big data becomes increasingly important to help businesses operate proactively, efficiently and effectively," Cramer wrote in an Oct. note to subscribers.
With these technological advantages in the works, Stephens Marietta rates BHI shares at Overweight with a $73 price target. BHI stock was down slightly during midday trading on Monday.
If investors are looking for slightly cheaper plays in the space, however, Marietta points out two small-cap companies, Flotek Industries (FTK) - Get Flotek Industries, Inc. Report and Energy Recovery ERII, that are introducing beneficial technology.
Flotek offers a chemical advantage through its patented Complex nano-Fluid (CnF) technology. Stephens rates FTK at Overweight with an $18 price target.
"(CnF) is not a conventional surfactant which the industry has been selling for years, which is just a surface tension reducer," John Ely of industry-leading consultant Ely & Associates told Marietta during an investor call in December. "We found out through our customers that those things (conventional surfactants) many times are detrimental ... The CnF product is something that changes the character of the surface of the rock allowing for water and oil production."
Marietta believes CnF could "unlock vast hydrocarbon resources."
Furthermore, analysts at Coker Palmer Institutional say Parsley Energy (PE) - Get Parsley Energy, Inc. Class A Report is moving to use CnF in 2017, following a discussion with Flotek management.
"Assuming PE uses CnF on 30% of Midland wells and 100% or Delaware Basin wells in 2017, we think the CnF revenue potential for FTK could exceed approximately $20 million in 2017," the Coker Palmer Institutional analysts team wrote in a Jan. 26 note.
Given that non-core asset sales are advancing, and could be announced in the first half of this year, the CPI analysts say it is "tough to be short the stock here." The firm has a Fair Value rating on the shares with a $17 price target.
As for Energy Recovery, it partnered with Schlumberger in 2015 in developing a mechanical process to "dramatically" increase the life of a hydraulic fracturing pump, Stephens Marietta says.
"The VorTeq represents a step ... into the pump market where the goal is to divert corrosive proppants and chemicals away from hydraulic fracturing pumps, thereby reducing maintenance costs," Marietta wrote in a Jan. 10 research note.
The San Leandro, California-based company also has its Pressure Exchange (PX) product. The Stephens analyst notes that the PX business commands leading global market share in saltwater reverse osmosis desalination market and the company is "creatively applying this technology to other markets with a focus on oil and gas industry applications." Stephens holds an Overweight rating on ERII shares with an $18 price target.
For Marietta, as the global oil market looks to rebalance itself this year, Baker Hughes, Flotek and Energy Recovery -- companies with a technological advantage in oilfield services -- are "where investors should look for a game changer in the energy industry."
Employees of TheStreet are restricted from trading individual securities.
Action Alerts PLUS, which Cramer co-manages as a charitable trust, is long GE and SLB stock.