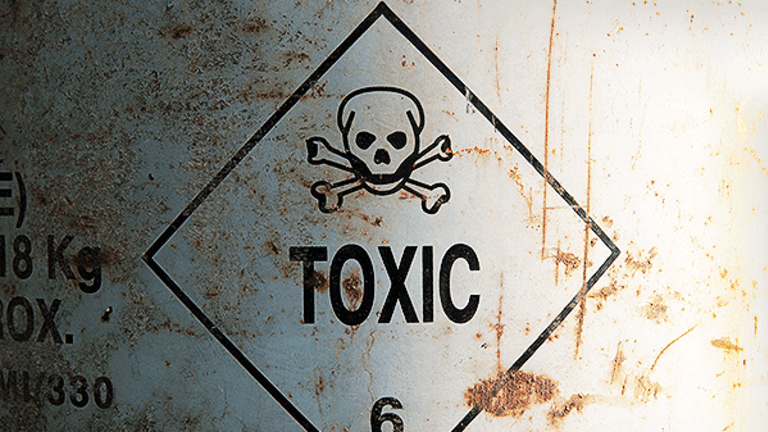 These Three Big Financials Could Be Turning Toxic
After rallying hard in the past six months, these big financial sector stocks are suddenly teetering on the edge of breakdown territory.
The financial sector is showing some cracks this spring.
Make no mistake, financials have had a great run lately--in the past six months, the financial sector has been the single best performing segment of the S&P 500 index. But all trends eventually come to an end, and some of the biggest stocks in the financial sector are waving some pretty conspicuous red flags right now.
In other words, it might be time to ring the register and take some of those financial sector gains off the table in May before things roll over.
Of course, not all stocks are affected equally by the sector malaise. To figure out which major financial stocks could be about to turn "toxic" for your portfolio, we're turning to the charts for a technical look at three to sell.
For the unfamiliar, technical analysis is a way for investors to quantify qualitative factors, such as investor psychology, based on a stock's price action and trends. Once the domain of cloistered trading teams on Wall Street, technicals can help top traders make consistently profitable trades and can aid fundamental investors in better entry and exit points.
Just so we're clear, the companies I'm talking about today are hardly junk. But that's frankly irrelevant to what happens to their stocks; from a technical analysis standpoint, sellers are shoving around these toxic stocks right now.
For that reason, fundamental investors need to decide how long they're willing to take the pain if they want to hold onto these firms in the weeks and months ahead. And for investors looking to buy one of these positions, it makes sense to wait for more favorable technical conditions (and a lower share price) before piling in.
Without further ado, let's take a look at three "toxic stocks" to sell--and when to sell them.
U.S. Bancorp
Leading things off is $83 billion banking stock U.S. Bancorp (USB) . On a price basis alone, U.S. Bancorp has had a great run in the past 12 months--shares are up 22.5% during that stretch. But shares have spent all of 2017 grinding sideways, and that do-nothing price action is actually setting shares up for a possible reversal this summer.
U.S. Bancorp is forming a long-term head-and-shoulders top, a bearish reversal pattern with a silly name but more serious trading implications. The pattern, which signals exhaustion among sellers, is formed by two swing highs that top out at approximately the same level (the shoulders), separated by a higher high (the head). The sell signal comes on a violation of USB's neckline, currently at the $50 level. A close below $50 would open up some meaningful downside risk from here.
The side-indicator to watch in shares of U.S. Bancorp is price momentum, measured by 14-day RSI at the top of this stock's chart. Our momentum gauge has made a series of lower highs since the pattern started forming, signaling that buyers have been losing control of things as shares have tracked sideways in 2017. If USB fails to catch a bid at $50, it's time to sell.
Morgan Stanley
We're seeing the exact same price setup in shares of investment bank Morgan Stanley (MS) now. Like U.S. Bancorp, Morgan Stanley has spent all of 2017 forming a pretty textbook example of a head-and-shoulders top. For MS, the big breakdown level to watch is support down at $40.
What makes that $40 level in particular so significant for Morgan Stanley? It all comes down to buyers and sellers. The $40 support level in MS is a place where there has been an excess of demand for shares since last November; in other words, it's a spot where buyers have been more eager to step in and buy shares than sellers have been to take gains. That's what makes a breakdown below $40 so significant--the move means that sellers are finally strong enough to absorb all of the excess demand at that price level.
A violation of $40 implies about a 15% downside move to the next-nearest support level from here. Caveat emptor.
Toronto-Dominion Bank
Last on our list is one of Canada's big-five banks: Toronto-Dominion Bank (TD) .
You don't need to do a whole lot of complex analysis to figure out what's happening in shares of this big banking stock. Instead, the price action in TD right now is about as simple as it gets.
TD's downtrend is defined by a pair of parallel trendlines that have identified the high-probability range for shares to stay stuck within. In other words, since peaking back in February, TD Bank has been stuck in a well-defined downtrend, selling off on each successive test of the top of its price channel so far. You don't want to own this stock until buyers can muster the strength to take back control and push shares above the top of the downtrend.
At the time of publication, author had no positions in the stocks mentioned.