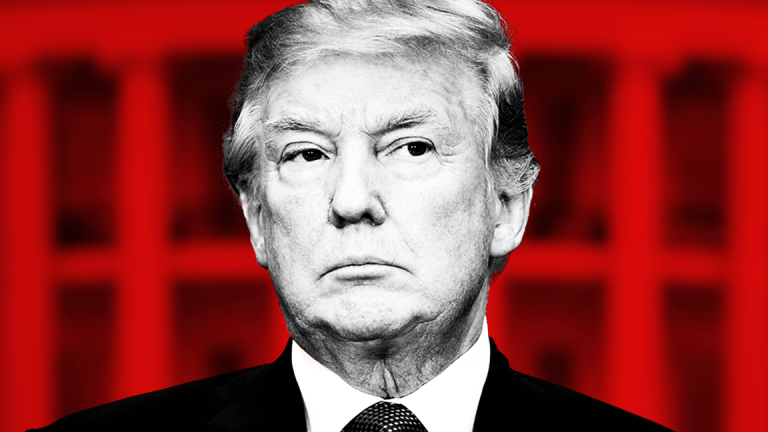 These Stocks Could Have the Most to Lose in a Trump Trade War With China
President Trump is expected on Thursday to announce tariffs on China.
Trump has uncorked tariffs on China, and now many U.S. companies may be feeling the heat. 
Retaliation from China might not target the same sectors the U.S.-sanctioned tariffs do. U.S. trade representative Robert Lighthizer, who said he is still "gaming out what would happen" should the Chinese retaliate, noted in the Wednesday House Ways and Means Committee meeting that U.S. agriculture will almost inevitably be a target.
Lighthizer's admission came the same day as an editorial in China's Global Times stated the following: "The Trump administration has repeatedly accused China of violating international trade rules and threatened to impose higher tariffs on Chinese products. But the U.S. is actually the breaker of WTO rules, which can be seen clearly by how subsidized U.S. soybeans are dumped on China."
The tariffs are the latest in a series of protectionist trade policy moves from the Trump White House. But who could these tariffs hurt most?
China is the world's largest soybean purchaser, while the U.S. has recently become its biggest producer. A trade war with China might mean U.S. agriculture takes the brunt of this hit.
Companies such as food processor Archer-Daniels-Midland Co. (ADM) - Get Archer-Daniels-Midland Company Report , agribusiness food producer Bunge Ltd. (BG) - Get Bunge Limited Report and agrochemical firm Monsanto Co. (MON) might lose business in high-demand China markets.
Multinational chemical company and Action Alerts Plus holding DowDuPont Inc. undefined , crop nutrient miner Mosaic Co. (MOS) - Get Mosaic Company (MOS) Report and fertilizer distributor CF Industries Holdings Inc. (CF) - Get CF Industries Holdings, Inc. Report could as well.
There's also Boeing Co. (BA) - Get Boeing Company Report , which is the single-largest U.S. exporter and counts China as a crucial market. A trade war with the country could mean China would turn to other manufacturers, such as Airbus (EADSY) - Get Airbus SE Report .
The same could be said for other big-industry companies that manufacture durables used in agriculture, including Deere & Co. (DE) - Get Deere & Company Report , AGCO Corp. (AGCO) - Get AGCO Corporation Report , CNH Industrial NV (CNHI) - Get CNH Industrial NV Report , Lindsay Corp. (LNN) - Get Lindsay Corporation Report , Titan International Inc. (TWI) - Get Titan International, Inc. Report and Toro Co. (TTC) - Get Toro Company Report .
The market has already taken notice of the possibility of a trade war undermining U.S.-China business, too. The iShares China Large-Cap ETF (FXI) - Get iShares China Large-Cap ETF Report fell more than 2.4% in premarket trading on Thursday, while the Xtrackers Harvest CSI 300 China fund (ASHR) - Get Xtrackers Harvest CSI 300 China A-Shares ETF Report dipped about 1%.