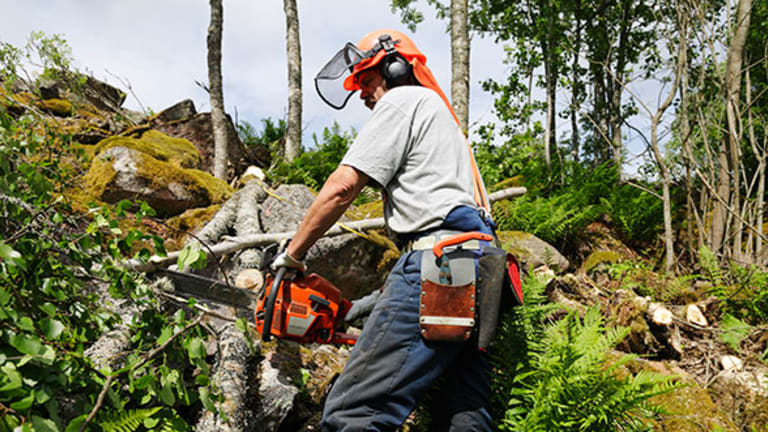 These Seemingly Boring Investments Can Generate Exciting Returns
Investors looking to capitalize on the strong housing recovery should consider timber real estate investment trusts. Here's why.
One of the strongest sectors of the U.S. economy is housing, and the economy appears to be in the middle of an extended recovery. Investors can find many ways to participate in this trend, but one not frequently considered is timber real estate investment trusts. 
Consolidation in the domestic lumber industry has led to a reduction in investment choices. The two you might want to consider are Weyerhaeuser (WY)  and Rayonier (RYN) .
Weyerhaeuser is the behemoth in the sector. It has been around since 1900 and now owns or controls more than 13 million acres of forest lands. Weyerhaeuser shares have a market capitalization of $24.12 billion, following its acquisition of Plum Creek Timber in February 2016.
Rayonier is a smaller operator, with 2.7 million acres of working forests and a market capitalization of $3.39 billion. It has been around for 90 years.
It's important for timber to be as close as possible to end markets and transportation. Both of these companies primarily produce lumber in the U.S., although Weyerhaeuser is also in Canada and Rayonier operates in New Zealand (close to China, a very important end market).
The beauty of timber as a resource is that it grows! Each and every year a tree enlarges its circumference. If sustainably harvested, timberlands can become an increasingly valuable commodity. Demand for pulpwood (converted into items such as paper towels and toilet paper) and logs (for lumber) rises and falls depending on economic conditions around the globe. Consider that China's slowdown over the past couple of years reduced its need for imported logs, causing prices to weaken for exporters in New Zealand and the U.S. Pacific Northwest.
The current health of the housing industry seems to be setting up for better conditions domestically and potential improvement in China. Prices are gradually rising.
When you own millions of acres of forest land, what do you also own? Real estate with the potential to be developed. Rayonier analyzes property in the southeastern U.S. for its greatest potential and highest business use. When it determines that forest land is valuable for residential, commercial or industrial use, it sells or develops the land for a higher profit. You can imagine that some lands in northeast Florida might be extremely valuable for development. This is another profit center for Rayonier. (And, as a company, it generates more than $500 million in revenue from only about 325 employees!)
What does it mean that these companies operate as REITs? As an investment vehicle, REITs were created by Congress in 1960 to allow investors to commit funds efficiently to income-producing real estate. REITs legally avoid paying federal income tax by distributing at least 90% of their taxable income to shareholders as dividends. (A portion of the payout may be classified as a return of capital, generating modest tax benefits and extra record-keeping for taxable investment accounts.)
Weyerhaueser and Rayonier are strong domestic operators with dividend yields in the 3.5% to 4% range. If you're looking for solid investment income, likely asset growth and the potential for equity appreciation, you might want to take a chip out of these companies. After all, the housing industry likely will always need timber.
This article is commentary by an independent contributor. At the time of publication, the author held positions in RYN.
Exencial Wealth Advisors is an SEC registered investment adviser with its principal place of business in the State of Oklahoma. This newsletter contains general information that is not suitable for everyone. The information contained herein should not be construed as personalized investment advice. The returns presented herein are for illustrative purposes only and do not reflect actual returns of actual Exencial Wealth Advisors client accounts. The volatility and performance of these indices used for comparison may be materially different from the volatility and performance of a Exencial Wealth Advisors client account due to varying degrees of diversification and/or other factors. Moreover, no current or prospective client should assume that future performance results will be profitable or equal the performance presented herein. The information and data shown is of informational purposes and should not be viewed as a recommendation or solicitation of an offer to buy or sell any securities or investment products or to adopt any investment strategy. The reader should not assume that any investments in companies, securities, sectors and/or markets identified or described were or will be profitable. Investing in the stock market involves gains and losses and may not be suitable for all investors. Exencial Wealth Advisors and its representatives are in compliance with the current registration and notice filing requirements imposed upon registered investment advisers by those states in which Exencial Wealth Advisors maintains clients. Exencial Wealth Advisors may only transact business in those states in which it is notice filed, or qualifies for an exemption or exclusion from notice filing. For information pertaining to the registration status of Exencial Wealth Advisors, please contact Exencial Wealth Advisors or refer to the Investment Adviser Public Disclosure web site (www.adviserinfo.sec.gov). For additional information about Exencial Wealth Advisors, including fees and services, send for our disclosure statement as set forth on Form ADV from Exencial Wealth Advisors using the contact information herein. Please read the disclosure statement carefully before you invest or send money.