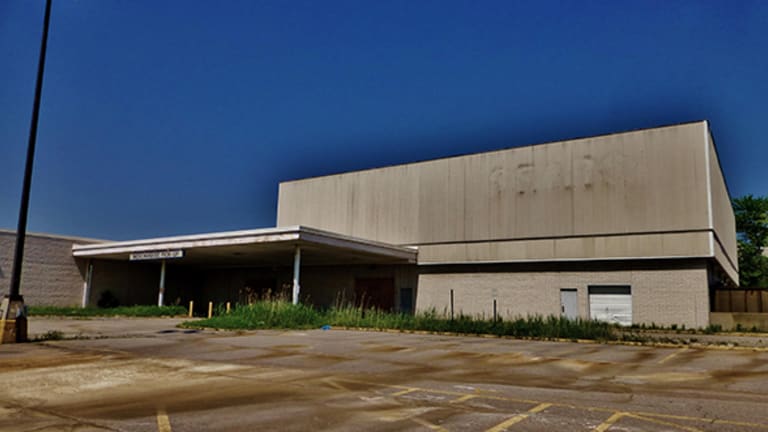 These Investors Are Quietly Betting Sears Has a Tragic Ending
This group is not too optimistic on the dying retailer.
This group is not too optimistic on the dying retailer.
One group of investors clearly doesn't share the renewed enthusiasm about dying Sears Holdings Corp. (SHLD) . 
Shares of Sears have exploded 44% in the past two weeks, while its credit-default swaps (CDS) -- which is what some investors pay to insure against a debt default within the next 12 months -- has more than doubled in the same period, according to data compiled by Bloomberg. Higher CDS prices indicate some investors are growing concerned about a Sears default.
It was just last September that Fitch Ratings posted a blunt note on Sears, saying the struggling retailer had "significant default risk" within the next 12 to 24 months due to years of weak store traffic and high levels of debt.
The move higher in prices for Sears' credit-default swaps has taken a back seat to the meteoric rise in the stock of late. Sears' stock has rallied to the tune of 38% to $11.75 during the last four trading sessions on the news of increased stakes by CEO Eddie Lampert and long-time shareholder Fairholme Capital Management.
Fairholme bought 286,600 shares of the cash-strapped retailer from March 23 to March 27 for between $8.05 and $8.46, according to a new filing. Bruce Berkowitz is the founder and chief investment officer of Fairholme Capital Management and president and director of Fairholme Funds. He also sits on Sears' board of directors and has been a staunch supporter of Lampert through the years.
Fairholme now owns 26.9% of Sears' outstanding shares, which are currently valued at $325 million. Berkowitz has taken a bath on his investment in Sears. Fairholme has been a Sears investor for more than a decade, having initially reported buying stock in the retailer during the third quarter of 2005, according to Bloomberg data. Fairholme's average cost on Sears, according to Bloomberg data, is $42.05 a share or 72% below current levels.
Meanwhile, Lampert also purchased 526,000 shares of the company last week, according to a filing on Friday. Lampert is Sears' largest shareholder and has been atop the dying retailer as CEO since 2013. He now owns more than 53% of Sears. To be sure, Lampert -- who was the mastermind behind the 2005 combination of Sears and Kmart -- has also taken a drubbing on his investment in Sears.
Lampert's average cost on his Sears holdings is $43.43, according to Bloomberg data.
The big question right now is what each heavy-hitting financier is seeing in the badly struggling retailer.
Sears has drained its cash position to $286 million in 2016 from a high point of $1.7 billion in 2009. The retailer is fresh off another disastrous holiday season, and it hasn't generated cash flow from its operations or seen revenue growth since 2006. All of this suggest Sears has one foot in the grave.
Last week, Sears admitted that it may not be able to stay in business. "Substantial doubt exists related to the company's ability to continue as a going concern," the retailer said in an annual report filed with the Securities and Exchange Commission.
It's likely Berkowitz and Lampert are looking at Sears as a long-term real estate play instead of a retailer that could rise from the ashes. By inking deals for real estate that it still owns, Sears could raise cash and crush those short its stock on fear of a bankruptcy filing. Lampert and Berkowitz could at least recoup some of their losses.
"If Sears does go under, they do have tens of thousands of square feet of real estate they could sell and brands they could sell to e-commerce companies," points out Stefan Weitz, chief product and strategy officer at Radial Inc.
Sears managed to pull off a sweet property deal back in 2015, when it formed real estate investment trust (REIT) Seritage Growth Properties (SRG) - Get Report by selling the entity 266 properties for $2.7 billion in cash. Seritage could very well ink another deal for more of Sears' best real estate -- in fact, Lampert, Berkowitz and one famous investor could be banking on Sears' demise as a retailer and Seritage emerging as an owner of lucrative commercial real estate.
"Seritage could get to cherry pick the best properties -- that's why Warren Buffett [and Berkowitz] are involved with Seritage," says money manager and retail expert Jeff Macke. Berkowitz' Fairholme owns 12.98% of Seritage's outstanding shares, while Buffett owns a 7.12% stake. Lampert clocks in with a 1.89% stake in the REIT.
Anthony Sabino, professor at St. John's University's Peter J. Tobin College of Business, told TheStreet that the "most probable reason" is that Lampert and Berkowitz are pulling a media stunt to make the company look better and ease the mind of other investors.
Sabino said "it's more than a coincidence" that the transactions follow Sears' recent suggestion that it won't be able to continue doing business plus its "horrendous" recent fourth quarter that saw a 10.3% plunge in same-store sales.
"It's like the old fable of the Dutch boy who stuck his finger in the dike," Sabino said. "It overflooded anyway."
Whatever the case, one shouldn't get too optimistic the surge in Sears' stock price signals it's on the comeback trail as a retailer.
Says Macke, "I'm always amazed how bad finance types [like hedge fund manager] Lampert are at retail, but Sears has been a lost cause for quite a while."
Sears spokesman Howard Riefs nor Mr. Berkowitz returned an email request for comment.