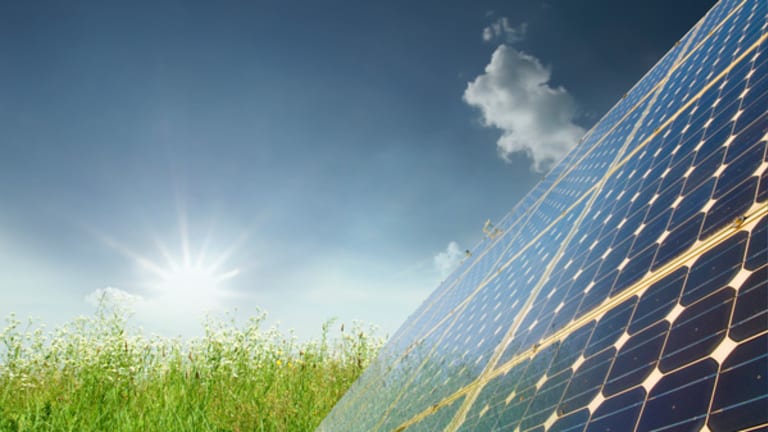 These Gas Stocks Could Heat Up
Southern Union, Energy Transfer Partners and Oneok Partners appear well-positioned.
The natural gas business is a strange place for investors these days.
With mixed pricing and demand signals coming in from consumers and producers, it hasn't been easy to figure out the winners and the losers.
The average price of the near-term natural gas contract traded on the New York Mercantile Exchange has been 2% higher than it was last year, and total domestic consumption of natural gas is up nearly 6% over the same period a year ago. The Interstate National Gas Association predicts that domestic demand for natural gas will grow by roughly 30% by 2020.
However, high drilling costs and a production glut in the central U.S. are keeping profits low. Some key producers of natural gas, including
Chesapeake Energy
(CHK) - Get Chesapeake Energy Corporation Report
, the nation's third-largest, are tempering output in an attempt to wait out the slump.
Unless drillers hedge to lock in prices, they expose themselves to gesticulations in commodity prices. If prices are volatile, traditional natural gas companies may be too risky to touch.
That brings us to pipeline companies, who make money by charging fees that are dependent on volumes transported. They can succeed regardless of what commodity prices are doing, and are often less risky.
Who's the best among them? There are a number of considerations that go into determining that, but following are three that investors might find worth examining a little closer.
One is Houston-based
Southern Union
( SUG), which has a trio of components that make it noteworthy.
For starters, the company controls 50% of the Florida Gas pipeline. According to Morningstar analyst Jason Stevens, Florida is a good market because its population is growing quickly as America's baby-boomer generation retires. Florida's summertime heat also makes it desirable, as it needs an abundant supply of natural gas to keep its air conditioners humming.
Also, Southern Union owns the largest liquefied natural gas (LNG) import terminal in the U.S. Located in Lake Charles, La., Southern Union's Trunkline LNG terminal has a sustained sendout capacity of 1.8 billion cubic feet of natural gas per day.
This is great news for Southern Union and its investors because under most consumption scenarios, LNG is going to be essential in order to meet future domestic demand for natural gas.
Finally, Southern Union owns a network of natural gas gathering and processing assets that it plans to spin off into a master limited partnership. Distributions from its MLP will be taxed at a favorable rate, thus increasing the value of the assets in the partnership. Stevens says that these assets are worth $6 a share for the company currently, but would be good for somewhere between $12 and $16 under an MLP structure.
A second name is
Energy Transfer Partners
(ETP)
, a Dallas-based MLP controlled by
Energy Transfer Equity LP
(ETE)
.
Energy Transfer Partners manages an energy gathering, storage and transportation system with more than 14,000 miles of pipelines. These assets are predominantly geared to move natural gas out of the Barnett Shale in northern Texas, one of the premier natural gas fields in North America.
The company's impressive M&A and construction program is quickly positioning Energy Transfer Partners as the dominant player in the Barnett.
In late 2006, Energy Transfer Partners purchased its first interstate pipeline, the Transwestern pipeline, from Southern Union. This pipeline is 2,500 miles long, stretching from the Anadarko Basin in the middle of the U.S. to California.
It is also pursuing a joint-venture interstate pipeline with
Kinder Morgan
(KMP)
that will transport natural gas from the Barnett eastward to Louisiana and Mississippi.
Energy Transfer Partners sells propane to more than 1 million customers in 34 states. Revenue from its propane business increased to $1.2 billion in 2007 compared with $800 million in 2006.
The third name is
Oneok Partners
(OKS)
, a master limited partnership managed by Tulsa, Okla.-based
Oneok Inc.
.
Oneok Partners is active in four segments of the natural gas business -- gathering and processing, natural gas liquids, pipelines and storage and interstate natural gas pipelines. Most of its assets are in Texas, Oklahoma and Kansas.
The company has carved out a niche in the natural gas liquids (NGL) business by being a dominant player in the western U.S. It recently acquired a new NGL pipeline system that connects its existing midcontinent assets to new markets in the upper Midwest. It is also building a large NGL pipeline from Wyoming to Kansas in which it will control a 99% stake.
Oneok Partners' focus on NGL has proved prescient recently as prices have remained high, while spot natural gas prices were soft across much of the country in 2007.
Two more NGL pipelines are in the works. According to a research report published by Standard & Poor's, Oneok Partners has more than $1.5 billion of infrastructure expansions planned over the next three years, which will serve to generate higher cash flows and distributions to unit holders. Its capital spending in the third quarter was $198.2 million, up from $61.2 million a year ago.
In that quarter, Oneok Partners generated earnings of $95.9 million, or 98 cents per unit, compared with $98.2 million, or $1.04 a unit, in the same period of 2006. The drop was mostly due to contract terminations in its natural gas processing business, as well as lower throughput in its natural gas pipeline segment.
However, the shoring up of its NGL business is repositioning the company to focus on what it does best. The company recently signaled this by increasing its 2007 earnings guidance from $3.90 a unit to $4 a unit. It also raised its distribution per unit to $1.01 from 97 cents during the same period last year.