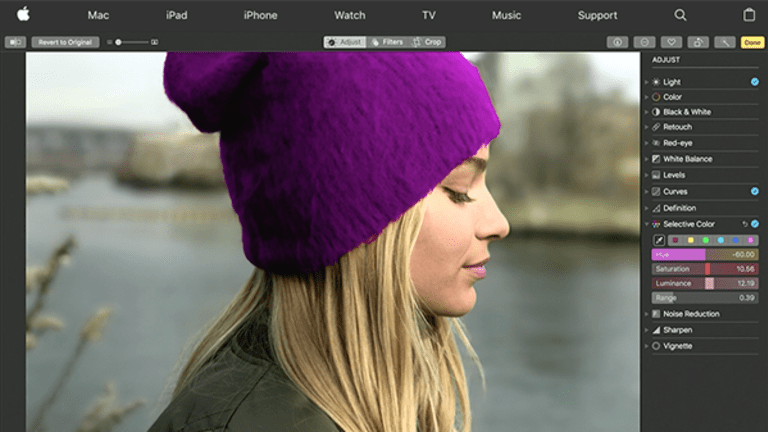 Apple Has Dropped Another Beta Product That No One Is Talking About -- Here Are Its Top 5 Features
Mac users can get the beta version for free now.
Apple Inc.'s (AAPL) - Get Report  new iOS 11 may be getting a lot of attention this week for its flashy new features, but the tech giant dropped another beta product that packs some exciting updates. 
Apple on Thursday released the public beta version of High Sierra, the newest version of the macOS that's coming to iMac and MacBook computers. The full version will be released in the fall, but users can download a beta version for free on Apple's website. As with any beta version, make sure to back up your Mac or iOS device, because public betas sometimes include bugs that delete data and disrupt apps. 
iOS 11 changes the look of many of the iPhone's and iPad's most popular features, like the Control Center and the Siri digital assistant, while adding some entirely new capabilities. Don't expect that to come in High Sierra, however. There's very few updates targeted to consumers in the new software; most of the changes happen under the hood, but should improve the machine's overall performance. 
1. A Photos update packs new editing features 
One change you'll actually see involves an overhaul of Apple's Photos app. The program now includes a helpful "always-on" sidebar, which makes it easier to navigate the Photos app and has new organization tools. For all the amateur photographers, the app also has new professional-grade editing tools like Curves, for fine-tuning color and contrast, and new filters that add extra oomph to photos. Photos still isn't quite as advanced as Lightroom or Photoshop, but it does have some nifty new features. 
2. Apple's new file system protects your data from computer crashes
iOS users moved over to Apple File System earlier this year, and now Mac is making the switch. APFS itself isn't all that exciting, but is a major depart from Apple's 31-year-old Hierarchical File System, which was originally designed for Macs with floppy or hard disks. The new system, which was announced at the Apple Worldwide Developers Conference in 2016, is better equipped to run on new Mac computers, so it'll handle data more efficiently and safely. Notably, Apple points out that it'll help protect data from power outages and system crashes, while keeping files safe using encryption.
3. Safari now blocks all those annoying auto-play ads 
The new version of Apple's web browser, Safari 11, now blocks videos from auto-playing on webpages and disables ad tracking across the internet. It'll be the bane of many advertisers' existence, but a boon for consumers. The update has built-in tools that allow users to specify which sites they want to hear or see auto-play content from, and which ones they'd rather not. It'll also make it harder for brands to follow you around the Internet, meaning you probably won't see an ad served up on a webpage that mirrors your recent search history. 
4. New tools that quietly make using your Mac easier


High Sierra also has a few updates to popular tools like the Mail and Notes apps, as well as the Spotlight search feature. You can now make tables in notes and pin the most important reminders to the top of your list. Searching for emails just got faster, too, with the addition of a Top Hits feature that automatically pushes some search results to the top. Finally, Spotlight and Safari now have built-in flight tracking. Type in a flight number and it'll show you if your flight is on time, gate information and if there's any delays. 
5. Virtual reality comes to the Mac
Metal 2, the new version of Apple's graphics API, now supports external graphics units that will add extra graphic and computing power. Part of that includes support for VR content, an update that should help Mac catch up to Windows, which introduced mixed reality support earlier this year.
Appleis aholding in Jim Cramer'sAction Alerts PLUS Charitable Trust Portfolio.Want to be alerted before Cramer buys or sells AAPL? Learn more now.
Click here for the latest business headlines.
Read More Trending Articles:
Nike Officially Arrives on Amazon, but Then Adidas' Stock Does Something Bizarre