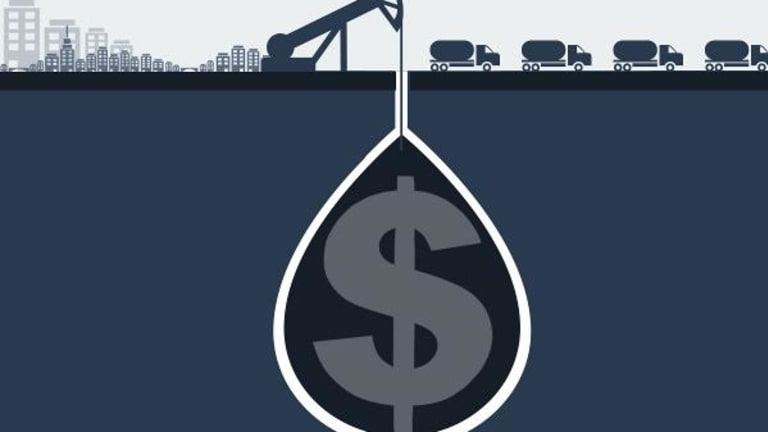 These Energy ETFs Are Primed for Gains as Sector Stocks Lag Recent Crude Move
Oil prices have rallied over the past three weeks, but the S&P 500 Energy Sector has declined during that period, leading some analysts to believe a rally is coming.
Over the past three weeks, crude oil futures have rallied 7% ahead of an anxiously awaited May 25 meeting of the Organization of the Petroleum Exporting Countries, which has been expected to produce a nine month extension to the so-called oil cartel's current production cut. 
But during that time, not only has the S&P 500 Energy Sector Index failed to participate in that rally, it is now less than 3% from its 52-week low, according to Seaport Global Securities. 
The firm said while crude futures have rallied over the past three weeks, the index of energy stocks has actually declined during that period. Historically this has happened less than 25% of the time when crude rallied between 5% and 10% in a multi-week period, SGS wrote in a Thursday morning research note. 
A more typical reaction for such a rally in crude in about a 2.5% rally for the S&P 500's energy index. 
The bottom-line is that this M.O. bodes really well for the S&P Energy Sector going forward, according to SGS. 
If SGS is right on that call, there are several ETFs tied to the S&P Energy Sector that could stand to benefit, including the Guggenheim S&P 500 Equal Weight Energy ETF (RYE) - Get Invesco S&P 500 Equal Weight Energy ETF Report, the SPDR S&P Oil & Gas Exploration & Production ETF (XOP) - Get SPDR Oil & Gas Exploration and Production ETF Reportand the SPDR S&P North American Natural Resources ETF (NANR) - Get SPDR S&P North American Natural Resources ETF Report.
"The energy sector has now washed out and should gain strong returns over the next month or so with a good bet returns will be around 7% higher," the analysts wrote Thursday. "The fact we are seeing a 'sell the news scenario' from the commodity off the OPEC meeting further supports that the energy sector has likely flushed out while it will now play catch-up and bear strong returns short- to medium-term."
Indeed, oil prices were falling Thursday after reports surfaced claiming OPEC has agreed to extend oil production cuts by nine months to March 2018. 
Reutersreported Thursday the cuts are likely to be shared again by a dozen non-members led by top oil producer Russia, which reduced output for the first six months of the year alongside OPEC.
On the news, West Texas Intermediate crude futures were down about 1.5% to $50.61 a barrel around 9 a.m. ET on Thursday, while global benchmark Brent crude futures had fallen about 1.25% to $53.29 by that time. 
Analysts believe the market has been participating in a "Buy the rumor, sell the news" scenario, a market adage based on the belief that stock prices move in anticipation of rumors and rebound when profit taking occurs after the actual news is released. 
In this case, crude seemingly has been rallying for the past three weeks ahead of OPEC's meeting, during which time a nine month production cut extension has been the consensus expectation. And now traders are taking profit on news reports that the cartel has officially agreed to the cut, returning prices back to appropriate levels. 
Moreover, the Street may have been factoring an additional three months of cuts in, according to SGS analysts, who questioned whether Saudi Arabian Energy Minister Khalid Al-Falih during this afternoon's press conference will make a strong commitment to further action (such as another three-month cut) next year if U.S. shale producers continue to flood the market. 
Editors' pick: Originally published May 25.