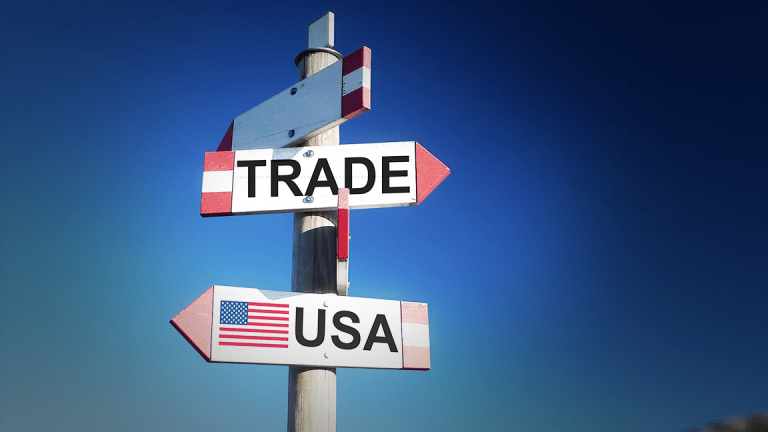 Companies Already Affected by Trump's Global Trade War
Here's a running list of businesses that have already felt the consequences of trade tariffs
President Donald Trump's trade war with the rest of the world rages on, and some businesses are bearing the brunt of the repercussions.
Companies across multiple industries are expected to be affected by the growing number of tariffs that the administration has placed on other countries and retaliatory tariffs that have been levied against the United States. Some companies are already feeling the effects and have had to find a way to offset the damages.
The companies below offer up a taste of what could lay ahead for investors when earnings season kicks off in July:
Daimler AG
The first company to change its financial forecasts because of tariffs, Daimler (DMLRY) turned heads when it offered an unexpected profit warning in mid-June.
The luxury car manufacturer expects profits for its Mercedes-Benz vehicles for the year to be slightly lower than in 2017 "because of increased import tariffs for U.S. vehicles into the Chinese market." The company sees China's retaliatory tariffs to lead to fewer sales, and predicts it will have higher costs.
Chinese demand for vehicles is too great for Daimler to make up "by the reallocation of vehicles to other markets," the company said in a statement.
MillerCoors
Most American brewers stand to be affected by aluminum tariffs that will cut into profit margins, and for MillerCoors (a unit of MolsonCoors (TAP) - Get Molson Coors Beverage Company Class B Report ), that loss will total $40 million.
CEO Gavin Hattersley told Bloomberg that raising prices by 50 cents per 12-pack to offset the tariffs would be detrimental to the beverage industry.
"I can't just go to the shareholders and say, 'You're going to have to accept my profit's going to be $40 million less,'" Hattersley. "It doesn't work that way."
By some estimates, the tariff itself would be equal to $347.7 million in taxes for the brewing industry and could lead to over 20,000 jobs being lost.
Harley-Davidson
Milwaukee-based motorcycle manufacturer Harley-Davidson (HOG) - Get Harley-Davidson Inc. Report plans to move part of its production for Europe-bound bikes to international facilities. The company estimates the increase in trade tariffs will add an estimated $2,200 per motorcycle exported to the EU.
The company wrote that it would prefer to keep production state-side, but the costs associated with the trade tariffs make the option unfeasible if it still wants to conduct business in Europe.
"Harley-Davidson believes the tremendous cost increase, if passed onto its dealers and retail customers, would have an immediate and lasting detrimental impact to its business in the region, reducing customer access to Harley-Davidson products and negatively impacting the sustainability of its dealers' businesses," the company said in a statement.
Jack Daniel's
Many Europeans will have to pay 10% more for each bottle of Jack Daniel's Tennessee Whiskey in the coming months after the maker of the brand, Brown-Forman Corp. (BF.A) - Get Brown Forman Inc Class A Report (BF.B) - Get Brown Forman Inc Class B Report raised prices in late June. 
The price hike came after the EU and Mexico imposed 25% tariffs on American whiskey in retaliation to trade measures levied by the Trump administration. Phil Lynch, a Brown-Foreman spokesperson, said the company just raised prices on its whiskey in Mexico and doesn't anticipate another boost there anytime soon.
More than a one-fourth of Brown-Foreman's revenue comes from Europe, according to FactSet data.
Toyota
Toyota Motor Corp. (TM) - Get Toyota Motor Corporation Reportreleased a statement arguing against the tariffs the Trump administration plan to levy on vehicle imports. 
The company warned that the 25% tariff would be "just a tax on consumers" and raise prices for every car sold in the country. Toyota estimated $1,800 would be added to the cost of its Camry models alone. Toyota struck against the notion the tariff would ensure the nation's security, saying that the company's 137,000 employees pose no threat to the country.
Mid-Continent Nail Corp.
The country's largest nail manufacturer "is on the brink of extinction" after Mid-Continent Nail might have to close its door as soon as Labor Day, according to an interview company spokesperson James Glassman had with CNNMoney.
The private company has seen nail orders fall by 50% after it had to raise prices on its products to offset the costs associated with the 25% tariffs on steel. Mid-Continent Nail was also forced to lay off 60 of its 500 employees at its manufacturing plant in Poplar Bluff, Missouri, in late June.
Glassman said the company would either have to close or relocate to Mexico where it could get steel without the tariffs and then export the finished nails back to the U.S., but neither option is one Mid-Continent Nail wants to pursue.
"It's absolutely something this company doesn't want to do," Glassman said. "It wants to save the jobs in Poplar Bluff, Missouri."
Sharp
Sharp Corp. (TYO) - Get Direxion Daily 7-10 Year Treasury Bear 3X Shares Report halted its plan to issue new shares of the company valued at an estimated $1.8 billion because of the increasing tension of the trade war between the U.S. and China, the company said in a statement.
Management "determined that the proposed issuance does not maximize the benefit of its stakeholders." The company announced the fundraising move June 5 and since then, the stock has fallen by more than 17% on fears that existing shares held by investors would decline in value. 
Sharp does not think the cancellation will have an financial impact on the company or its medium-term plans, according to the statement.
BelGioioso Cheese Inc., Sartori Co. and other cheese makers
U.S. cheese makers will have to find new markets to sell their products in after orders from China and Mexico, two of the largest importers of cheese, have gone down due to retaliatory tariffs levied by the two countries, according to an article from The Wall Street Journal.
BelGioioso Cheese Inc., a private company based in Green Bay, Wisconsin, said sales to Mexico have been down by 15% since the country implemented tariffs in early June. The company has also had to sell its cheese for lower prices in order to retain overseas customers. 
Plymouth, Wisconsin-based Sartori Co. anticipates the tariffs will cost its business $40 million -- or 15% -- of its estimated annual sales of $265 million.
The U.S. Chamber of Commerce expects Mexican tariffs to affect up to $578 million in U.S. dairy goods while Chinese tariffs could lead to a $408 million loss on cheese, whey and other goods, according to the article.
"It's a nightmare," BelGioioso President Errico Auricchio said in the article.
(This story has been updated with information from BelGioioso and Sartori .)