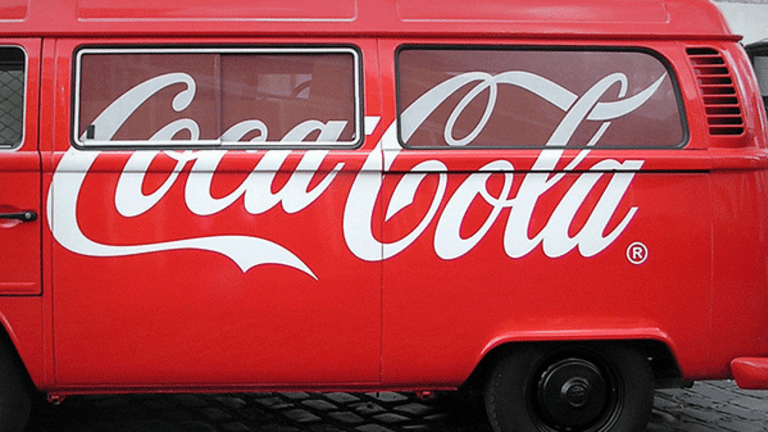 Publish date:
Everyone Badly Wants to Know How Coca-Cola Will Become the Best in the World Again
Coca-Cola COO James Quincey takes the top seat on May 1.
Coca-Cola COO James Quincey takes the top seat on May 1.
There's a lot of excitement on Wall Street about incoming Coca-Cola (KO) - Get Coca-Cola Company Report CEO James Quincey, as he has voiced some pretty impressive growth plans for the beverage company.
Quincey - currently serving as COO until May 1 when he will replace CEO Muhtar Kent who has been in the position since 2008 - has been praised for turning Coke away from sugary drinks, a move that is expected to increase sales amid the ongoing consumer shift to healthier food options.
READ MORE: Panera Bread Just Sent a Huge Message to All Soda Drinkers
Credit Suisse recently upgraded Coke's stock to an outperform rating from neutral and raised its price target to $49 from $44 ahead of Quincey's appointment.
"Quincey has already revealed his desire to build a total beverage portfolio focused around five category clusters," Credit Suisse analysts said in the note. "Now that refranchising is nearly complete, Coke is on the path to defining its new frontier, and we think the company has all the pieces in place to be successful again."
READ MORE: Large Bottles of Pepsi and Coke Are Vanishing From One Soda Tax Battleground City as Sales Crash
Here's how Credit Suisse envisions Coke under Quincey. The soda giant will announce its first quarter earnings on Tuesday morning. 
Coke will be seen as having a healthier, stronger portfolio of brands.
Quincey has already begun taking Coke away from sugary drinks, with plans to implement some 200 initiatives to reduce sugar in its soda. He said he will be focusing on expanding on Coke's organic and more-natural brands including Smartwater and Honest Tea rather than the calorie-induced Fanta and Sprite - a move that Credit Suisse said should "unlock revenue streams."
Coke will be an M&A fiend.
It's been widely reported that, under Quincey, Coke is going to be eyeing some buying opportunities.
"We also see a number of strategic M&A opportunities to bolster the portfolio and expand the global platform for future growth," Credit Suisse said.
Some companies Coke could look to acquire, according to Credit Suisse, include iced tea maker Arizona Beverage, General Mills' (GS) - Get Goldman Sachs Group, Inc. (GS) Report Yoplait yogurt, National Beverage's (FIZZ) - Get National Beverage Corp. Report LaCroix and energy drink maker Monster Beverage (MNST) - Get Monster Beverage Corporation (MNST) Report , which Coke already holds an 18% stake in.
Coke will be stronger operationally. 
With the company's global refranchising plan gaining steam, Coke is set to become a world leader once again, Credit Suisse said.
Coke announced in February that by 2017 - three years earlier than projected - the company will refranchise all of its owned North America bottling territories. And, in April, Coke completed its refranchising efforts in China.
Credit Suisse said this "was the right thing to do" as it "allows Coke to focus on what it does best: building global brands in a franchise model."
Coke will return to posting stronger profits.
The company's global refranchising efforts not only will boost Coke's presence around the world, but it will boost profit margins.
"After the refranchising, the core Coke business will deliver earnings per share growth not seen for at least the last five years," Credit Suisse said, whose analysts anticipate seeing Coke's earnings per share rising 7% by 2019.
In its most recent fourth quarter, Coke's earnings fell year-over-year to 37 cents a share from 38 cents a share.
While, the refranchising is expected to reduce the company's revenue base by 30% through 2018, Credit Suisse said margins will likely be driven 34% higher.
Updated from April 19.
Read more trending news on TheStreet:
Why You Should Put IBM's Stock in the Garbage Can and Then Light It on Fire
Shark Tank Star Kevin O'Leary on Why Tesla Shares Are Headed for an Epic Crash