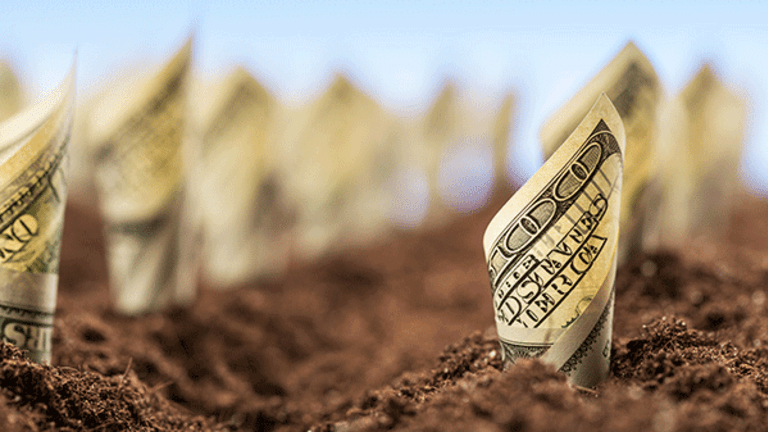 These Are the 5 Perfect Dividend Stocks for Today's Market
Abbott Labs is one of four names to own.
The nearly decade-long era of ultra-low interest rates has been kind for dividend-paying stocks. Not only have they often offered payouts that are more robust than the yield on 10-Year Treasuries, but they have also racked up spectacular share price gains.
The SPDR S&P Dividend ETF (SDY) - Get SPDR S&P Dividend ETF Report  for example, has rallied an impressive 215% since the market bottomed out in March, 2009.
But income-oriented investors now face a changing backdrop. Rising bond yields are now surpassing the payout levels of many dividend producers. To stay ahead of the curve, you need to focus on firms that have a long history of rising dividends in any economic climate. That means "dividend aristocrats."
Here are five that currently offer dividend yields ahead of the 10-Year Treasury rate. 
1. Abbott Labs (ABT) - Get Abbott Laboratories Report
This healthcare firm has boosted its payout for 44 straight years (and at least maintained its dividend for a stunning 92 years). To be sure, dividend growth will be modest this year, as earnings are expected to be flat. But analysts are looking for a 12% hike in earnings next year, which should portend a more robust dividend hike. Meanwhile, the current dividend yield stands at 2.50%, just a tick above the 10-Year Treasury yield of 2.49%.
2. Consolidated Edison (ED) - Get Consolidated Edison, Inc. Report
My Grandma bought shares of this New York-based utility year after year, extolling its steady dividend growth. That streak of rising payouts is now in its 42nd year. Utilities are the perfect inflation hedges, as they are allowed to enact rate increases that at least keep up with inflation. This firm's dividend will only grow just a few percentage points each year. But the 3.71% current yield means it will produce better income than the 10-Years for a while to come.
3. AT&T (T) - Get AT&T Inc. Report
This isn't the Ma Bell you once remember. Bold investments in media, programming and content are helping to strengthen the firm's wireless business, but also adding a lot of debt to the balance sheet. Still, AT&T insists that there will be ample cash flow to both handle the debt burden and maintain growing payouts. The firm's dividend has grown by exactly 1% per share for nine straight years. Despite the slow growth in the dividend, we're still talking about a 4.8% yield.
4. Johnson & Johnson (JNJ) - Get Johnson & Johnson Report
This healthcare firm shows the value of compounding, one of Warren Buffett's favorite investment metrics. Back in 1997, J&J traded for $29 a share and offered a $0.43 a share dividend. If you bought shares back then, you'd be receiving annual dividends today of $3.20 a share-and growing. In effect, that 1997 cost basis works out to be an 11% yield today. That's an insightful lesson for younger investors that can lock on to a stock like this today. Two decades from now, the yields on the original cost basis are likely to blow away any sort of comparable fixed income investment.
5. Cincinnati Financial (CINF) - Get Cincinnati Financial Corporation Report
The financial crisis of 2008 broke the growing dividend streak for many financial services firms. But not this multi-line insurance firm, which has boosted its payout for 55 straight years. While this firm's current 2.8% yield is reasonably impressive, know that insurance firms are now entering the sweet spot of their cycle. Not only will rising interest rates boost their net interest margin, but a firming economy should give them more wiggle room on insurance premium increases. That spells higher dividends.
Investors in search of blue chips with above-average dividend yields can always seek out the Dogs of the Dow, which are covered by several ETFs, including the ALPS Sector Dividend Dogs ETF. But those dividend producers aren't always safe bets in a slumping economy. Instead, the stocks noted above are the kinds that will give you growing payouts in good and bad times.
---
I just sent the cable company a check... but I got an even bigger one back
Writing my monthly check to my cable company used to really burn my biscuits. But that all changed when a construction worker friend clued me in on a virtually unknown Cashback Program that sends me checks every 90 days. Now, I get cash back from my cable company, PLUS I earn money just for using websites like Netflix, Facebook, and Google. Any American citizen can get in on this lucrative opportunity and start getting checks just like me. Click here to get the details on this program.
The author is an independent contributor who at the time of publication owned none of the stocks mentioned.