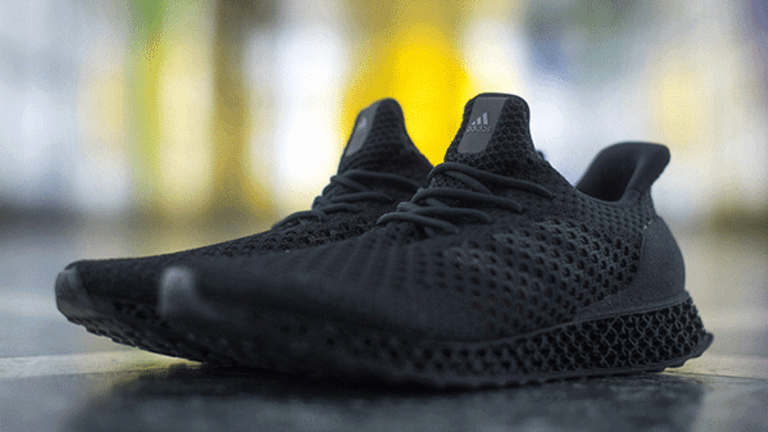 These Are Some of the Hottest-Selling Sneakers Right Now in America's Dying Malls
Step back, these sneakers are on fire.
Foot Locker's (FL) stock may have gotten run over in response to a tough first quarter, but make no mistake the mall-based footwear retailer sold some innovative (and pricey) new sneakers. 
Unfortunately for struggling Under Armour (UA) , it didn't make Foot Locker's cool club. The athleticwear maker wasn't mentioned a single time by Foot Locker CEO Richard Johnson during a conference call with analysts on Friday. That's probably a byproduct of slowing sales of Under Armour's signature Stephen Curry basketball sneakers. As TheStreet has reported, the NBA star's sneaker is suffering from an ugly combination of a lack of innovation at the same time prices have risen.  
But for those sneakers from Nike (NKE) and Adidas (ADDYY)  that were showed some love by Johnson, the common theme is that they all just look cool. Moreover, they are versatile, easily helping a person look great while grinding out a gym session or on the way to Starbucks (SBUX) after.
"We are in a retro/casual cycle fight now," Matt Powell of NPD Group told TheStreet. "So while there is a lot of innovation, technology is not fashionable."
In Powell's opinion, it is Adidas that is "leading the pack on innovation and remains the hottest brand in the market."
Here are some of the hottest-selling sneakers in the mall, compliments of Foot Locker.
Adidas Tubular Shadow, $109.99
These scream versatility. Gives one's ego a boost while doing Crossfit. But also keeps that ego inflated afterword on a trip to Lululemon (LULU) for new workout clothes. 
Adidas Nomads, $169.99
Class up any pair of joggers with these sneaks. It takes a strong minded person to keep the all white ones clean, however.
Adidas EQT, $109.99
Too much going on with these sneakers, but new owners seem to be keen to showing them off on Instagram. 
Adidas Pureboost, $129.99
A touch boring compared to the other new styles from Adidas. But, we wouldn't return them if they were given as a gift. 
Adidas AlphaBounce, $109.99
Yes please. 
Nike VaporMax, $189.99
While the new VaporMax is dope, the price is so high that we would only wear these sneakers out on special occasions (and never on a run in the rain). 
Nike Hurache, $109.99
A great example of Nike adding a dose of fashion to its sneakers to compete with trendy styles from Adidas. 
Nike PG 1, $109.99
Arguably the coolest-looking basketball sneaker on the market right now, inspired by Indiana Pacers star Paul George. 
Click here for the latest business headlines.