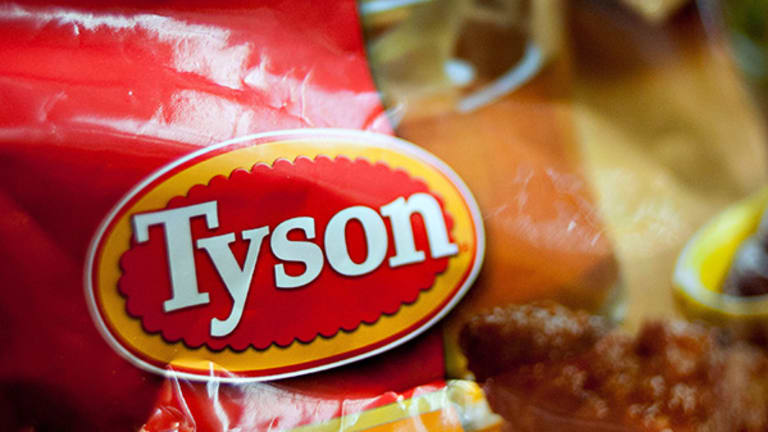 Publish date:
These 7 Stocks Are Seeing Big Volume Today -- Here's How to Trade Them Now
Here's a technical look at how to trade some of the most active stocks on the market right now.
Here's a technical look at how to trade some of the most active stocks on the market right now.
Put down the 10-K filings and the stock screeners. It's time to take a break from the traditional methods of generating investment ideas. Instead, let the crowd do it for you.
From hedge funds to individual investors, scores of market participants are turning to social media to figure out which stocks are worth watching. It's a concept that's known as "crowdsourcing," and it uses the masses to identify emerging trends in the market.
Crowdsourcing has long been a popular tool for the advertising industry, but it also makes a lot of sense as an investment tool. After all, the market is completely driven by the supply and demand, so it can be valuable to see what names are trending among the crowd.
While some fund managers are already trying to leverage social media resources like Twitter to find algorithmic trading opportunities, for most investors, crowdsourcing works best as a starting point for investors who want a starting point in their analysis.
Today, we'll leverage the power of the crowd to take a look at some of the most active stocks on the market.
iShares MSCI Emerging Markets ETF
Nearest Resistance: N/A
Nearest Support: $35
Catalyst: Technical Setup
Leading off the list of the market's most-active stocks today is the iShares MSCI Emerging Markets ETF (EEM) - Get Report . There have been a lot of ETFs repeatedly near the top of the list in 2016, but EEM hasn't been one of them. That makes its top spot today worth noting. This big fund provides exposure to emerging market equities, a specialization that's been attracting assets in the last week. For instance, Bloomberg reports that emerging market stock and bond ETFs gained almost $14 billion during the last 10 weeks.
The big driver for EEM this week is technical. Shares of this big fund are pushing to new highs after breaking out above prior resistance up at $35 in July. From here, look for that bullish momentum to continue as shares test new multi-year-highs.
Tyson Foods
Nearest Resistance: $85
Nearest Support: $66
Catalyst: Q3 Earnings
Shares of food company Tyson Foods (TSN) - Get Report  are essentially flat on huge volume this afternoon, reacting to the firm's third-quarter earnings results. Tyson reported third quarter adjusted profits of $1.21 per share, stomping the $1.06 that analysts were expecting, on average. Likewise, Tyson's operating margins reached record highs during the quarter, thanks in part to cost savings from acquisitions. While the quarterly results were great, investors felt mixed about forecasts for the full year and fourth quarter, which came in more or less in line with expectations.
Long-term, Tyson is in an uptrend this summer, making a series of higher lows since last fall. At this point, there isn't much to say about this stock. Shares are trading right in the middle of their price range. But a new buying opportunity comes on Tyson's next correction to the bottom of its price channel.
Allergan 
Nearest Resistance: $280
Nearest Support: $230
Catalyst: Q2 Earnings
Allergan (AGN) - Get Report  is correcting this afternoon, selling off 2.8% on big volume following the firm's second-quarter earnings results. Excluding one-time charges, Allergan earned a profit of $3.35 for the second quarter, a result that came in a nickel better than analysts were expecting, on average. Top-line numbers fell short of expectations, however, resulting in mixed trading out the gate this morning.
Allergan may be down this afternoon, but it's not out. Shares have been holding onto the new uptrend that started in this stock back in early May, and that's not changing with today's corrective price move. Buyers should exercise some patience and wait for Allergan to move closer to the bottom of its price channel before jumping into this trade.
From a fundamental perspective, Allergan is a holding in Jim Cramer's Action Alerts PLUS charitable portfolio. On CNBC's "Mad Dash" segment today, Cramer reminded viewers of the recent sale of Allergan's Anda distribution business to Teva Pharmaceuticals  (TEVA) - Get Report . "The fact that the stock is going down is because most of the analysts have not finished their models based on that sale," said Cramer. 
Mattress Firm Holding 
Nearest Resistance: $64
Nearest Support: $63.65
Catalyst: Acquisition
Small-cap mattress manufacturer Mattress Firm Holding (MFRM)  is up 114% this afternoon, doubling overnight following news that Steinhoff International Holdings was buying the firm for $64 per share in cash.
That's not quite the sweet deal it sounds like for long-time Mattress Firm shareholders, however. The big acquisition premium represents only a 2.7% premium to where Mattress Firm's shares traded 12 months ago.
Shares have been selling off over the long term, making Mattress Firm a stock you didn't want to own -- until you did. And now that the acquisition news is out, shares are trading for an insignificant discount to the $64 buyout price. That means investors will need to look elsewhere for upside opportunities this week.
Denbury Resources
Nearest Resistance: $4.75
Nearest Support: $2.60
Catalyst: Crude Oil Rally
Crude oil prices are up this afternoon, boosted by comments from the president of OPEC that the bear market for energy will come to a close soon following last week's better-than-expected payrolls data in the U.S. And small-cap oil and gas producer Denbury Resources (DNR) - Get Report  is turning into one of the best way to play that trend today, as shares rally 10% on volume that makes Denbury one of the most actively traded issues on the NYSE today.
From a technical standpoint, Denbury is bouncing off of support at $2.60, making what looks like the first step back towards long-term resistance up at $4.75. While this stock's ability to break out above those highs is anybody's guess at this point, there's enough room between where shares are now and that $4.75 price ceiling for buyers to take advantage of the rebound. If you decide to buy here, it's a good idea to keep a stop loss in place below last week's lows.
U.S. Oil Fund
Nearest Resistance: $11
Nearest Support: $9.25
Catalyst: Crude Oil Rally
Another popular way to play the crude oil rebound today is the U.S. Oil Fund (USO) - Get Report , the $3.2 billion ETF that's consistently been one of the most actively traded stocks on the NYSE this summer.
USO violated its uptrend back in late June, signaling the first signs of the correction that followed. Last week, USO finally caught a bid at $9.25 support, and it's continuing that rebound today. That means that oil might finally be ending its correction in the context of 2016's rebound this week.
If you decide to buy USO here, $9.25 support is a logical place to park a stop loss.
Ambev
Nearest Resistance: $6.60
Nearest Support: $5.80
Catalyst: Technical Setup
Last up on our list of this market's most-active stocks is Brazilian beer and soda stock Ambev (ABEV) - Get Report . Ambev is seeing big volume for technical reasons this afternoon, and the price action is pretty straightforward. This stock has been a "buy-the-dips stock" since the start of this year, and it's showing investors another buyable dip this week. Ambev's test of trend line support was successful last week, which means that the high-probability trade from here is a move back toward the top of its price channel.
For traders who decide to buy Ambev here, the 50-day moving average is a logical place to park your stop loss.
Disclosure: This article is commentary by an independent contributor. At the time of publication, the author held no positions in the stocks mentioned.