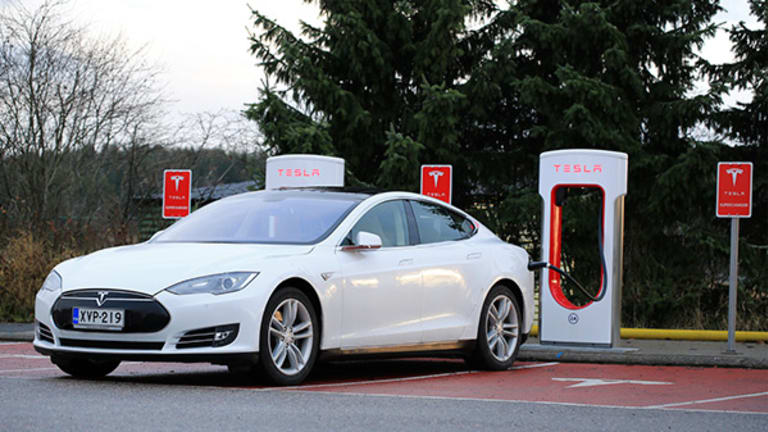 These 7 Stocks Are Seeing Big Volume Today -- Here's How to Trade Them Now
Here's a technical look at how to trade some of the most active stocks on the market right now.
Put down the 10-K filings and the stock screeners. It's time to take a break from the traditional methods of generating investment ideas. Instead, let the crowd do it for you.
From hedge funds to individual investors, scores of market participants are turning to social media to figure out which stocks are worth watching. It's a concept that's known as "crowdsourcing," and it uses the masses to identify emerging trends in the market.
Crowdsourcing has long been a popular tool for the advertising industry, but it also makes a lot of sense as an investment tool. After all, the market is completely driven by the supply and demand, so it can be valuable to see what names are trending among the crowd.
While some fund managers are already trying to leverage social media resources like Twitter to find algorithmic trading opportunities, for most investors, crowdsourcing works best as a starting point for investors who want a starting point in their analysis.
Today, we'll leverage the power of the crowd to take a look at some of the most active stocks on the market.
VelocityShares Daily 2x VIX Short-Term ETN
Nearest Resistance: N/A
Nearest Support: N/A
Catalyst: Market Environment
Up first is the VelocityShares Daily 2x VIX Short-term ETN (TVIX) - Get Free Report . TVIX is one of a handful of extremely popular ways for investors to get exposure to the VIX Volatility Index, and as a result, it's consistently ranked as one of the most active issues on the Nasdaq this summer.
That's the case this afternoon, as TVIX corrects to the tune of 4%, dragging itself to new lifetime lows. The price trajectory of this big volatility-focused ETN isn't hard to figure out: Like all of the other VIX-based trading vehicles, TVIX has been in freefall in 2016.
An important note about this exchange-traded note is the fact that TVIX doesn't have conventional support and resistance levels like a normal stock. Since the price action in TVIX is determined by a statistical formula, not directly supply and demand from market participants, it's important not to try to use conventional technical tools on this unique ETN.
Either way, as long as the uptrend in the S&P remains intact, you don't want to own TVIX.
Ford Motor
Nearest Resistance: $14.75
Nearest Support: $12.40
Catalyst: Analyst Downgrade
Ford Motor (F) - Get Free Report  is another big-name stock that's seeing big volume this afternoon -- and not for the best of reasons. Ford is correcting 1.5% today, a follow-up to last week's earnings-induced selloff. Today, the big driver for downside in Ford is an analyst downgrade from Daiwa. The Japanese investment bank cut Ford from neutral to underperform, and the lack of confidence is weighing on shares.
That's the bad news. The good news is that Ford's price action still looks pretty bullish in the long-term. Shares have been bouncing their way higher in a well-defined uptrending channel since the start of the year, and today's latest round of selling is pushing Ford's stock price down to trend line support for a fifth time. If this stock can catch a bid at this level, look for a rebound ahead.
Ionis Pharmaceuticals
Nearest Resistance: $45
Nearest Support: $30
Catalyst: Phase 3 Results
Mid-cap pharma firm Ionis Pharmaceuticals (IONS) - Get Free Report  is rallying this afternoon, up more than 36% on huge volume following news that the firm's phase 3 study for its nusinersen treatment for babies with spinal muscular atrophy had met its main goal. That positive outcome for the treatment also means that partner Biogen (BIIB) - Get Free Report  will pay Ionis a $75 million licensing fee to begin commercializing the treatment.
From a technical standpoint, the positive news comes at a good time. Ionis had been in a long-term downtrend since last fall, and today's positive trial results and $75 million payout are proving to be enough to break shares free of that downtrend. From here, the next potential stumbling block comes up at $45 resistance. That said, risk-averse investors should wait for Ionis to establish some semblance of support before jumping into this stock.
Whiting Petroleum
Nearest Resistance: $9
Nearest Support: $6.50
Catalyst: Energy Prices
Small-cap oil and gas company Whiting Petroleum  (WLL) - Get Free Report  is selling off hard this afternoon, dragged lower by a drop in energy prices over the weekend. Whiting has become a popular trading vehicle for energy prices in 2016, making it consistently one of the most actively-traded stocks on the NYSE despite its relatively small capitalization. As of this writing, shares are down 10% on big volume to start the week.
Whiting was in an uptrend as recently as a few months ago, but shares broke through the bottom of that bullish price pattern back in June. Now this stock is closing in for a test of an important support level at $6.50. If shares can't hold that $6.50 line in the sand, look for Whiting to make a re-test at 2016's low water mark down around $3.50.
Fleetmatics Group
Nearest Resistance: $60
Nearest Support: $59.50
Catalyst: Acquisition
Small-cap vehicle tracking company Fleetmatics Group (FLTX)  is up almost 40% this afternoon, blasting higher at the open following news that telecom giant Verizon Communications (VZ) - Get Free Report  had agreed to buy the company for $60 per share in cash. The deal is expected to close before the end of the year.
That said, the money has already been made on the Fleetmatics trade. This stock immediately moved up to within 1% of its offer price, indicating that Wall Street is pricing in a near assurance that the deal will be completed. Investors looking for upside opportunities should look elsewhere.
Transocean
Nearest Resistance: $13.50
Nearest Support: $10
Catalyst: Partnership Buy-Out
Transocean (RIG) - Get Free Report  is down 5% this afternoon, correcting on energy pricing as well as news that the firm will buy out publicly held shares in affiliate Transocean Partners (RIGP)  for approximately $249 million in stock. The move is designed to cut the costs of operating a second, standalone publicly traded company and to simplify administration. At the announcement, the purchase represented a nearly 14% premium to RIGP's pricing.
Long-term Transocean actually looks pretty attractive. Shares have been in a well-defined uptrend since the first quarter of this year, and this latest correction down to trend line support could provide a low-risk, high-reward buying opportunity for investors. If Transocean's share price bounces off of support for a fourth time this summer, we've got a buy signal in this $4 billion rig operator.
Tesla Motors
Nearest Resistance: $240
Nearest Support: $215
Catalyst: SolarCity Deal
Finally, Tesla Motors (TSLA) - Get Free Report  is seeing a flat session on big volume this afternoon, following news that the firm's acquisition of sister-company SolarCity (SCTY)  had been reworked for approximately $300 million less than originally bid. The terms of the deal were revised after Tesla shareholders balked at the nearly $3 billion price tag CEO Elon Musk was paying for his other company.
Despite the fact that Tesla's stock isn't doing much this afternoon, this stock is starting to show some signs of gaining upside traction once again. Shares broke out above their multi-month downtrend last month, and they've been trading higher ever since. A breakout above resistance at $240 would be an important signal that buyers have regained control of this big electric automaker.
Disclosure: This article is commentary by an independent contributor. At the time of publication, the author held no positions in the stocks mentioned.