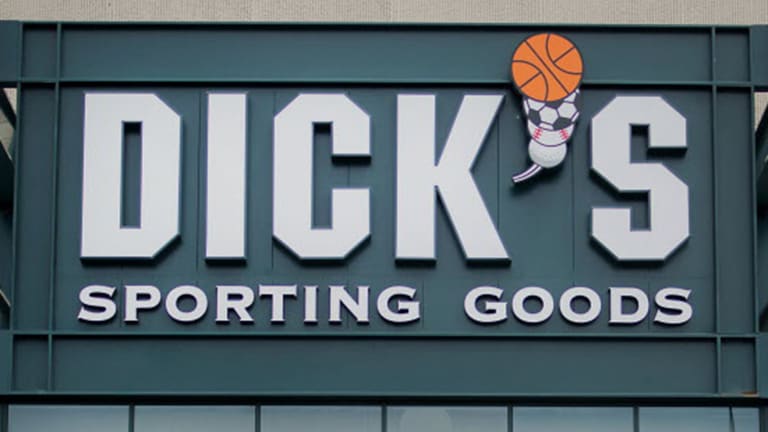 These 5 Stocks Are Turning 'Toxic'
A big segment of stocks isn't participating in the recent rally -- here's a look at five potentially toxic trades to avoid.
Corrects from 6:01 a.m. EST on Nov. 18 to show percentage by which WPP is down for the year.
It's been hard to miss the upside in the stock market since the black clouds of the U.S. presidential election got lifted last week. In the ten-day stretch since Donald Trump became president-elect, the S&P 500 has rallied 4.9%, sending the big market average back within a percentage point of all-time highs.
But, as auspicious as those headline stats seem at first, they're masking something that's been taking place beneath the surface...
You see, one in five S&P components is actually down in the last ten days. And of those, nearly half are underperforming the S&P 500 by 10% or more in that timeframe. Put simply, a consequential chunk of the S&P is getting pummeled behind the scenes right now - and that means the odds are pretty good that you may even own one of these "toxic stocks".
Luckily, the antidote is pretty straightforward: simply not owning the very worst performers could do more for your returns than owning the best ones as we continue down the final stretch of 2016...
So, to figure out which stocks to steer clear of, we're turning to the charts today for a technical look at five stocks that could be toxic for your portfolio in the month ahead.
For the unfamiliar, technical analysis is a way for investors to quantify qualitative factors, such as investor psychology, based on a stock's price action and trends. Once the domain of cloistered trading teams on Wall Street, technicals can help top traders make consistently profitable trades and can aid fundamental investors in better entry and exit points.
Just so we're clear, the companies I'm talking about today are hardly junk.
By that, I mean they're not next up in line at bankruptcy court - and many of them have very strong businesses. But that's frankly irrelevant to what happens to their stocks; from a technical analysis standpoint, sellers are shoving around these toxic stocks right now. For that reason, fundamental investors need to decide how long they're willing to take the pain if they want to hold onto these firms in the weeks and months ahead. And for investors looking to buy one of these positions, it makes sense to wait for more favorable technical conditions (and a lower share price) before piling in.
So, without further ado, let's take a look at five "toxic stocks" to sell.
WPP

Leading off the list of potentially toxic stocks today is $27 billion advertising and marketing giant WPP plc undefined. So far, 2016 has been a pretty challenging year for WPP shareholders: As of mid-November, this stock is 8.6% lower than it started the year, trailing the rest of the market by a big margin. Worse, WPP's chart is signaling the potential for lower ground ahead this fall. Here's why.
WPP is currently forming a descending triangle pattern, a bearish continuation setup that's formed by horizontal support down below shares (at $103 in WPP's case), and downtrending resistance to the top-side. Basically, as WPP has pinballed in between those two technically important price levels, this stock has been getting squeezed closer and closer to a breakdown through its $103 price floor. When $103 gets violated, it's time to sell this stock.
At a glance, WPP's chart looks "gappy". Those gaps, called suspension gaps, are caused by overnight trading on the London Stock Exchange. Those price gaps don't carry any technical significance -- but WPP's possible $103 breakdown does. That's good reason to keep an eye on that $103 level if you own this stock.
Cobalt International Energy

The exact same price setup is in play in shares of small-cap energy stock Cobalt International Energy undefined. Cobalt has seen its market value trampled on in 2016, shedding 76.5% of its stock price since the start of the calendar year - the bad news for investors is that shares could have further to fall if the descending triangle setup forming in shares triggers a sell. For Cobalt, the line in the sand to pay attention to is support down at 85 cents.
What makes that 85-cent level in particular so significant? It all comes down to buyers and sellers. Price patterns, like this descending triangle setup in CIE, are a good quick way to identify what's going on in the price action, but they're not the actual reason it's tradable. Instead, the "why" comes down to basic supply and demand for shares of the stock itself.
The 85-cent support level in Cobalt is a place where there has been an excess of demand for shares this fall; in other words, it's a spot where buyers have been more eager to step in and buy shares than sellers have been to take gains. That's what makes a breakdown below 85 cents so significant - the move means that sellers are finally strong enough to absorb all of the excess demand at that price level. Shares are testing resistance this week, but investors should be keeping a close eye on things here. Don't buy CIE until Cobalt breaks free of its descending triangle pattern.
Dick's Sporting Goods

On the other hand, 2016 has been a phenomenal year so far for shares of mid-cap sporting goods retailer Dick's Sporting Goods (DKS) - Get Dick's Sporting Goods Inc Report. Year-to-date, Dick's has rallied 67% higher, leaving the rest of the broad market in its dust. But after beating the broad market for an extended stretch, Dick's rally is starting to lose momentum. Now might be the perfect opportunity to take some profits on the move.
That's because Dick's Sporting Goods is currently forming a double top, a bearish reversal pattern that looks just like it sounds. The double top is formed by a pair of swing highs that peak at approximately the same price level; the low that separates those two highs is the line in the sand that, if violated, triggers the sell. For DKS, that's the $54 support level.
Price momentum, measured by 14-day RSI up at the top of Dick's chart, adds some extra confidence to the odds of a breakdown here. Our momentum gauge made a pair of lower highs at the same time its price chart was showing off its double-top pattern. That's a bearish divergence that signals buying pressure is waning in Dick's Sporting Goods this fall. If shares fail to catch a bid at their next test of $54, it's time for longs to exit the trade.
Atlantica Yield

The price action is pretty straightforward in shares of $2 billion utility stock Atlantica Yield undefined. Since the end of July, this electric holding company has been stuck in a well-defined downtrend, backsliding more than 12% so far. As shares test the top of their price channel again in November, it makes sense to sell the next bounce lower.
The downtrend in Atlantica is about as simple as price patterns get. The setup is formed by a pair of parallel trendlines; so far, every test of trendline resistance up at the top of the channel has given sellers their best opportunity to get out before this stock's subsequent leg lower. Shares are bumping their head at $18 resistance this week, potentially setting off the seventh consecutive failure at trendline resistance. The next bounce lower is the signal that it's time to sell.
Waiting for that bounce lower before clicking "sell" is a critical part of risk management for two big reasons: it's the spot where prices are the highest within the channel, and alternatively it's the spot where you'll get the first indication that the downtrend is ending. Remember, all trend lines do eventually break, but by actually waiting for the bounce to happen first, you're confirming that sellers are still in control before you unload shares of Atlantica Yield.
Pioneer Natural Resources
Pioneer Natural Resources (PXD) - Get Pioneer Natural Resources Company Report is another big stock that's sitting on the heels of a massive rally in 2016 - since January, this $30 billion energy company has seen its share price climb 40% higher. But that rally is beginning to show some concerning cracks this fall thanks to a classic reversal pattern that's started showing up in shares. Here's how to trade it...
Pioneer is currently forming a head and shoulders top, a reversal pattern that signals exhaustion among buyers. The head and shoulders is formed by two swing highs that top out at approximately the same level (the shoulders), separated by a higher high (the head). The sell signal triggers when Pioneer's $170 neckline gets materially violated. Shares are in the twilight stage of the pattern this fall.
It's important to remember to be reactionary with Pioneer Natural Resources, as with any of the other technical trades on our list of potentially toxic stocks. Even though the setup looks negative, the sell signal doesn't actually come until shares violate $170 and sellers retake control of this stock. For now, Pioneer is simply waving a caution flag - but it's a mistake not to pay attention to the price action here.
This article is commentary by an independent contributor. At the time of publication, the author held no positions in the stocks mentioned.