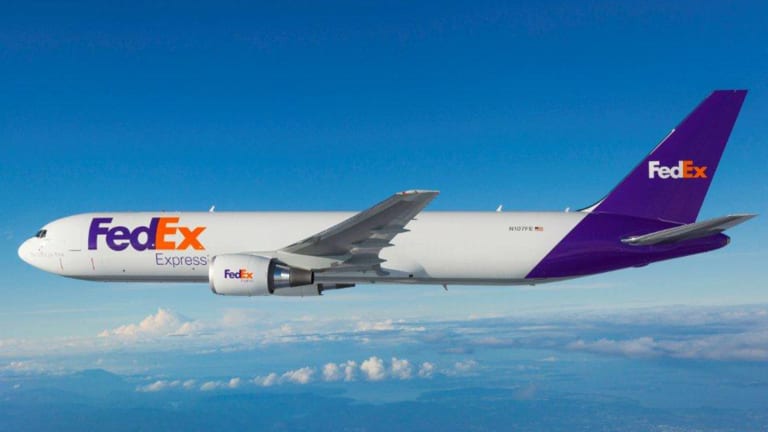 These 5 Stocks Are Breaking Out -- Do You Own Them Yet?
Here's a technical look at five big stocks primed for big profits -- and when you should hit 'buy.'
Mr. Market held its breath for much of Wednesday's trading session, the broad market indices swinging back and forth ahead of another press conference from the Fed. But with Yellen & Co. holding rates steady again, stocks are back to business as usual to end the week.
That's good news for stock market investors. After all, business has been pretty good this year for anyone who owns stocks.
Year-to-date, the S&P 500 is up 7.5% on a total returns basis right now. That puts the big index on track for 10.5% total returns by the time year-end rolls around. Elsewhere, the Nasdaq Composite hit a new intraday record high on Wednesday, eclipsing the high watermark made back on September 7. In short, stocks remain on an upward trajectory this fall.
But some stocks are primed for even bigger profits than the rest of the market. The thing is, you don't need to look too far to find them; some of the biggest names on Wall Street are teetering on the edge of breakout territory this week.
To figure out which big stocks to pay attention to right now, we're turning to the charts for a technical look at what the price action is saying about them -- and when you should hit "buy."
First, a quick note on the technical toolbox we're using here: Technical analysis is a study of the market itself. Since the market is ultimately the only mechanism that determines a stock's price, technical analysis is a valuable tool even in the roughest of trading conditions. Technical charts are used every day by proprietary trading floors, Wall Street's biggest financial firms, and individual investors to get an edge on the market. And research shows that skilled technical traders can bank gains as much as 90% of the time.
Every week, I take an in-depth look at big names that are telling important technical stories. Here's this week's look at five big stocks to trade.
Cnooc 
Up first on the list of potential big-cap breakouts is $55 billion Chinese energy company Cnooc  (CEO) - Get CNOOC Ltd. Report . Unquestionably, it's already been a great year to be a shareholder in this offshore oil company. So far, this stock has handed investors total returns of almost 22% since the start of the year. And shares could have even further to run thanks to a classic continuation pattern that's been shaping up in shares for the last few months.
Cnooc is currently forming a textbook example of an ascending triangle pattern, a bullish price setup that signals more upside ahead. The pattern is formed by two technical price levels: a horizontal resistance level up above shares at $126 and an uptrending support line to the downside. Basically, as shares of Cnooc bounce in between those two price lines, this energy stock has been getting squeezed closer and closer to a breakout through $126 resistance. When that breakout happens, we've got our buy signal.
Cnooc's relative strength line, which measures price performance vs. the broad market, has been making a series of higher lows since February. That's an indication that this stock continues to beat the S&P, even at this point. As long as the uptrend in relative strength stays intact, that streak of outperformance should continue.
And when shares catch a bid above $126, we've got a fresh buy signal in Cnooc.
General Motors
We're seeing the exact same price setup in shares of $50 billion automaker General Motors (GM) - Get General Motors Company Report . Like Cnooc, this big stock is forming a textbook ascending triangle setup, in this case with resistance up at the $32 level. If GM can break out above $32, it's time to buy -- and shares are flirting with breakout territory following yesterday's close right at that level.
What's so special about that $32 level? It all comes down to buyers and sellers. Price patterns, such as this ascending triangle setup in General Motors, are a good quick way to identify what's going on in the price action, but they're not the actual thing that makes the stock tradable. Instead, the "why" comes down to basic supply and demand for GM's shares themselves.
The $32 resistance level is a price where there has been an excess of supply of shares; in other words, it's a spot where sellers have been more eager to step in and take gains than buyers have been to buy. That's what makes a breakout above $32 so significant -- the move means that buyers are finally strong enough to absorb all of the excess supply above that price level. Once GM manages to definitively move above $32, we've got a signal that buyers are back in control of the price action -- and that it's time to join them.
Alphabet 
Things have been quiet lately in shares of tech giant Alphabet (GOOG) - Get Alphabet Inc. Class C Report , (GOOGL) - Get Alphabet Inc. Class A Report . After rallying hard off of its late-June lows, Alphabet has been tracking sideways for the last month and a half, doing a lot of nothing in the sessions since -- or so it seems. In fact, that sideways grind in shares of Alphabet is actually setting up shares for the next move higher.
Alphabet's sideways consolidation is called a rectangle pattern. The rectangle gets its name because the pattern basically "boxes in" shares between horizontal support and resistance lines. For GOOGL, the levels to watch are resistance up at $810 and support at $790. (That corresponds to $790 and $760 on GOOG's chart.) Rectangles are "if/then patterns" -- put a different way, if GOOGL breaks out through resistance at $810, then traders have a buy signal. Otherwise, if this stock violates support at $790, then the high-probability trade is a sell.
(Alphabet is held in Jim Cramer's charitable trust Action Alerts PLUS. See all of his holdings with afree trial.)
Because Alphabet's prior trend was up coming off of its summer lows, this stock favors breaking out above $810. Still, it's important to be reactionary and wait for Alphabet to exit the rectangle before you take sides on this trade. Technical analysis is a risk management tool, not a crystal ball, and this doesn't become a high-probability buy until our price ceiling gets taken out.
Berkshire Hathaway
Meanwhile, things are looking pretty straightforward in shares of Berkshire Hathaway (BRK.A) - Get Berkshire Hathaway Inc. Class A Report , (BRK.B) - Get Berkshire Hathaway Inc. Class B Report . Since the very start of 2016, Berkshire has been bouncing its way higher in a well-defined uptrending channel. And now, as shares test their long-term price floor for the fifth time, it makes sense to buy the next bounce higher.
Berkshire's uptrend is defined by a pair of parallel trend lines that have corralled all of this stock's price action for about nine straight months now. Put simply, every test of the bottom of Berkshire's trend channel has provided investors with a low-risk, high-reward buying opportunity. So from here, traders should be looking out for another bounce off of support.
Waiting for that bounce is important for two key reasons: It's the spot where shares have the most room to move up before they hit resistance, and it's the spot where the risk is the least (because shares have the least room to move lower before the channel breaks, invalidating the upside trade). Remember, all trend lines do eventually break, but by actually waiting for a bounce to happen first, you're ensuring Berkshire Hathaway can actually still catch a bid along that line before you put your money on shares.
FedEx
Last up on our list of breakout trades is FedEx (FDX) - Get FedEx Corporation Report .
FedEx saw a big trading session on Wednesday, rallying almost 7% on first quarter earnings by the time the session closed. No doubt, that was a big move -- but it's actually signaling the potential for even more upside from here.
That's because FedEx has spent the last several months forming an inverse head and shoulders pattern, a classic price setup that signals exhaustion among sellers. The pattern is formed by two swing lows that bottom out at approximately the same level (the shoulders), separated by a lower low (the head). The buy signal came on a move through FedEx's neckline at $170, a price level that got definitively taken out with FedEx's earnings pop yesterday.
Bear in mind that the price pattern we're seeing on FedEx's chart isn't exactly textbook. Typically, the inverse head and shoulders pattern is a reversal setup that comes at the end of a downtrend, not a continuation setup that comes after shares have already kicked off the year with a rally. But even though FedEx's setup isn't textbook, it's tradable.
Wednesday's breakout looks like a buying opportunity. Traders should keep their risk in check with a protective stop just below the right shoulder at $160.
This article is commentary by an independent contributor. At the time of publication, the author was long BRK.B.